Published: 30 May 2018
Region: Europe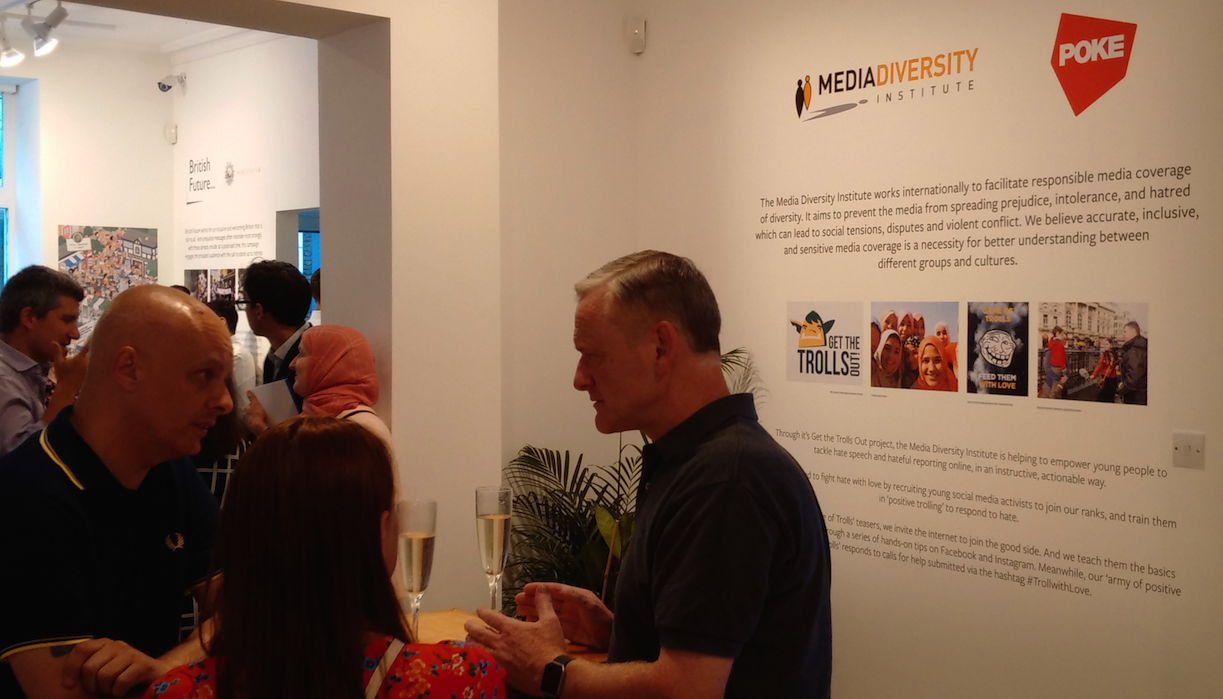 What do you do when you see someone posting horrible and offensive comments and posts online? You know you should respond, but how do you do that? This is a question the new "Game of Trolls"  campaign led by the Media Diversity Institute (MDI) is trying to answer. "Game of Trolls" was developed by the MDI's Get the Trolls Out (GTTO)  project and as part of Create against Hate, a Facebook-led initiative connecting NGO's with creative industry professionals, in order to tackle online hate and extremism.
All the Create against Hate campaigns including MDI's "Game of Trolls" were exhibited to the public in the Zari Gallery in London on 23 May and they remain available to be viewed online.
Dates: 3-5 May 2018

Country: Macedonia, Skopje

Fifteen representatives of the Macedonian civil society organisations for people with disabilities gathered in Skopje on 3 – 5 May 2018. They participated in the workshop on media relations and campaigning as part of the new project led by the Media Diversity Institute (MDI) and in partnership with the Macedonian Institute for Media (MIM) and National Council of People with Disability Organizations of Macedonia.

The aim of the project "Disability: A Matter of Perception" is to strengthen visibility of persons with disabilities (PwD) in the media. A weakened role of the media as protectors of public interest in Macedonia on one hand, and the difficult climate in which civil society organisations operate on the other, led to the shrinking of media space for pressing needs of disadvantaged groups, and consequently to citizens' misperceptions in recognising the existing discrimination. The invisibility of PwD in the media hampers their true participation in public life and full exercise of human rights and social inclusion.

Dates: 23 – 27 April 2018

Country: UK, London

How can journalists in Europe improve their reporting on migrants and migration related issues? Is it through use of technology? Is it by giving migrants more space to tell their stories? Almost 30 journalists and civil society activists offered some innovative ideas on how to report and campaign against hate speech directed towards refugees, asylum seekers and migrants coming to Europe. They spent five days in London gathered at the Media Camp organised by the Media Diversity Institute (MDI) as part of the #SilenceHate project.

Amongst the ideas developed and presented at the Media Camp were podcasts, interactive maps, short documentaries and web series about migrants and their journeys, as well as on their integration process in the society of different European countries. Some participants teamed up in order to produce photo journals, memes and campaigns countering anti-migration sentiments and hate speech in the media and public space. They worked in teams, as well as individually. They designed 18 media products and campaigns about migration issues responding to the ethical challenges associated with reporting on migrants.

Date: 25 April 2018

Country: UK, London

By Daphne Visser

"We want children to become more sceptical about the news on their social media feeds," Damaso Reyes said at the Media Literacy workshop "Fighting Misinformation" organised by the USA Embassy in London. The Media Diversity Institute (MDI) participated in the workshop together with mostly secondary schools teachers and organisations implementing youth media literacy programmes.

MDI has already worked with the USA Embassy and Shout Out on media literacy programmes and youth conference #MediaMinded. The key speaker at the event held on 25 April in the Embassy in London, Damaso Reyes, is part of the News Literacy Project (NLP). Part of his job is to visit schools explaining and teaching children about media literacy, specifically news literacy.

Date: 28 April 2018

Country: London, UK

Milica Pesic, MDI's Executive Director, was a guest on BBC Weekend on 28 April. On the show a variety of topics were discussed, including recent developments in the Korean Peninsula, the current political situation in Armenia and the 'bromance' between Trump and Macron on his recent visit to the Unites States.

She was joined on the program by Giles Fraser, priest-in-charge at St Mary's Newington Church and former cannon chancellor at St Paul's Cathedral, who also writes a column for UnHerd.
<< Start < Prev 1 2 3 4

5

6 7 8 9 10 Next > End >>


Page 5 of 83