Event date: 12 November 2010
Location: New York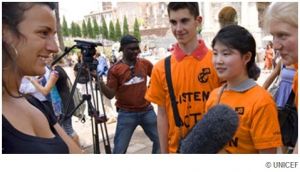 The PLURAL + award ceremony will honour winners, selected by prestigious international jury, in each of three age categories (9-12, 13-17, 18-25) for their videos focusing on migration, diversity and social inclusion. PLURAL+ partner organizations will also award other exciting prizes and professional opportunities to their winners.

Entries from youth in more than 40 countries around the world participated in the PLURAL+ 2010 festival. An international jury including prestigious filmmakers such as Idrissa Ouedraogo selected the winners who will be honoured at an awards ceremony to be attended by senior UN representatives, media professionals and youth.

Using video cameras and creativity, children and young people from around the planet created their vision of a world free of prejudice, stereotypes, discrimination, and intolerance.

Responding to an invitation by the United Nations Alliance of Civilizations (UNAOC) and the International Organization for Migration (IOM), they produced short videos addressing the challenges of diversity and integration, as well as denouncing injustices while proposing their own original solutions to create inclusive societies.

The goal of PLURAL+ is to ensure youth engagement in these important issues both at local and global levels by making their videos available through a variety of media platforms and distribution networks including broadcasts, festivals conferences and events around the world.

If you would like to attend the  PLURAL+ Youth Video Festival awards ceremony at the Paley Centre for Media in New York City on November 12th, 2010, please click here.