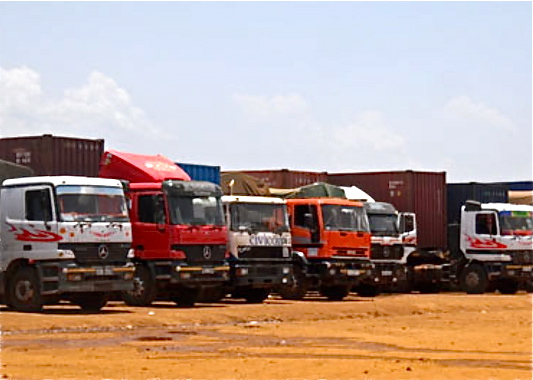 Published:  5 October 2010
Country: Sudan
By: Robert Obetia Okuga
At least 20 illegal checkpoints used for profiteering have been banned by South Sudan's Interior Ministry, which should help sink the price of commodities imported from neighbouring countries.
The checkpoints had been set up on roads leading to Juba from three of South Sudan's neighbouring countries: Uganda, Kenya and the Democratic Republic of Congo.
The order issued by Salva Mathok Gengdit, Deputy Interior Minister, took effect Wednesday following numerous public complaints about higher prices for food items, building materials and other commodities throughout South Sudan's ten states.

Tax checkpoints at over a dozen locations such as Juba Bridge, Bor Junction and Gulumbi, now declared null and void, had been used to levy illegal fees on goods transporters, which jacked up market prices for everyday commodities.

Official customs services, including immigration and taxation by state authorities in Nimule, Eastern Equatoria State, will replace the banned fee collectors.

"Any checkpoint operating illegally in the country must be closed," said Mathok.  "All checkpoints should be registered with the Ministry of Interior."

Other similar checkpoints in Western Equatoria, and Western Bahr-el-Ghazal and Lakes State were closed down this week.

Jur River County Commissioner Akol Majok Rok said six people were arrested for allegedly stealing goods from a checkpoint in the town of Wau.

According to a fact-finding committee headed by the Energy Minister, the illegal taxes on trucks entering South Sudan had a direct effect on consumers. After a meeting with cabinet members chaired by Vice President Riek Machar Teny, the illegal checkpoints and other collection units were eliminated.

"Some of these checkpoints were placed by the communities to collect money to feed their families," said Mathok, "but the current government does not allow this."

One of those affected by the closure, Alfred Thong, complained that the checkpoint ban leaves him without a source of income.  

"Let the ministry find an alternative for employing the former staff of the closed checkpoints," he said.   

Truckers typically had to stop at more than a dozen checkpoints along the road to Juba, said Jimmy Towongo, a truck driver concerned that overcharging at official customs will still force traders to sell goods at high prices.
James Mugwanya, who drives a double-trailer truck between Uganda and Juba, said the only way to alleviate higher import prices is to replace the current customs staff with "faithful and honest people, otherwise the same history will continue."

Figures for the amount of people involved in the illegal activity and how much money changed hands were not immediately available, but officials estimate the price of imported goods at South Sudan's markets may fall by as much as 50 percent.
Courtesy of www.Sudanvotes.com