Deadline: 14 April 2014
Country: US & Colombia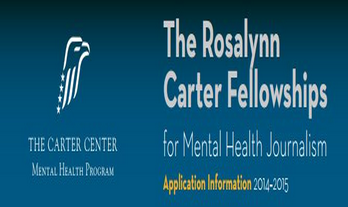 The Carter Center Mental Health Program in Atlanta offers six one-year fellowships for U.S. journalists to report on a selected topic regarding mental health or mental illnesses.
Mental illnesses constitute some of the most serious and under-reported health problems in the United States and around the world. As part of an international effort to reduce stigma and discrimination, The Rosalynn Carter Fellowships will provide stipends to journalists from the United States, Romania, and Colombia to report on topics related to mental illness.
Journalists will be awarded with stipends of $10,000 each which will cover expenses during the fellowship project, including travel, materials, and other incidental costs.
Applicants should have at least three years of experience in print or electronic journalism (writing, reporting, editing, producing, filmmaking) and be a citizen or legal resident of the United States or Colombia. Fellows will not be required to leave their current employment. The fellowship encourages total journalistic independence and freedom and only requires that the fellows report accurately.
Laura Starecheski told about her experience as a previous fellow: "Doing these stories gave me a broader definition for reporting on mental health.  I now see mental health in stories of domestic violence, rural poverty and unemployment, among veterans or in any community".
Applications for the 2014-15 fellowship year should be submitted no later than Monday, April 14, 2014.
Please read more here while if you have any questions about the application process, please e-mail This e-mail address is being protected from spambots. You need JavaScript enabled to view it .
Awards will be announced on July 2013.