Published: 10 August 2015
Country: Egypt
By Heba Katoon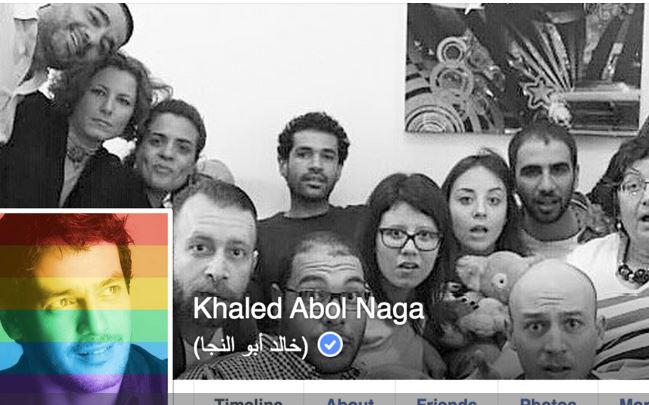 Facebook turned into a rainbow-drenched platform following the U.S. Supreme Court's decision to legalise same-sex marriages in all American states. The trend of putting rainbow colours, a symbol of LGBT rights, on Facebook profile picture was popular, but not everyone liked it. Facebook pro-gay marriage filter caused a fury across the Arab world.
In Egypt for instance, according to the Pew Research Center, homosexuality is not acceptable to 95% of population. LGBT-themes are not prohibited in the media, but most of the coverage have been negative and tend to be censored by the government for being 'obscene' or for 'promoting' homosexuality.
In 2008, Maher Sabry's independent film about an Egyptian gay man was banned. A weekly newspaper Al Balagh Al Gadid was shut down and two of its reporters were jailed for printing a story that accused prominent Egyptian actors for being involved in homosexual prostitution.
Some films such as The Yacoubian Building depicted many taboos within Egyptian society, including homosexuality. That promoted public calls to censor the film. In 2013, Egypt's Comedian Bassem Youssef said in an interview with Jon Stewart on the Daily Show, that he had been charged with 'propagating and promoting homosexuality and obscenity' by the Muslim Brotherhood government.
Although the Constitution does not ban homosexuality, offences such as 'violating the teachings of religion' and 'moral depravity' were used to imprison individuals accused of taking part in homosexual acts.
Referring to the recent decision to end same-sex ban, Egypt's highest Islamic institution, Al-Azhar, rejected same-sex marriage, assuring that marriage in Islam is only between a man and a woman. The Egyptian Orthodox Coptic Church shared Al-Azhar's opinion.
Egypt's popular actor Khaled Abu Elnaga was criticized for his public support to same-sex marriage. He changed his Facebook profile picture to a rainbow colored flag which caused that a TV show host openly attacking the actor on air saying: 'Egypt will not address such acts or demands made by the US and refuses to accept them because they will essentially destroy family values'. Abu Elnaga was also mocked by other TV presenters implying that the actor is gay.
Ahmed Hamed, a journalist and filmmaker, who tinted his profile picture in support of same-sex marriage, in an interview for the Media Diversity Institute (MDI) says: 'The U.S. Court's decision created a real dialogue among Egyptians online and that is a good thing even if that debate was mainly offensive. In fact, homosexuals won't disappear from the Egyptian society, so we should create a space to enhance dialogue and social media are good start to do so'.
Hamed also adds that some of the Egyptians 'who might practice anti-religious acts at home and in secret, are ready to publicly condemn the same acts'. 'However, I was surprised by the number of friends who coloured their profile pictures, and I am happy whenever a chance comes up to decrease social and governmental interference in people's personal choices,' says Hamed.
There were also many social media users in Egypt who opposed and protested the rainbow flag trend on Facebook by sharing Qura'an verses and accusing the supporters of defamation.
One of those who raised their voice against same-sex marriage is Fatma Ahmed, a postgraduate student at Cairo University. She told to MDI: 'We are a conservative nation. This will never be accepted. Not by the government, nor by the people'.
Some opponents argued that debate on LGBT rights and same-sex marriage is an unnecessary luxury in a post-conflict society such as Egypt.
'Let's worry about an actual problem, like inflation, corruption, terrorism, poverty, inequality, lack of healthcare, lack of education. We have a bunch of issues to be condemned rather than debating about something that is happening far away from us,' wrote Nadia Aziz on her Facebook page.
Some of the world media reported that Egyptian police have been creating fake social media accounts and apps like Grindr to entrap homosexual men. Alleged online security practices by the police were condemned by some of the human rights organizations such as the Egyptian Initiative for Personal Rights (EIPR).
While some Egyptians celebrated the ruling of the U.S. Supreme Court legalizing same-sex marriage, others spoke against it. Some kept silent avoiding getting into possible conflict with others who don't share the same views, especially when it is about an issue widely considered to be a taboo. The latter is explained through the theory of public opinion and more recently through surveys about social media users' behavior. It is called a spiral of silence.