Published: 18 August 2016
Region: Worldwide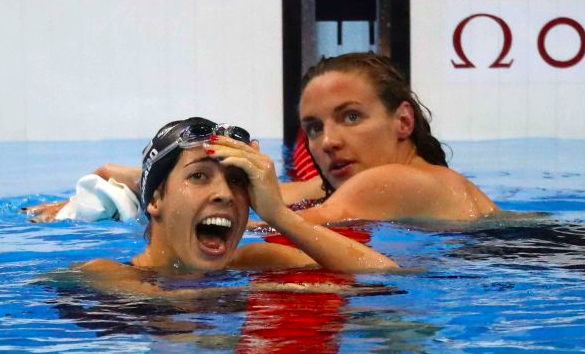 Instead of celebrating the biggest number of female athletes competing in this year Olympic games in Rio then in any other Olympics, as the sign of moving towards gender diversity in sport, some media outlets slipped (again) into sexist coverage. Several media around the world have proved that discrimination against women in sport, as well as against women journalists reporting on sport events such as Olympics, is still present.
When Hungary's Katinka Hosszu won the gold medal and broke a world record in the 400-meter individual medley, NBC showed a split screen of her cheering husband and coach Shane Tusup. Commentator Dan Hick suggested that this was "the guy responsible" for her victory.
France Télévisions journalist François Brabant compared French tennis player Alizé Cornet and Serana Williams to "the biggest drama queens of the circuit", forecasting "demonstrations, screams and tears".
The Chicago Tribune tweeted a picture of Corey Cogdell-Unrein, the bronze-medal winner in trap shooting by designating her as the "wife of a Bears' lineman" without mentioning her name. The story about Cogdell-Unrein also focused on her marriage and on how her husband couldn't travel to Rio because of his training camp obligations with the Chicago Bears.
Also, when the US swimmer Katie Ledecky broke her own world record and took the gold in the women's 400-meter freestyle, the Daily Mail referred to her as the "female Michael Phelps". Some media, mostly tabloids, focused on female commentators too. For instance, the BBC presenter Helen Skelton was in the headlines for "her revealing outfits".
The sexist coverage of the Olympic Games in Rio 2016 does not come as a surprise. Ahead of the Olympics, the Cambridge University Press published a research showing gender divides in the language of sport based on analysis of over 16 million words from decades of newspapers, academic papers, tweets and blogs.
The research found that in relation to sport, "men" or "man" is referenced almost three times more often than "women" or "woman". Moreover, language around women in sport focuses disproportionately on their appearance, clothes and personal lives. Common word associations regarding women in sport include "aged", "older", "pregnant" and "married" or "un-married", whereas for men the most frequent adjectives are "fastest", "strong", "big", "real" and "great".
"It's perhaps unsurprising to see that women get far less airtime than men and that their physical appearance and personal lives are frequently mentioned," Sarah Grieves, language researcher at Cambridge University Press said in a statement. "It will be interesting to see if this trend is also reflected in our upcoming research on language used at the Rio Olympics."