Published: 2 November 2017
Country: Worldwide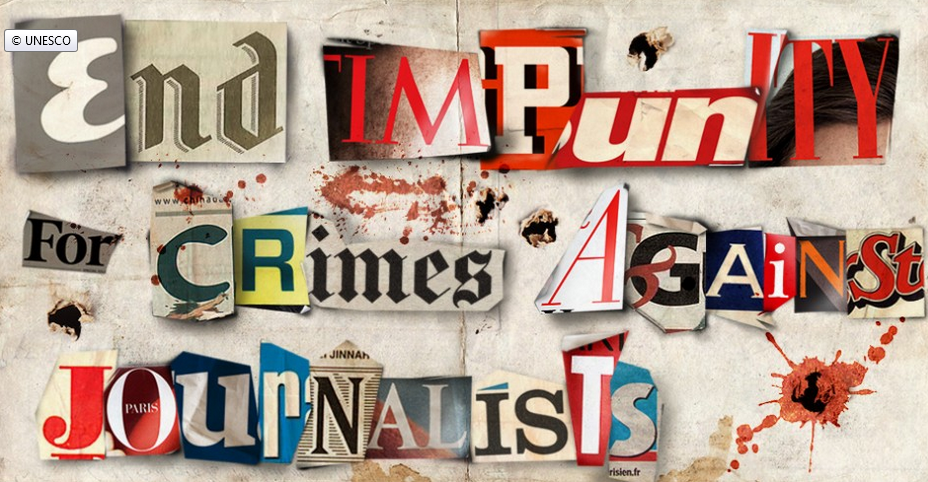 Over the past eleven years, 930 journalists have been killed for doing their job. Amongst them there are many who dedicated their work to diversity and reporting on sensitive issues and marginalized communities. On the International Day to End Impunity for Crimes against Journalists 2 November, UNESCO expresses its concern that impunity damages whole societies by covering up serious human rights abuses, corruption, and crime. UNESCO invites Governments, civil society, the media, and everyone concerned to uphold the rule of law to join the global efforts to end impunity.
Over the last decade, less than one in ten cases of committed violence against media workers has led to a conviction. This means that for the majority of media workers who have been murdered, justice has not been served.
While the day has a focus on impunity, it is also bound to make us think about the issue of violence against journalists as a whole. The number of journalists intentionally killed or injured has risen dramatically within the past few years. 2012 was the deadliest year for media professionals, with 124 confirmed cases of murder.  According to the Committee to Protect Journalists, the two main beats covered by victims are politics and war.
Sadly, there have also been many cases of journalists who report on diversity being caught up in violence and murder. Last year, Banglaheshi journalist Xulhaz Mannan known for reporting on LGBTQ issues was stabbed to death. Earlier this year, in Mexico, freelance reporter Juan Jose Roldan was murdered. He also focused on LGBTQ rights. In 2013, a 21-year woman old called Rahma Abdulkadir was shot dead. She was a reporter who focused her work on women's rights in Somalia. Unfortunately, there are many more media professionals who could be added to this list. It is clear that in terms of journalist's safety when covering sensitive issues, there is still a long way to go.
The reason impunity is such a large issue in these cases is that the more journalists are killed without anyone being convicted, the more the likelihood increases of such horrendous acts from repeating. Consequently, journalists could start feeling too afraid to report on sensitive but important issues. "Society as a whole suffers from impunity. The kind of news that gets 'silenced' is exactly the kind that the public needs to know," UNESCO states.
To find out more about the International Day to End Impunity for Crimes against Journalists, visit the official website here. You can also follow the hashtags #EndImpunity and #JournoSafe.