Date: 13 April 2018
Country: Italy, Perugia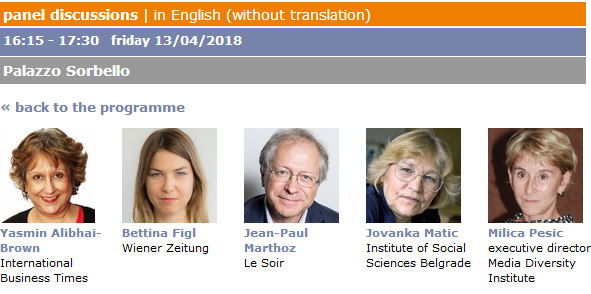 The Media Diversity Institute (MDI) is hosting a panel "Fascism is back. Is journalism part of the problem or of a solution?" at the International Journalism Festival in Perugia on 13 April 2018.
The moderator of the panel on fascism and the role of the media is MDI Executive Director Milica Pesic. Her guests are well-known British journalist and author Yasmine Alibhai-Brown, an Austrian journalist and a fellow at the Reuters Institute for the Study of Journalism at the University of Oxford, Bettina Figl. Panelists are also Jean-Paul Marthoz, a columnist for a Belgian Le Soir and author of books on media coverage of terrorism and migration, as well as Belgrade-based Jovanka Matic, an experienced researcher in the field of communication, media and journalism studies in Western Balkans.
Populism, the alt-right, extremisms of all sorts seem unstoppable. Europe, the cradle of democracy but of fascism too, just saw the first far-right government in which the heirs of Nazism hold a strong position. Hungary and Poland can hardly be seen as democratic countries anymore. The right-wingers are riding on antisemitism, Islamophobia, xenophobia, anti-migration, hate of anyone and anything which is not modelled after them. The European Commission is taken aback, intellectuals are still thinking, while civil society is reacting but sporadically and not loudly enough. Is the media ready to step in and fight for democratic values of equality, inclusion and the respect of basic human rights?
By questioning the role of some media MDI is hoping to initiate a debate on possible answers to extremism of all kinds while together with its European partners it has been engaged in countering religious hate incidents against Muslims, Jewish and Christian communities through the Get the Trolls Out project.
Join us at the International Journalism Festival in Perugia on 13 April or follow @MDI_UK and #ijf2018.
You can also explore our series of articles on the subject of the rise of far-right.
The Role of the Media in the Rise of Austrian Far-Right
Poland's Turn to the Far-Right: Where are the media?