Published: 15 March 2018
Country: Indonesia
By Eline Jeanne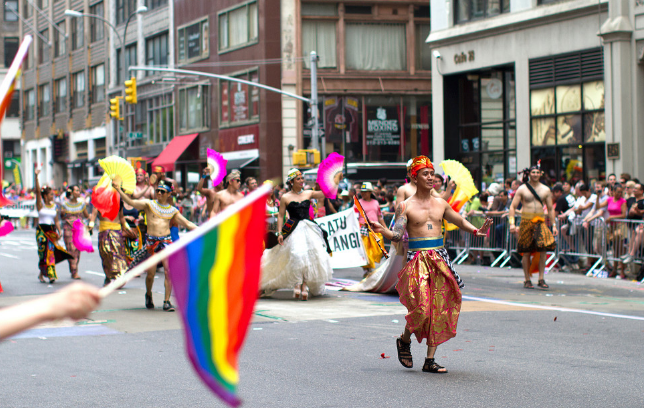 Indonesia has recently drafted a new penal code, one that looks to depart from the Dutch criminal code drawn up in the colonial era. The bill has not been passed yet, although many officials are confident it will. If this penal code becomes a reality, many minority groups in Indonesia will suffer consequences. One of these groups is Indonesia's LGBT community, whose members will see many of their freedoms taken away with this new penal code. Specifically, the penal code would criminalise homosexual sex as well as sex outside of marriage. The Media Diversity Institute (MDI) explores the role of the media in a rise of anti-LGBT sentiment in Indonesia.
Indonesia has been an unstable country for the members of LGBT community for some time now, and queer Indonesia can find themselves in dangerous situations. Gay parties in the capital have been crashed by police and attendees arrested, with their identities being exposed online. In Aceh, a province in Indonesia that is semi-autonomous and allowed to enforce full Sharia law, people who are found to be committing same-sex sexual acts are charged with 100 public lashes. In another incident, police rounded up a group of transgender women in Aceh and forcibly cut their hair as well as perform 'manly' exercises, all of which was filmed and posted online. There have been anti-LGBT protests in the city of Yogyakarta and overall, public perception of the LGBT community has significantly decreased.
Evidently, anti-LGBT sentiment in Indonesia has risen in many arenas over the last few years. What is also evident is that the media have changed the tone of reporting on LGBT topics. Yearry Panji Setiantio who is MDI alumnus working at the Department of Communication Studies at Sultan Ageng Tirtayasa University, explains the shift in the media coverage in Indonesia:
"Back in the post-reformation era (early 2000s), Indonesian media portrayed LGBT communities, especially in the case of transgender people, in a more positive tone and encouraging the society to be more inclusive. While the number of news reports on LGBT topics has always been small, mainstream popular media (like films, music videos, books) as well as social media began to play an important role in such positive representation of this minority group.
However, following the increasing trend of identity politics, in particular religion, in the Indonesian society and political sphere during the 2014 Indonesian Presidential Election, the issue of LGBT started to be distorted with the rise of religious sentiment in understanding this minority community. Using religious teaching as their reference, many people began to see LGBT communities as deviants, or even sinners. Unfortunately, mainstream media are also following the same line of thought and starting to cover the community in a more negative tone."
2016 saw a dramatic change in Indonesia in terms of LGBT tolerance. Government officials made discriminatory comments towards the community, and medical professional announced that they see homosexuality as a mental disorder. Things snowballed fast, and the media quickly followed. Islamic newspaper Republika was one of the main media actors throughout these attacks against the LGBT community. They published numerous articles with alarmist headlines, one such published this January titled "LGBT a Serious Threat".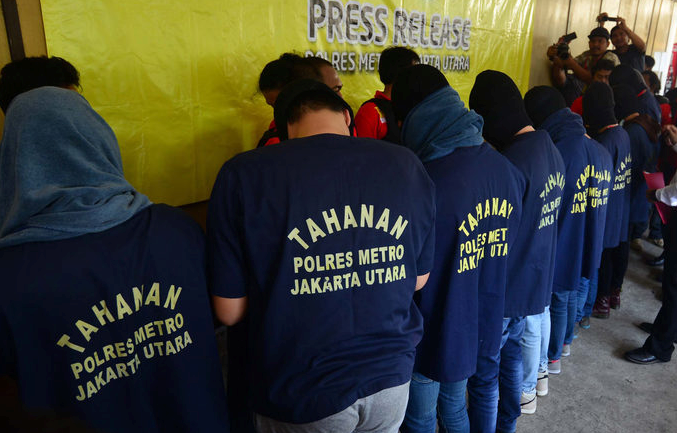 It is well-known that media consumption has an impact on the audiences' thoughts and opinions on topics. It was therefore to be expected that with increasingly negative coverage on the LGBT community in Indonesia, public opinion would follow. "Since not many Indonesians have direct contact with LGBT people in their daily life, most of them are relying more on news media in getting information about this minority group. When media portrayed the LGBT in a neutral way, I found that people have not been really annoyed by the presence of LGBT people in society. However, in recent years when the Indonesian media represented the LGBT disproportionately negatively, people who consumed such news also tend to interpret the community negatively," Yearry says in an interview for MDI.
The Saiful Mujani Research Centre recently conducted a research which explored public perception of the LGBT community in Indonesia. The results are worrying. 90% of those surveyed and who understood the term LGBT said that they felt threatened by the community, and 87% saw the LGBT community as a threat to either private or public life. The main reason given for these viewpoints was religion.
Religion, specifically conservative Islam, has been one of the main driving forces behind the rise of anti-LGBT opinions in Indonesia. It has influenced not only politics, but the media as well. We asked Diani Citra, a PhD Candidate at Columbia University Journalism School, about her thoughts on this topic: "The growing Islamic conservatism definitely plays a strong part in this matter, and it is not just perpetuated by the media. It is also small family and community gatherings, small Islamic sermons and WhatsApp groups. All of those things built into this hatred against LGBT that we are facing now."
The LGBT community in Indonesia has been left without any real media ally in this situation. With religion being such a big influence in Indonesian politics, speaking out in favour of the LGBT community can have significantly negative consequences for a media outlet. Citra explains that "no media dares to call out on this [anti-LGBT actions] because they don't want to be labeled as pro-LGBT. It's considered political suicide to align yourself with those politic," Citra adds.
The media is finding them in a position where if they want to be favored by politicians, they need to agree with their anti-LGBT ideas and report in such ways, says Yearry:
"My interpretation is that, news media organizations do not really want to oppose the mainstream public discourse in seeing LGBT as deviant--not only because of they are afraid that their readers will disagree with the news but also some media organizations are afraid of the pressure and threat from some religious hardliners".
Moreover, it is very hard to find dissenting voices amongst Indonesia's media players. They seem to hold a unanimous view of the LGBT community, and whilst some platforms may be more vocal than others, support for the community is hard to find. Citra elaborates: "On a different case, I would say that it's not wise to generalize TV, radio, online and print in Indonesia as just the media. In most other political cases, these different mediums take very different approach. We can tell the difference between a reputable newspaper and a fringe online media. But in the case of LGBT, I would say that they have taken a very similar tone."
It is unknown when the final vote on the new penal code bill will happen, and whether it will pass. However, many officials are certain that this bill will become a reality, in which case Indonesia's LGBT individuals will find themselves in an even more uncertain and in many cases more dangerous, situation.
The response of Indonesia's media throughout this persecution of the LGBT community has been disgraceful, and whilst the media is certainly not the only actor to blame for the negative public perception of sexual minorities, it has played a significant role. The future of Indonesia's LGBT community looks dire, and it will take changes in many sectors to improve it. To conclude with Citra's words: "I think it [LGBT hatred] is rooted deeper in Indonesian culture/religion/politics than we care to admit."