Date: 13 September 2018
Region: MENA, Jordan, Qatar, Tunisia
By Mikhail Yakovlev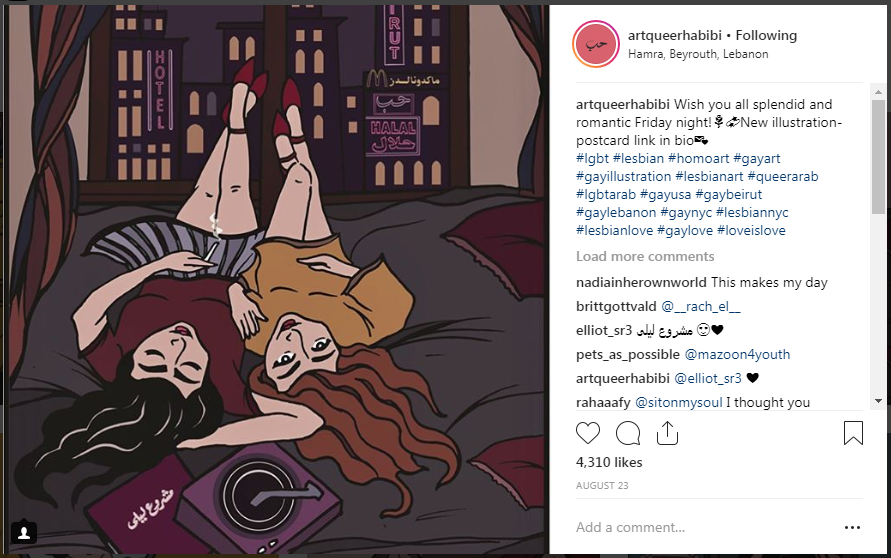 Despite changes around the world, most recently in India, queer issues remain taboo in the Middle East and North Africa (MENA). "The official fiction that gay people don't exist to any great extent in Muslim countries" – explains Brian Whitaker, the author of Unspeakable Love: Gay and Lesbian Life in the Middle East. In keeping with this fiction, mainstream media in MENA either bypass queer issues altogether or present queers in a negative way.
The case of Qatar's Al Jazeera is particularly revealing in this respect. As "the first independent news channel in the Arab world dedicated to providing comprehensive news and live debate," Al Jazeera's stated aim is to be "a voice for the voiceless." The network's London-based English Service certainly gives queers a voice. A quick search of the English website reveals many sensitive well-researched articles, some of them by Arab writers. In contrast, the Arabic website has a single bizarre op-ed provocatively titled 'The Lie of Scientific Justification for Homosexuality'.
By publishing discriminatory articles like this, Al Jazeera and other mainstream media in MENA fail to adequately reflect the region's diversity and help to perpetuate misleading narratives in Western media that paint all MENA queers as victims who – lacking any agency of their own – require outside intervention.
In reality, the situation is more nuanced. While most countries in the region do criminalise sex between men, both the legal status of queers and their individual experiences vary significantly. And, the only way to uncover this diversity is by letting local queers participate in media conversations.
While mainstream media remain reluctant to do this, two grassroots media initiatives that push against media's silent exclusion of queers have emerged in the region.
The first was Jordan-based My.Kali –
a conceptual webzine for/from the Middle East and North Africa… My.Kali strives to address social problems, and empower the youth to defy mainstream gender binaries in the Arab world.
Founded in 2007, the webzine is named after its founder Khalid Abdel-Hadi – affectionately, Kali. Kali decided to start the magazine because he wanted give queers in the region a voice and take ownership of his own identity.
According to Kali, Jordanian media reacted to the launch of his webzine with a smear campaign. Kali himself was publicly outed and his family were harassed by anonymous callers. Ten years later Jordanian media persist in their hostility and the country's government has tried to block access to webzine in 2017. Despite this, Kali is confident that his webzine "will continue to stand as long as it's needed and helps give a voice to the hundreds of thousands of LGBT+ people throughout the MENA region."
In 2017, another queer outlet emerged in Tunisia. Shams is both the first queer radio station in the Arab world and the first LGBT+ Rights organisation officially registered in an Arab state (Lebanon's Helem is the first LGBT Rights organisation in MENA, but its legal status has been questioned by Lebanese authorities).
Like Kali, Sham's founder Bouhdid Belhedi is explicit about his mission to break the taboo on queers in the media – "I was the first person to annoy people in the media and speak openly about LGBT issues in Tunisia on air."
Also like Kali, he paid the price for breaking this taboo. The BBC reports that Belhedi "received 4,700 messages of abuse, including death threats" and "has also been physically assaulted." In addition, Shams' presenter run the risk of being arrested by Tunisia's police if they identify themselves as sexually-active on air, because same-sex sex remains a crime in the country.
The abuse directed Kali and Bouhdid Belhedi highlights the real dangers associated with publically identifying as queer in the region. In some MENA countries simply appearing "transgressive" can cost an individual their life. As a result, many queers are obliged to stay 'invisible'.
However, the expansion of social media has made it more difficult to maintain the popular fiction that queer simply do not exist. Even if public media initiatives like Shams and My.Kali remain uncommon due to fears of personal safety, MENA queers increasingly turn to social media to engage with queer issues while remaining anonymous. One example is @artqueerhabibi, an Instagram page that publishes queer-postcard designs.
Likewise, My.Kali frequently publishes anonymous articles from across the MENA region in order to protect the author's wellbeing and safety. In one such article, the writer is certain that social media hold the key to disrupting the "chronic state of denial" about homosexuality in Arabic media and society. Having recounted wide-spread examples of homosexual behaviour by young men in his Jordanian hometown during the 1990s, the author shows that homosexuality has always been an integral part of Arab culture:
homosexuality is not a foreign product or a western conspiracy against Islam. It is not a crisis. Homosexuality is a legitimate part of our societies, and the attempt to eliminate it is doomed to failure.