Event: 10 - 11 July 2019
Country: United States; Global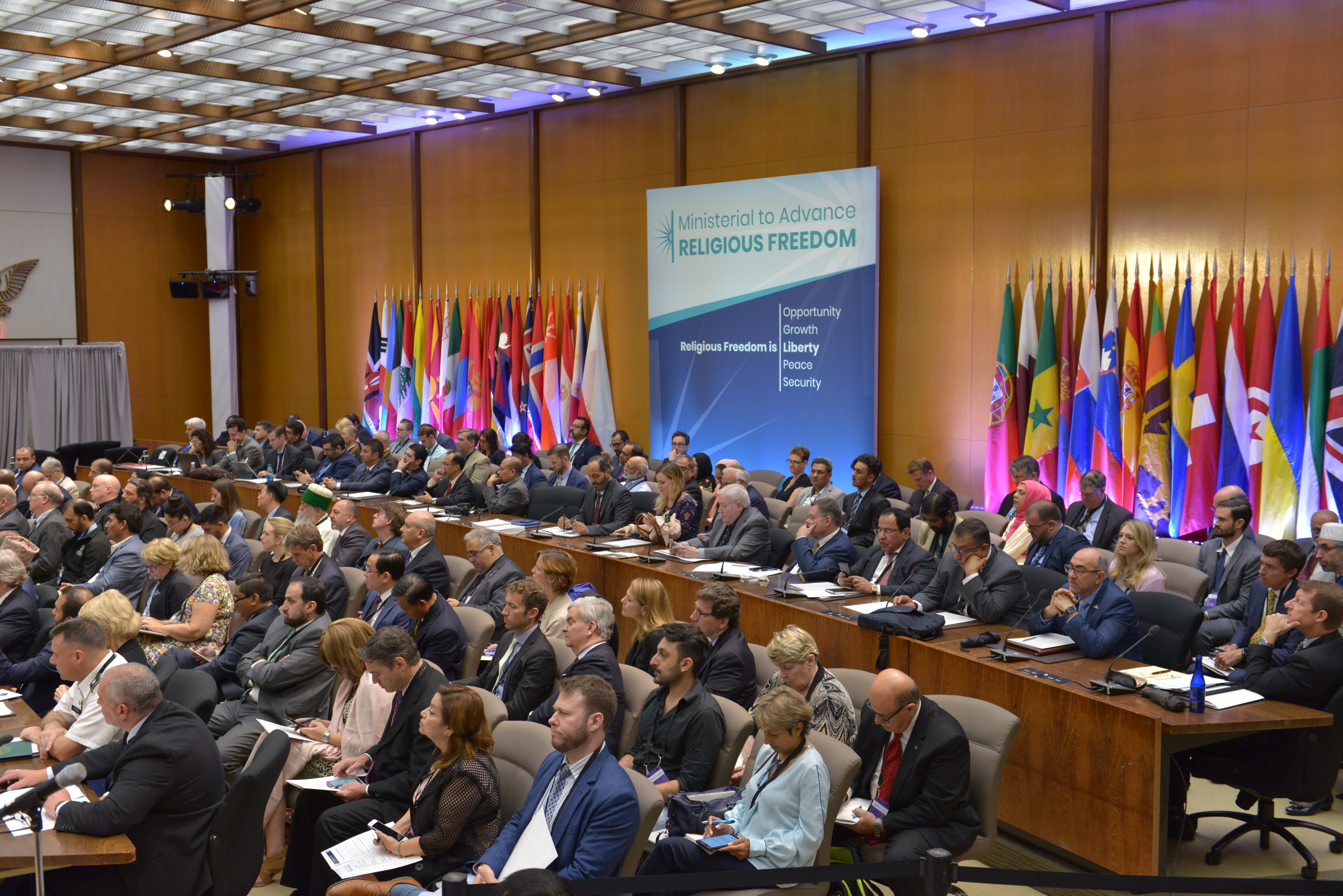 Between the dates of 10-11 July 2019, Media Diversity Institute attended the US State Department's annual Ministerial on Religious Freedom in Washington, DC.
It is the largest, and most well-attended US State Department event relating to religious freedom.
"Religion is one of the most sensitive identity issues, so we are thrilled to have this opportunity to hear about experiences religious minorities are going through, but, also, to contribute to a debate on  what the media's role is  in debating and reporting on the issue," said MDI Executive Director Milica Pesic, who attended the event on behalf of the organisation.
Over the course of the three day event, participants heard from more than 1,000 participants representing 106 countries, including but not limited to testimonies from religious violence survivors from countries like Iraq and Pakistan. After hearing several testimonials, the State Department announced a few victories that have occurred since last year's event, including the release of US Pastor Andrew Brunson, who has been detained in Turkey for the past two years. Vice President Mike Pence also announced sanctions on the leaders of two Iranian-backed militias who have wreaked havoc on Yazidi communities in Northern Iraq, and travel restrictions on military leaders from Myanmar who have played a role in the ethnic cleansing of the Rohingya religious minority, where 70,000 refugees have been driven out of their homes and forced to live in camps in neighboring Bangladesh.
Still, MDI feels that discussions like this can do more to further the conversation on how journalists can impact religious freedom, particularly in parts of the world where both religious freedom and freedom of expression are in danger.
"There is no doubt that the way the media reports on this issue or ignores this issue contributes to the attitudes of the public," Pesic continued.
"So we would really like to see more discussions from journalists from countries where reporting on religious minorities could be a serious challenge, to hear more about what they are up against.
In addition to bringing a greater diversity of journalists to the table, MDI believes that there should be a more robust conversation about what it takes to properly cover religion as a topic, particularly given its importance in world events.
"We should be talking about how journalists can be better equipped to cover such a sensitive issue," Pesic continued.
"Are journalists religiously literate? Do they understand anti-discrimination laws in their country? What are the ethical issues at stake? Who are their sources? A lot of the time, journalists only go to religious leaders, or researchers—but what about other people of faith, who can give nuance to the conversation? What kind of a support they need from editors, journalist associations, journalism trainers?  It's time to get deeper into these issues at the times when religion has become a high profile media topic usually related to more political issues such as international conflicts, immigration, discrimination, sexual abuse, same-sex marriage, or stem cell research."
We look forward to continuing this conversation. For more on religion and the media, check out the video of our 20th anniversary event: Reporting Religion: The Role of Media in the Populist Era.