Dates: 2-5 September 2018
Country: Jordan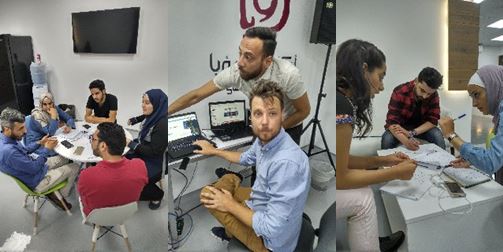 "I can't recall the last time when I stayed all through an event and enjoyed it this much". When Rawan Istetieh summarised her evaluation of the MDI Amman event, our representatives already knew a thing or two about her: a reckless fighter for Human Rights, one of the loudest gender-equality campaigners, one of the pioneers in combating child cyber bullying, an enthusiastic footballer and a woman behind the establishment of the first ladies' football club in Jordan. Rawan does not hide her feelings about any of the issues close to her heart. Neither does she restrain from challenging the MDI representatives on any of the issue discussed over a 4-day event.  It seems we scored well.  We made Rawan happy.
Rawan Istetieh, from Amman-based NGO Darabzeen for Human Development, was talking of MDI's first Media Information Literacy (MIL) Workshop held in partnership with UNESCO Jordan, September 2-5 in Amman. The main objective of the event was to build the capacity of civil society organizations' representatives on Media and Information Literacy (MIL), enabling them to develop MIL competences, to critically use the available media tools and – most importantly - to pass on their newly gained knowledge and skills to their peers.
Date: 17 September 2018

Country: Macedonia, Skopje

It was a powerful ending of the first day at the EU-Western Balkans Media Days event in Skopje. Two performers, Mia and Leon, danced in front of media professionals, experts and policymakers from the Western Balkans and the EU, helping the Media Diversity Institute (MDI) and its partners launch the project "Disability: Matter of Perception" and prove why we need better inclusion of people with disabilities.

"Through dance or through journalism, we can and we have to do something to include people with disabilities in the media. MDI together with our partners is working here in Macedonia on challenging perceptions, both our own and those of others," said MDI Executive Director Milica Pesic. MDI had a unique opportunity to launch its project at the EU-Western Balkans Media in Skopje by hosting a short dance work "LEMIA: Carousel of Perceptions" that is a part of the Performance Research Intesive programme of the Inclusive Movement Research Collective (IMRC).

Application Deadline: 31 October 2018

Location: Various

The Media Diversity Institute (MDI) is looking for experienced international development experts to join our team of consultants for the European Commission (EC) Framework Contracts projects. MDI is seeking experts for short-term assignments on various locations.

MDI is one of the selected providers for EC Framework Contracts in 2018-2022. We are seeking experts who can be mobilised at short notice to run individual assignments defined by specific contracts in countries where the Commission has external aid programmes. This work will include support and advice across the entire cycle of programme operations (from design to implementation and evaluation of EU interventions).

Dates: 24-26 July 2018

Country: USA, Washington DC

Welcoming more than 350 guests from 80 countries, the US State Department International Religious Freedom, Ambassador Sam Brownback, set the tone of the event: "Religious Freedom is your own right to believe in whatever you want to believe in or nothing at all. That's your own right and your Government should not interfere with it."

The 3-day event brought together government officials, religious leaders and organisations specialised in religious freedom issues or diversity in general "to discuss challenges, identify concrete ways to combat religious persecution and discrimination, and ensure greater respect for religious freedom for all." The Media Diversity Institute (MDI) Executive Director and a Trustee of MDI USA Milica Pesic was invited to participate as the representative of both organisations developing and implementing projects with the focus on religious intolerance in the media and in public sphere. Religiously diverse audience in Washington - Muslims, Jews, Christians, Buddhists, Hindus, Sikhs, Baha'is, Yazidis and others – was urged by Ambassador Brownback to go beyond mere tolerance of religious differences.

Published: 20 July 2018

Region: Europe

By Amna Nasir

"All Muslims may not be terrorists, but all terrorists are Muslims." How would you respond to this claim often seen on various social media platforms? Will you ignore it or will you try to respond? What if there is statistical data to consolidate the claim?

Get the Trolls Out (GTTO), a project by the Media Diversity institute (MDI), initiated a campaign called Game of Trolls. The campaign is a result of joint efforts made by GTTO and Facebook initiative "Create against Hate" gathering civil society activists and creative industry professionals to come up with innovative solutions to deal with online hate speech and extremism.
<< Start < Prev 1 2 3

4

5 6 7 8 9 10 Next > End >>


Page 4 of 84