Event: 10 - 11 July 2019
Country: United States; Global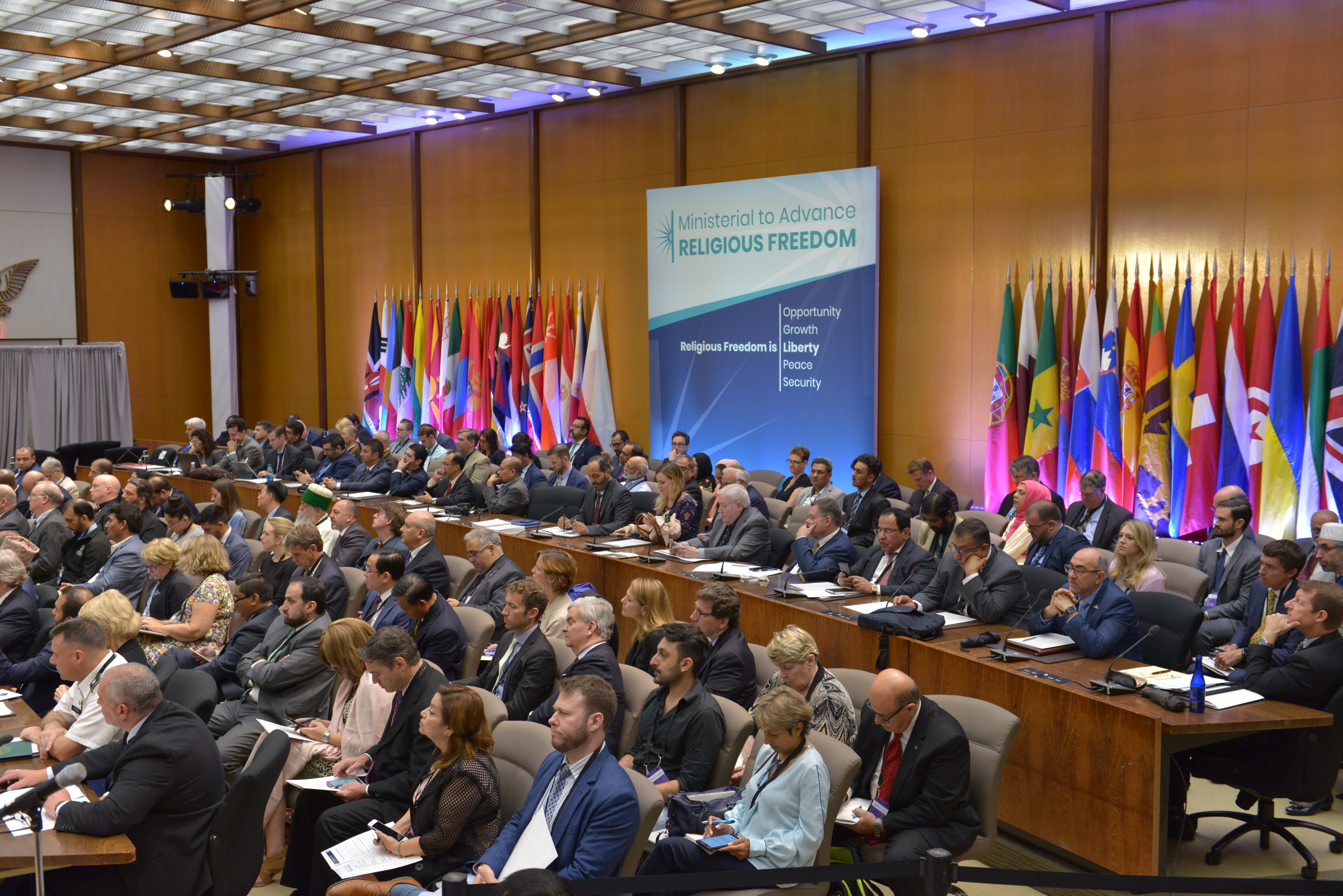 Between the dates of 10-11 July 2019, Media Diversity Institute attended the US State Department's annual Ministerial on Religious Freedom in Washington, DC.
It is the largest, and most well-attended US State Department event relating to religious freedom.
"Religion is one of the most sensitive identity issues, so we are thrilled to have this opportunity to hear about experiences religious minorities are going through, but, also, to contribute to a debate on  what the media's role is  in debating and reporting on the issue," said MDI Executive Director Milica Pesic, who attended the event on behalf of the organisation.
Over the course of the three day event, participants heard from more than 1,000 participants representing 106 countries, including but not limited to testimonies from religious violence survivors from countries like Iraq and Pakistan.
Date: 10-11 July 2019

Country: UK

Last week, Media Diversity Institute was honored to join the Foreign & Commonwealth Office's International Media Freedom Conference. In addition to joining thirty-two other organisations in putting forward a list of demands towards participating governments, MDI Executive Director Milica Pesic joined a panel titled, "Religion and the Media: Telling the Untold Story."

"If politicians come with a nasty discourse, journalists need it give it some context," said MDI Executive Director Milica Pesic, making the point that journalists often craft their articles around quotes from political figures, and—when those political figures are known for hateful rhetoric—make their media outlets into a de-facto propaganda outlet.

Date: 28 June 2019

Country: Belgium

Originally posted on the European Economic and Social Committee Website.

An EESC hearing points to the need to embrace a human rights-based approach to disability in news and entertainment programmes, to build a more inclusive society that sees the person, and not the disability

With their often one-dimensional and pity-inducing portrayal of persons with disabilities, wrought with myths and misconceptions, and a still insufficient range of news and entertainment programmes that meet the criteria of full accessibility, the European media still have a long way to go before they can be considered to communicate about disability in an accurate and inclusive way.

The pivotal role played by the media in raising awareness on disability rights and in combating the stigma and prejudice surrounding persons with disabilities, which still permeate all aspects of European society, topped the agenda at the hearing on "Communicating Disability Rights" held by the European Economic and Social Committee (EESC) in Brussels.

9 July 2019

Country: UK

Today Media Diversity Institute was one of 33 press freedom and media development organisations that met in London in advance of the Global Media Freedom Conference to call on all participating States to ensure the protection and safety of all journalists and media workers in compliance with their existing obligations and international standards.

The group, representing and working with hundreds of thousands of journalists and media workers, said new pledges will only be credible if States immediately:

Release all imprisoned journalists;

Stop killing, attacking and denigrating journalists;

Investigate and prosecute all murders of journalists.

The group demands all States hold themselves and their counterparts accountable and show demonstrable progress. Several States attending the Conference currently have journalists in prison and unsolved murders.

Date: 17 - 22 July 2019

Country: UK

by: Mikhail Yakovlev

The British Museum and Kings College London (KCL) are hosting the third annual Queer Asia Film Festival at locations across London later this month.

A festival that platforms films that explore several different representations of what it means to be Queer and what it means to be Asian, Queer Asia is a rare, and exciting win for both diversity and intersectionality on screen.

This is important for many reasons. For the longest time, LGBTQ+ characters and love stories have been completely absent from screens around the world. While recently the tide has been changing (2018 was a historic year for LGBTQ+ representation on US prime time television, with queer people of color even outnumbering their white counterparts), our cultural conversation on representation, intersectionality, and the importance of showing a range of different LGBTQ+ stories on screen still has a long way to go.

 

 
<< Start < Prev 1 2

3

4 5 6 7 8 9 10 Next > End >>


Page 3 of 31