Date: 21 September 2016
Country: UK, London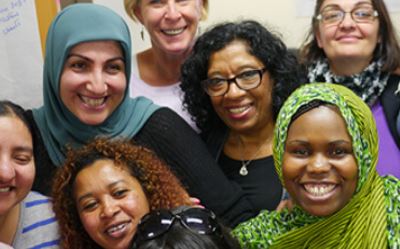 The Women's Interfaith Network (WIN) is organising an event "Women in Conflict from a Writer's Perspective". Shami Chakrabarti will talk to Elif Shafak, Bahiyyih Nakhjanvani and Saurav Dutt  on 21 September  at Adelaide House in London.
WIN is a movement of women committed to building a more trusting and inclusive society. WIN is also an organisation that would like to see "a deep-seated change in the way they relate to people of other religions and cultures, where similarities are celebrated and differences are not considered hurdles to friendship".
Date: 8 November 2016

Country: UK, London

Experts and representatives from Channel 4, BBC, Sky, Creative Diversity Network and the British Film Institute will gather to discuss how the media sector can increase diversity, both on and off-screen, taking into account the demographics of ethnicity, sexuality, disability, religion, socio-economic and body size at the event on 8 November 2016 in London. They will also look at options for policy in terms of funding, regulation and education to encourage more representational recruitment and staff development practices throughout the industry.

"The event on 8 November 2016 in London takes place the context of the Creative Diversity Network's launch of Diamond later this year, Channel 4's 360° diversity charter report, and the BBC's charter renewal process," says the organizer Westminster Media Forum . The Media Diversity Institute (MDI) will take a part at this event.

Dates: 27 – 29 June 2016

Country: Latvia, Riga

The Media Diversity Institute Western Balkans participated at the UNESCO Second European Media and Information Forum. Participants at the event held in Riga on 27-29 June discussed media and information literacy (MIL) in the European media landscape, discussed challanges and reviewed some successful stories of how to empower audience to be more critical and skilful in the digital enviroment. One of the key conclusions of the Forum is about the substantial lack of knowledge about the 'other' in the media, as well as about the need for intercultural dialogue.

Dates: 24 March – 2 April 2016

Country: Serbia

The media literacy workshop is designed as interactive, innovative and inclusive travelling classroom for young people who are interested in learning how to use media tools.  The workshop aims to initiate peace education, reconciliation and intercultural and interfaith dialogue. It will take place in Serbia, from 24 March to 2 April 2016.

Danube Media and Information Workshop is a part of the Media Education Centre project . More information on programme, participation and fees can be found here. Registration is now open and everyone is welcome, especially teenagers and their teachers, university students and young people.

Dates: 7 – 10 December 2015

Country: Geneva, Switzerland

It will take another 70 years to achieve gender equality in the media, reports UNESCO quoting an actress and advocate for better representation of women in the media Geena Davis. During four decades of research and development actions, little has changed and women's participation, their leadership and fair representation in media and technology are way below comparing to their male counterparts.

To coincide with the International Human Rights Day, UNESCO and the Global Alliance on Media and Gender (GAMAG) will hold the first International Development Cooperation Meeting and the first General Assembly of GAMAG, in Geneva on 7 – 10 December 2015. As one of the partners, the Media Diversity Institute (MDI) is determined to keep promoting gender equality in the media and to keep up the momentum and to support campaigns such as Women Make the News 2015 (WMN).
<< Start < Prev 1 2 3 4 5 6 7 8 9

10

Next > End >>


Page 10 of 31