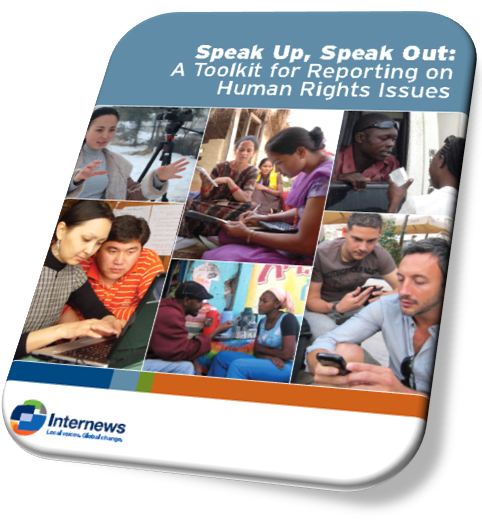 Published: 9 March 2012
Region: Worldwide
The Internews toolkit 'Speak Up, Speak Out: A Toolkit for Reporting on Human Rights Issues' seeks to help journalists and other content creators learn the basics of reporting on women's and other human rights issues.
Respect for the rights of women and girls worldwide continues to lag behind that for the rights of men.
Published: 7 March 2012

Region: Worldwide

The International Federation of Journalists (IFJ) today marked the 101st International Women's Day by calling on media organisations to end the persisting gender pay gap in journalism. The IFJ published jointly with WageIndicator a global report on Gender Pay Gap in Journalism which shows that women journalists continue to face persisting discrimination in wages and benefits.

Published: 21 February 2012

Region: USA

By Summer Harlow

The U.S. media industry still is dominated by men, according to a new study released by the Women's Media Center. While 73.5 percent of journalism and mass communications graduates in 2011 were women, the proportion of women working in media continues to decline, explained MediaBistro.

Published: 16 December

Region: Worldwide

A panel at the UN Alliance of Civilizations (UNAOC) Forum in Doha tackled the subject of Muslim-Western relations in the context of the post-9/11 period. James Bell, director, International Survey Research at Pew Research Centre, shared key statistics from surveys focusing on America, Europe and Russia as representative of the West and Egypt, Jordan, Lebanon, the Palestinian territories, Pakistan and Indonesia as representing Muslim perspectives.

 

Published: 25 November 2011

Region: Egypt

A report published by Amnesty International reveals that Egypt's military rulers have completely failed to live up to their promises to improve human rights and have, instead, been cracking down on journalists, bloggers and demonstrators.
<< Start < Prev 1 2 3 4 5

6

7 8 9 10 Next > End >>


Page 6 of 12