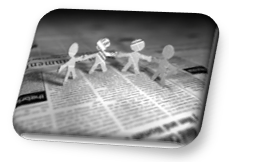 Published: 8 July 2011
Region: France, America & Worldwide
Good journalism needs diversity. It adds perspective and enriches publications, bringing different narratives and reflecting today's multicultural societies. The root of this issue lies in journalism schools. How are schools today working to enrich their student and faculty population?
Published: 8 July 2011

Region: EU

The MEDIVA project seeks to strengthen the capacity of the media to reflect the increasing diversity of European societies and thus foster a better understanding of immigrant integration processes at a time when social cohesion and integration policies are put to the test by an acute economic crisis.

Scheme launches: May 2011

Country: UK

It's clear that Black & Minority Ethnic (BME) and disabled groups are currently under-represented at senior levels in the UK broadcast industry. This scheme aims to provide these diverse communities with the support, encouragement and guidance that all talented people need to reach the most senior roles in the industry.

Deadline: 15 February 2011

Region: Sweden & Middle East & North Africa

Young journalists between 20 and 35 years old from Algeria, Egypt, Jordan, Lebanon, Morocco, Syria, Tunisia, West Bank-Gaza, Yemen or Sweden are invited to apply to a program that will train participants to use social media for social change.

Deadline: 11 October 2010

Location: Washington and developing countries

The Population Reference Bureau (PRB) in Washington, D.C., is inviting senior-level women journalists from developing countries around the world to apply to its Women's Edition program. Up to 15 women journalists from the print and broadcast media will be selected to become part of this international network of leading women journalists interested in women's health and development.
<< Start < Prev 1 2 3

4

5 6 Next > End >>


Page 4 of 6