Dates: 1-3 December and 4-6 December 2012
Country: Egypt, Cairo and Menia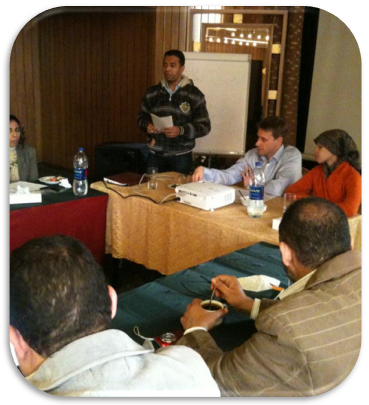 Media Diversity Institute will hold two media relations workshops in Egypt in December. The workshops are organised for NGOs representing various diversity groups from throughout Egypt. The aim of the MDI workshop is to help NGOs in Egypt to understand how they can get their issues and views heard through the media.
Media relations workshops for NGOs will take place from 1st to 3rd December in Cairo and from 4th to 6th of December in Menia. The trainers who will work with NGO representatives on media relations issues are Nick Carter, former Editor in Chief of the Leicester Mercury from the UK and Maie Shawky from Egypt.
The workshop is being organised within the framework of MDI's two year project "Rebuilding post-revolution Egyptian Media: Embracing free expression, diversity and Inclusiveness", supported by the Swedish International Development Agency (SIDA).
Date: 24 November 2012

Country: UK, Bristol

Media Diversity Institute (MDI) has held a training called "European Twinning and Integration - Sharing Experience and Exploring Funding".

The aim of one day technical training funded by the European Union and supported by Bristol International Twinning Association (BITA) was to promote the potential of town twinning as a means of encouraging understanding between different groups and cultures as well as to promote peace and development through European towns and cities working together and supporting each other.

At the openning of the event in Bristol, sir Graham Watson, member of European Parliament for the South West of England and Gibraltar, thanked MDI as "the people who build a sense of the community across the continent".

MDI's training in Bristol focused on the practices and activities organized by twinning associations and also on the practical side of preparing and managing the projects.

The participants split into 5 groups and exchanged their good practices around the activities organised by twinning associations in the past.

Deadline: 15 October 2012

Region: Middle East and North Africa

The International Center for Journalists (ICFJ) is offering an online course on digital public service reporting for journalists from several countries in the Middle East and North Africa.

The course is the first part of a program that will bring together professional and citizen journalists with civil society actors from Egypt, Iraq, Jordan, Lebanon, Morocco, West Bank/Gaza and Yemen. The six-week session will guide 60 participants to work on ideas for multimedia public service journalism projects.

The selected participants will learn how to identify and adapt to emerging technologies, Twitter basics, reporting through crowdsourcing, visual storytelling techniques, along with many other digital skills.

The best 28 participants in the online course will be invited for a digital media boot camp in Amman, Jordan.

Dates: 21 – 23 September 2012

Region: Fes, Morocco

Media Diversity Institute has organised a media relations workshop in Fes, Morocco, for the NGOs representing minority groups. The aim was to help NGOs in Morocco to understand better a media culture and how they can get their issues and views heard through the media.

The trainers at the workshop in Fes were Lesley Abdela, an international media relations expert and journalist, and Safi Naciri, Editor in Chief at Moroccan SNRT National Radio.

The workshop is being organised within the framework of the Media Diversity Institute's two year project 'Media Evolution: Towards an Inclusive, Responsible & Independent Media in Morocco', which is supported by the European Union Delegation, and UK and Swiss Embassies in Rabat.

Deadline: 5 September 2012

Region: Worldwide

The Population Reference Bureau (PRB) in Washington, D.C., is inviting senior-level women journalists from developing countries to apply to its Women's Edition program.

Up to 15 women journalists from the print, electronic, and broadcast media will be selected to become part of this international network of leading editors, reporters, and producers interested in women's health and development.
<< Start < Prev 1 2 3

4

5 6 7 8 9 10 Next > End >>


Page 4 of 13