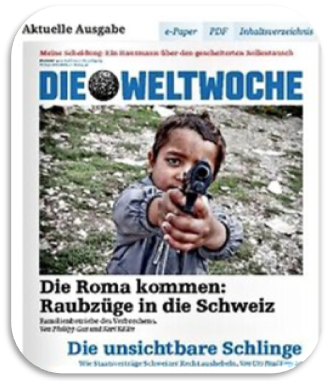 Published: 17 April 2012
Region: Switzerland & Worldwide
By Aidan White
The Roma community is Europe's largest single minority and also the most neglected and abused, often by unthinking editors and irresponsible journalists. The latest example comes from Switzerland where the current affairs magazine Die Weltwoche earlier this month published a front page picture of a Roma child pointing a gun on its cover with the headline "The Roma Are Coming".
Inside an article headlined "They come, they steal and they go" revealed that Roma families from Eastern Europe are responsible for increasing crime tourism, not to mention prostitution and the use of children for begging and theft.
It is the sort of unbalanced, biased and emotive coverage that has many recent parallels not least in Italy, France and many countries of Eastern Europe where governments, political extremists and state agencies – police and immigration offices in particular – have targeted Roma communities.
Not surprisingly, Roma groups are furious. The council for Germany's Roma has gone to court to get Die Weltwoche banned in the country over its front-page racism which contravenes not only journalistic standards of tolerance, but abuses the rights of children to privacy and protection.
Their anger over the use of the picture is made greater by the news that the image dates from 2008 and has no connection at all to Switzerland. It was taken by an Italian photojournalist working in Kosovo.  The gun is actually a toy.
But none of this is communicated to readers who see it only as part of the propaganda promoting the magazine's story.
The picture agency Laif says the picture was part of a documentary feature about the inhumane life of Roma children and added: "Weltwoche's use is distorting, altered the truth and reversed the meaning of the photograph."
The anger among Roma leaders in Europe and particularly those in Germany is entirely predictable. More than half a million Roma were murdered by the Nazis in the Holocaust and articles like this, they say, amount to racial incitement and libel and provide propaganda that gives the impression criminality is caused by ethnic origin.
Journalists and media should also be roused to protest and not just because of the abuse of the rights of the photo-journalist whose work has been taken out of context and brutally misrepresented by Die Weltwoche. The misuse of images in today's information-filled world can have a toxic effect. In extreme cases, it can lead to violence as well as fomenting racism, and xenophobia. Journalists have a duty to avoid fuelling the fires of intolerance.
The magazine defends itself by claiming the crime perpetrated by Roma gangs is a reality. The deputy editor Philipp Gut says the real scandal is that Roma gangs misuse their children for criminal purposes. The picture was intended to demonstrate this.
Except the image was a distortion. The complex story of Roma life is only partly addressed in an article that provides little context and reinforces prejudice against Roma people which resonates across many countries and which is used by unscrupulous politicians to foment anti-Roma hatred.
Difficult stories about crime, parenting and child rights in every community need to be told, but when they become a cover for propaganda that promotes ignorance, fear and hatred they create an atmosphere that is threatening to everyone in society.
Tagged in: Untagged
Comments
(0)
Subscribe to this comment's feed
Write comment