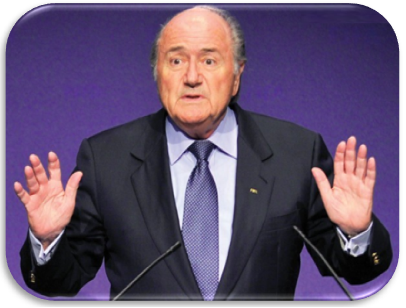 Published: 22 November 2011
Region: Worldwide
By Aidan White
Racism in sports remains headline news thanks to the behaviour of Sepp Blatter, the Swiss President of FIFA, football's global governing body. Blatter sparked a unanimous chorus of calls for his resignation from the press as football writers across the UK ridiculed his claims that racism "does not exist" on the pitch.
His claim that footballers are able to forgive and forget abusive behavior in the heat of play with a friendly handshake at the final whistle sparked derision and disbelief in equal measure among journalists.
They point to controversial incidents involving Luis Suarez of Liverpool and Manchester United's Patrice Evra, who alleges the Uruguayan repeatedly racially abused him in a recent match and police inquiries into similar allegations against England captain John Terry, to illustrate that racism is still part of the English game.
But no-one should be surprised by Blatter's pantomime performance; after all, he is a serial offender in matters of discrimination. He famously suggested that women footballers should wear skimpy shorts to promote interest in the game and he warned gay fans travelling to Qatar for the 2022 World Cup not to indulge in sexual activity lest they breach the country's harsh laws against homosexuality.
This time the barrage of media criticism has forced Blatter to apologise for his remarks. He has now reaffirmed the "zero tolerance" policy which football authorities have promoted in largely successful and long-standing anti-racism campaigns at national and international level.
Once again Blatter, who for 13 years has presided over an administration which has been mired in corruption scandals, looks as though he will escape with his job, not least because although the racism row inflamed opinion in Britain, it has been largely ignored by media and football authorities in Europe and beyond.
This is evidence if more were needed that international work to further encourage media to expose racism in sport is a priority.
Although Blatter claims he has been misinterpreted and misquoted by media, he might do better to encourage efforts being made by groups like Play the Game, which promotes ethical journalism in sports reporting, and programmes like the Council of Europe Media Against Racism in Sports (MARS) project, which is supported by the Media Diversity Institute, both of which provide ample evidence that when it comes to respect for ethnic minorities there is still no level playing field in sports.
Tagged in: Untagged
Comments
(0)
Subscribe to this comment's feed
Write comment