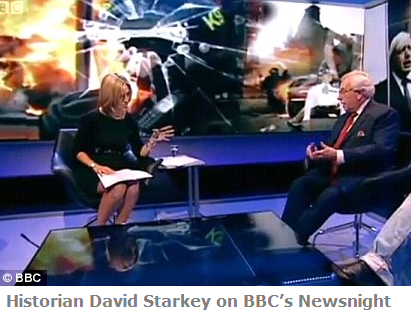 Aiden White for the Media Diversity Institute
Perhaps the most unhelpful contribution to understanding the riots in Britain came last week from historian David Starkey on BBC's Newsnight who recalled Enoch Powell's notorious "rivers of blood" speech in 1968 warning that mass immigration would lead to violence of the streets.
This wasn't inter-community violence, he said, but, "The whites have become black. A particular sort of violent destructive, nihilistic gangster culture has become the fashion and black and white boys and girls operate in this language together."
In his froth about "profound cultural change" and the garbled and questionable suggestion that Britain's young people have adopted a violent black culture, Starkey openly used prime time television to tap into racial prejudice at a time of national crisis.
His confusion was evident as he pointed out, in an elegantly patronising manner, that the down-to-earth and eminently sensible David Lammy, the black MP for Tottenham, sounded "like a white person" on the radio.  Lammy won plaudits for his measured response to the riots in his area after the police shooting of Mark Duggan.
Starkey's comments drew a sharp response from other guests on Newsnight, but they highlight how the BBC needs to tread carefully in the days ahead. In choosing people to interview newsrooms need to provide an inclusive mix of sources who are in touch with communities, thoughtful and, above all, non-judgemental.
Nutty professors and their theories are always interesting, but finding a response to the serious question about why Britain's streets turned violent requires something more substantial than a reworking of Enoch Powell's dangerous ideas.
A more fruitful and relevant line of inquiry might be to ask whether the violence is linked to the fact that Britain's young people are among the most disadvantaged in the developed world according to a report by UNICEF in 2007.
Tagged in: Untagged
Comments
(0)
Subscribe to this comment's feed
Write comment