19 March 2019
Country: Australia
by: Madeline Rose Leftwich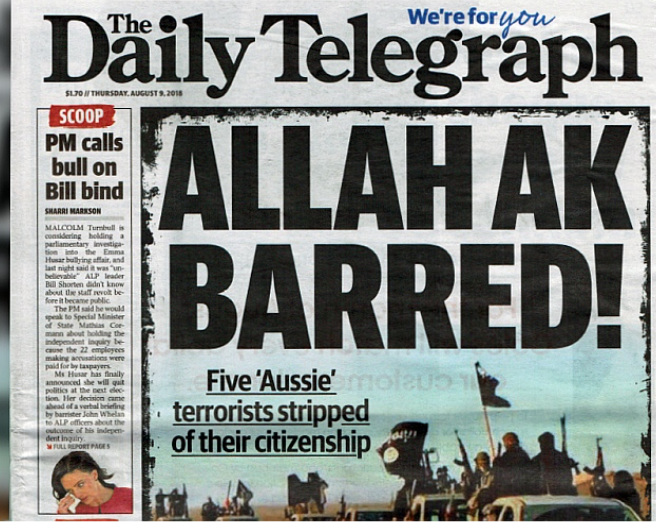 Last week Australian national Brenton Tarrant opened fire on two mosques in Christchurch, New Zealand, killing 49 worshippers and seriously injuring dozens more. It was a uniquely premeditated event; with a go-pro camera strapped to his forehead, Tarrant live-streamed the mass murder on Facebook, hoping to reach thousands of viewers around the world.
As social media platforms scrambled to remove the horrifying footage from the Internet, world leaders offered their heartfelt condolences. Many were quick to call it what it was: a terrorist attack. Australian Prime Minister Scott Morrison described Tarrant as a "violent, right-wing extremist"—pointing to his long history of participating in neo-Nazi, white supremacist groups online.
It is clear that this event did not occur in a vacuum. Just hours before carrying out the attack Tarrant published an 89-page manifesto across social media platforms echoing the anti-Muslim, anti-migrant rhetoric that has become commonplace in Australian media. Titled, "The Great Replacement," his manifesto espouses hatred for Muslims on "our soil," and calls for the deportation of all immigrants. While anti-migrant sentiment is on the rise around the world, Australia has a unique political history of using Manus and Nauru—two islands that have been repurposed as offshore immigrant detention facilities—as a convenient means to keep undesired migrants physically separated from the rest of the country. Shameless headlines chastise "foreigners" for destroying Australian national identity and constantly plotting terrorist attacks. Most of these migrants are refugees from Afghanistan, Iran and Sri Lanka that arrive by boat. The vast majority are Muslim.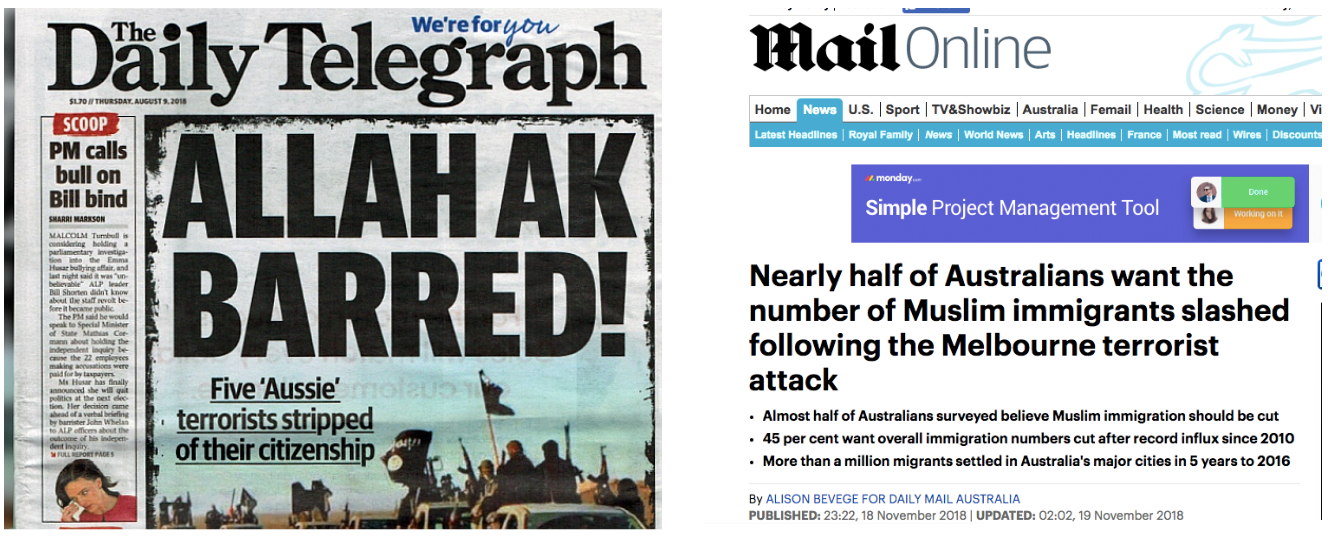 Even though it costs almost twice as much for the Australian government to detain someone offshore than onshore, right-wing politicians have manipulated the island detention facilities into symbols of safety and security; concrete proof that "boat people"—aka, Muslims—are being dealt with elsewhere. Mainstream media fuels this imagined need for segregation. It is not uncommon to see fear-mongering headlines demonising "boat people" as criminals that pose a threat to national security.
As such, the media works to produce a clear boundary of belonging vs non-belonging on Australian soil. Privileged white migrants that arrive by plane are welcome. Poor brown refugees that come by boat are not.
It is clear that this media narrative played an influential role in shaping Tarrant's ideology, and likely, the Christchurch massacre. Language describing the need for a physical and geographical separation between white 'nationals' and Muslim 'others' is rife throughout his manifesto. He repeatedly uses the term "our soil" to describe where migrants are, and are not welcome in a way that mimics popular media representations of migrants as the brown, threatening, Muslim "other." Publishing his manifesto, and live streaming his crimes to a global audience was a way to perform his ideology, proving that he could influence the narrative that had such a profound influence on him.
As we have seen with events like Trump's Muslim ban in the US, and the increasing political influence of the far-right in Europe, this ideology is no longer on the fringes of society; instead it increasingly occupies a place in the mainstream media which is not above fanning the flames of Islamophobia and anti-migrant sentiment. More and more people believe that the sanctity of borders is threatened, and migrants should be deported, kept out with walls or held in prison-like detention centres, preferably on an island.
What happened in Christchurch is a tragic example of what happens when these beliefs are channeled into action. As the Sydney Opera House glimmers with a projection of New Zealand's flag in solidarity with the victims, we must not forget the role that Australian national media has played in creating the kinds of Islamophobic narratives that led to the mass murder of 49 Muslims in prayer. Brenton Tarrant was a neo-Nazi, a fascist and a mass-murderer—and he was a product of his environment. It is only by addressing the hostile, racist and anti-migrant environment which we are in, that we may have a chance of preventing further acts of such extreme hatred.