Date: 5 April 2017
Country: Italy, Perugia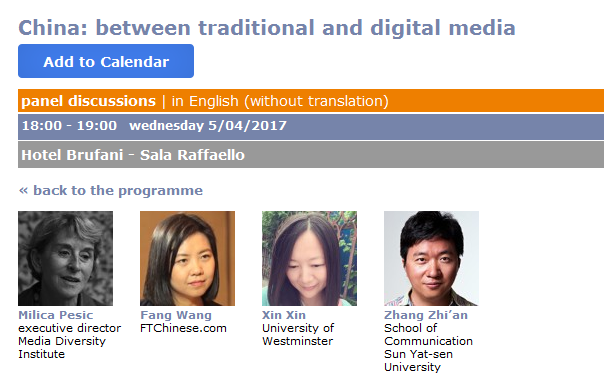 At the International Journalism Festival in Perugia 2017, the Media Diversity Institute (MDI) will host a panel "China: Between Traditional and Digital Media". The panel moderated by MDI Executive Director Milica Pesic on 5 April in Perugia will discuss the efforts by some traditional media to 'voice the citizens' and take more responsibility towards the public.
Does the Internet offer enough opportunities for Chinese citizens and activists to air their concerns even though micro-blogging sites such as WeChat and Weibo enjoy massive popularity across the the country? For instance, Weibo has 600 million registered accounts and 60 million active daily users.
How much the citizens' and activists' posts and the growth of unfettered online activism have led the authorities to rein in micro-blogging sites over recent years? Can Chinese media industry adopt a "more reflective approach" which considers the needs of individuals and individual identity groups and promotes cross-sector collaboration?
These are some of the questions that MDI panellists at the Journalism Festival in Perugia will address. The panellists are Zhang Zhi'an, the Dean of the School of Communication and Design at Sun Yat-sen University in Guangzhou, China, Fang Wang, a senior duty editor and head of video content of FTChinese.com, the Chinese website published by the UK's Financial Times and Xin Xin, a Reader in International Communications of the Communication and Media Research Institute at the University of Westminster in London.
The Festival in Perugia takes place on 5 – 9 April 2017 and it can be followed on Twitter under #ijf17.