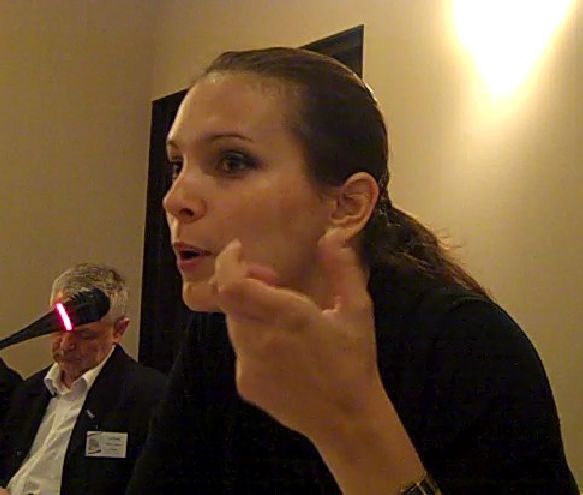 Keywords: media relations, Civil Society Organisations, NGOs
By Antonia Meszaros, News Anchor, Hungarian TV, 2010
In this excellent presentation, Antonia Meszaros, a news anchor on Hungarian TV, details some of the ways that Civil Society Organisations (CSO) representing discriminated groups could help the media to improve coverage of diversity. This resource consists of a video presentation (in 3 parts, below) as well as notes from the presentation (attached).
Antonia describes how the quality and sensitivity of media coverage is not always good partly because of the lack of time and funding available to journalists, and how with a little thought and effort, CSOs can actually help the media to do their job better, primarily through putting themselves forward as sources of stories and information as well as funding.
"There is a lot that could be done by NGOs that either isn't being done or not being done effectively enough [regarding helping the media to cover diversity more responsibly]…" states Antonia.
"… come to us with specific human interest stories that we can do, stories that are pretty much already set up, so that the overworked journalist does not actually have to do that much. Some of these stories could be about problems and some could be about motivational, positive stories about someone making it out of a difficult situation. For example, one of the films that I did commissioned by the BBC was about a Gypsy orphan who grew up in orphanages and who is now a successful film director", continues Antonia.
On funding she states: "Funding [for media organisations] is … a problem. There is probably a lot more money available than we journalists know so … a useful tool would be to build relationships with particular media outlets and help them realise what projects are out there that they could join, what funding is out there that they could go for and come up with ideas that maybe even could be applied for jointly as in a media organisation together with an NGO …"
The notes from the presentation can be accessed here:
Antonia Meszaros Presentation Notes
Video presentation of 'Sources of Stories and Information: How Civil Society Organisations can Contribute to the Improvement of Media Coverage of Diversity'