By Michael Gaskins
Ye, formerly known as Kanye West, is a famous American rapper, songwriter, producer, and fashion icon. Despite his tremendous accomplishments, he has also had to deal with several problematic issues. At a Hurricane Katrina benefit concert in 2005, Ye said former US President George W. Bush 'doesn't care about black people.' He cut into Taylor Swift's acceptance speech for Best Female Video at the 2009 MTV Video Music Awards to say that Beyoncé deserved the award more. A tweet from Ye in 2016 defended actor/comedian Bill Cosby, who had been found guilty of drugging and raping a woman at his home. In 2018, Ye told TMZ, 'Consider the 400-year period of slavery. That's it? That sounds like a choice'. That same year, he was the musical guest on the premiere episode of SNL's 44th season, where he discussed politics and declared his support for Donald Trump.
Now we come to October 2022, when Ye was the center of attention for an entire month. On the 3rd, at the Yeezy Season 9 fashion show, both Ye and social media star Candace Owens sported 'WHITE LIVES MATTER' t-shirts. He went on to add that he wore the shirt to demonstrate to white people that their lives mattered too and that the Black Lives Matter movement was a fraud while at the event.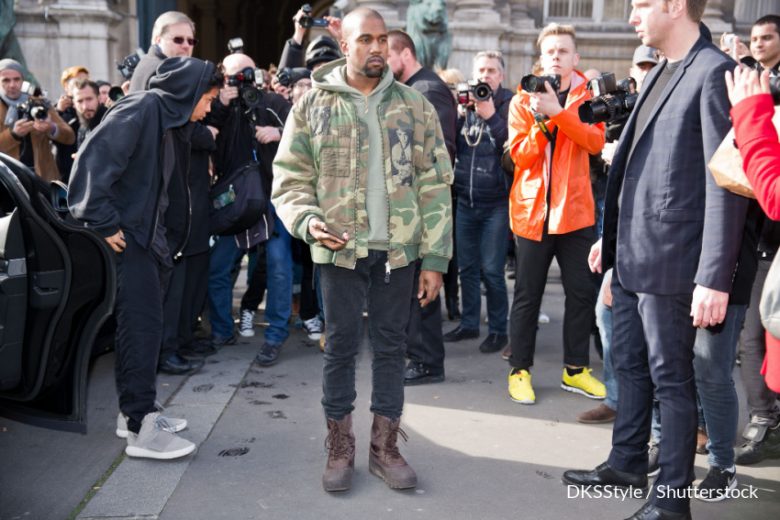 Ye made incendiary and conspiratorial remarks against Jews and Jewish identity on the Tucker Carlson show on Fox News shortly after the fashion show incident. Ye also asserted that Jews are Black people and that the KKK and Margaret Sanger 'established Planned Parenthood to control the Jew or Black population.' He said that, as a Black Jew, so he is immune to accusations of antisemitism. Ye also admitted his 'exhaustion' from being 'misdiagnosed' as having a mental health issue for wearing a MAGA hat and his refusal to take medication that would put him 'one pill' from being as famous as Michael Jackson or Prince. He even compared himself to lynching victims Malcom X, Martin Luther King, Jr., and Emmett Till, who was only 14 years old.
In an interview shown on Revolt TV's "Drink Champs" on October 16th, Ye said, 'Jewish people have owned the Black voice' and 'the Jewish community, especially in the music industry…they'll take us and milk us till we die.' Further, he said he was '#MeToo-ing the Jewish culture' in the vein of Louis Farrakhan. You guys have to take a stand and own up to your behavior.
Even anti-Semitic bigots gave Ye their thumbs up. In his sermon on the Holy Day of Atonement of the Nation of Islam on October 16th, student minister Ishmael Muhammad addressed Ye's recent comments. Members of the Black Hebrew Israelite extremist movement praised Ye for helping to propagate their ideology. Numerous extremist organizations, including White Lives Matter and the Goyim Defense League, have utilized Ye's comments to further their own agendas and inspire new rounds of misinformation.
Ye's antisemitic tweets were deemed 'dangerous' by the American Jewish Committee. Meanwhile, according to the Jerusalem Post, Ye's Jewish fans are appalled by his open and relentless bigotry and are battling to separate the art from the artist as they decide if they can continue to consume his music.
Many companies and brands have severed ties with the Grammy-winning rapper as a direct result of his controversial comments, including the CAA talent agency, the luxury fashion house Balenciaga, the banking behemoth JP Morgan Chase, and the sportswear manufacturer Adidas. Ye saw his net worth drop from $2 billion to $400 million after the Adidas break up. The company issued a statement saying, "(Adidas) does not put up with antisemitism or any other form of hate speech."
After losing his Adidas contract, Ye apologised for his comments about George Floyd. Ye r, said 'When I see that video as a Black person, it hurts my sentiments.'
Ye concluded the month with controversy when he commented on the George Floyd murder, saying that he believed fentanyl was the direct cause of Floyd's death. He reportedly launched a two-million-dollar college savings fund for Floyd and Roxie Washington's daughter, Gianna, after police officer Derek Chauvin killed Floyd by pressing his knee into his neck for 9 1/2 minutes. After apologizing for his inaccurate comments, Ye continued his attack on Washington with an Instagram post in which he said, 'You're being greedy.' Washington is preparing to sue Ye for $250 million. Since then, he has deleted the comment.
Using an image of an Instagram notification confirming his suspension, Ye claimed on Parler, the conservative "free speech" social media website he had just acquired, that he was banned from Instagram for 30 days on October 30th. George Farmer, the current owner of the company, is married to Candace Owens. Due to account suspensions, he now describes himself as a 'digital prisoner'.
Many of Kanye's original fans have stopped defending him and are instead complaining on fan forums and social media. One Ye supporter said on the KTT2 public fan forum, 'This is the first time in the 15 years [I've been] listening to him that I've observed his fanbase turn on him.' Some Ye supporters are apparently still holding out hope, at least according to social media and public forums. A hopeful fan posted on a thread titled "Is this the end for Kanye?" that they believe the rapper will make a full recovery. "People will forget about this [in] a few days and move on," another user said. "
Ye will still have many in his corner, as some supporters have started GoFundMe pages to help him regain his billionaire status. Multiple advertisements have the slogan "Make Kanye West a Billionaire Again," as reported by AllHipHop. Ye was formerly regarded as one of the wealthiest African Americans in the world.
Ye's 2004 song "All Falls Down" explores the subject of putting one's faith in something that ultimately turns out to be futile. Or, you could say, we are often self-absorbed. At least for the time being, it seems like Ye has done the same with concepts that didn't provide the outcomes he desired. His fanbase has dwindled significantly, and he has lost commercial partners as well. When the dust settles, it will be interesting to see who still has his back.
---
Photo Credits: DKSStyle / Shutterstock