This article was initially published on Get the Trolls Out! with the original title Hungarian, Belgian, Polish, French and Greek Media All Publish Anti-Muslim Hate, UK Radio Station Platforms Islamophobic, Fake NHS Employee and German Politician Makes Antisemitic Post. The article is part of Get the Trolls Out! Monthly Monitoring Roundup.
---
In April's monitoring, we saw news outlets across Europe publish anti-Muslim hate, including the editor of a Belgian newspaper and a Greek Newspaper column endorsing the "Islamo-leftism" conspiracy narrative, a Polish government-sponsored magazine publishing a call to violence against Islam, a high-circulation magazine in France publishing a coup-threatening letter against "Islamism" and a UK radio station platforming an Islamophobic, fake NHS employee. We also saw a right-wing German politician spreading antisemitic conspiracy narrative in a Facebook Post attacking a Green Party chancellor candidate.
Hungary – Public service media continue with systematic anti-Muslim and anti-migrant bias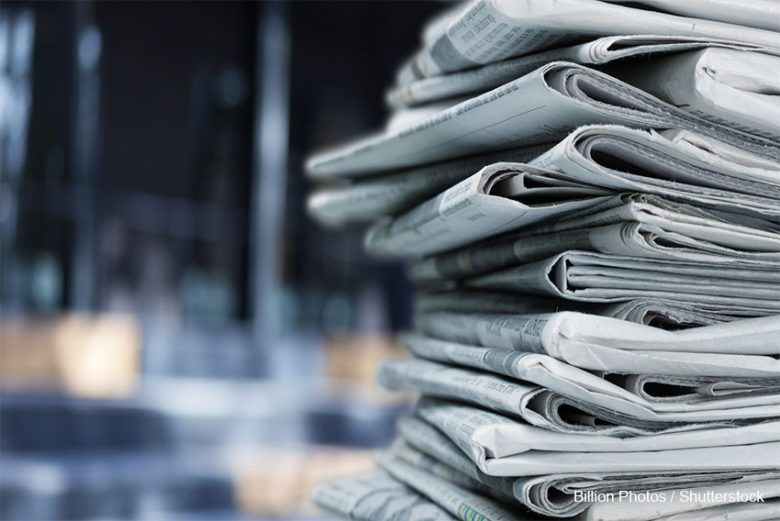 News reports broadcast in April by the Hungarian public service broadcaster M1, and its website Hirado, continued to show systematic anti-Muslim and anti-migrant bias in coverage of migrant issues in Western Europe.
An article on 20th April ("Muslim women wanted to blow up temple at Easter – Islamic radicalism in Europe") presented a strange collage of stories that, without providing any context, reported about the reopening of the Grand Mosque of Pantin, which was closed by the police last October in a crackdown following Samuel Paty's killing; the arrests of Muslim women in France and Sweden for terrorism sympathising; and the agreement between Spain and Algeria to deport undocumented migrants.
Another article on 24th April ("Explanation found in France after the Islamist attack") focused on the killing of a policewoman in Rambouillet, specifically on the prosecutor's statement that considered it to be "an Islamist terrorist attack". Both news reports use inflammatory language and frame Muslims as a monolithic block of violent people that threaten Europe's safety. A recent study by the Center for Independent Journalism (CIJ) has revealed that "Hungary's public service broadcaster MTVA consistently omits facts and distorts the truth in its coverage of migration issues in Western Europe".
Belgium – Le Vif chief editor endorses use of far-right catchphrase "Islamo-leftism"
Gérald Papy, chief editor of the daily Le Vif/L'Express, has written a column that endorses the usage of the term Islamo-gauchisme, or "Islamo-leftism", a conspiracy narrative that claims there is an alliance between left-wing academia and Muslims in France.
Over time, the term "Islamo-leftism" became a catchphrase of the far-right, but more recently, it has gained ground in the public discourse and is used to accuse Muslims and left-leaning activists of being a "threat to the Republic of France".
In his column, titled "Islamo-leftism: a reality and a danger", Papy promotes the book "The Gravediggers of the Republic" by French journalist Mohamed Sifaoui.
Papy agrees with Sifaoui's arguments on the "emergence of political Islam" and warns against the dangers that the "convergence of Islamism and the Western Left" poses to democracies.
Germany – AfD politician spreads antisemitic conspiracy narrative in attack on Green Party chancellor candidate
Martin Sichert, member of the Bundestag for the nationalist far-right AfD (Alternative für Deutschland) party, shared a Facebook post where he attacked Annalena Baerbock, candidate for the chancellor for Germany's general election later this year, using well-known antisemitic tropes related to Soros.
Soros, as well as other, mostly Jewish, rich individuals or families have been at the centre of antisemitic conspiracy narratives that accuse them to manipulate the financial and media sectors in order to pursue their plans of world domination. This conspiracy narrative, which adapts to new events and circumstances, is now also known under the banner of "The Great Reset"
According to Belltower.news, it claims that "a global financial elite is planning a reset of the current world economic order, calling it "The Great Reset" and using the COVID-19 pandemic as a justification. In his Facebook post, Sichert accuses Baerbock of having been "indoctrinated" by billionaire George Soros as a member of the "Young Global Leaders" (a network inside the World Economic Forum) so that he can secure his influence on the Chancellor's office and impose an "ecological dictatorship".
To discredit Baerbock in the electoral campaign, Sichert claims that Soros is the secret power hiding behind her and the Green Party. The portrayal of Jewish people as the masterminds, the string-pullers who want to undermine the established order, lurking behind the scenes of geopolitical events, is an age-old antisemitic trope.
Read more: George Soros as a Scapegoat for Political Gain 
Poland – Government-sponsored magazine publishes call to violence against Islam
An extremely racist article has been published on Do Rzeczy, one of the main weekly magazines in Poland. The piece, titled "The supremacy of my race", compares Islam to Christianity and claims that Christianity has a higher culture and civilisation.
Not only is this consideration groundless, but it also reinforces harmful prejudices that contribute to the stigmatisation of Muslims.
The author, the well-known TV journalist Wojciech Cejrowski, uses vivid and brutal language to describe acts of violence that he attributes to Islam and Muslim people, concluding that it is a duty to fight against expressions of what he calls "barbarian Islam".
When calling for "a (just!) war" against Muslim terrorism, Cejrowski is inciting violence. The very concept of a "just war" is problematic, even when combatting terrorism, but considering the author's claims that Islam is an intrinsically dangerous religion, the article can be read as an incitement to violence against the whole Muslim population.
This case is extremely serious, especially because the article was published in a magazine which is sponsored by, among others, several state-owned companies, and the Polish Ministry of Justice.
France – Weekly magazine republishes and endorses a threat of military coup to address "Islamism" and "suburban hordes"
The nationalist right-wing magazine Valeurs Actuelles has republished and endorsed an open letter by 20 retired generals and more than 1,000 officials in the military, police and gendarmerie, calling for a "return to the honour of our rulers".
The letter contains calls to violence and a threat of a military coup. Addressed to the president of France Emmanuel Macron, to the government of France, and to all the MPs, the letter asks for action to address the "disintegration" of the country as a result of "Islamism", "suburban hordes" and "certain forms of anti-racism" which, according to them, will lead to a racial war.
If nothing is done, continues the letter, there will be a civil war due to the "explosion and intervention of the comrades […] to protect our values". The publication of this letter prompted Marine Le Pen, far-right National Rally candidate for the 2022 presidential elections, to give support to those generals and asked them to join her "in the battle for France".
The main person behind the letter, retired gendarmerie officer Jean-Pierre Fabre-Bernadac, told The Times that he plans to create a "powerful" organisation, if the government of France will not listen.
The publication of a coup-threatening letter by a magazine with a high circulation and influence is extremely unethical behaviour. It both legitimises and helps the spread of violence, with potential of serious consequences for the safety of religious minorities.
UK – talkRADIO caller alleges homophobic discrimination by Muslims, but it's a fake
Cristo Foufas's show on talkRADIO aired an interview with a caller who claimed to be a 26-year-old veteran of the North West Ambulance Service.
He alleged a series of episodes of discrimination and hostility he experienced from Muslims because he is gay, such as the denied entry to a mosque to treat a patient with a heart attack, and beheading threats on the streets of Oldham.
Following this, the story was reported by the Daily Star and the Daily Express. The Centre for Media Monitoring (CfMM) investigated the case with the North West Ambulance service, which looked over call logs of the past two years and said no calls for heart attacks in a mosque were recorded and that no-one fitting the description of 'Tom' (blue hair and piercings) had worked for them. Tom's words prompted the presenter to talk about the "no-go" areas in Britain, an anti-migrant Islamophobic conspiracy narrative, and the alleged death threats towards the Batley schoolteacher.
The radio show should have vetted the caller and fact-checked Tom's claims before giving him over 17 minutes of airtime to spout anti-Muslim sentiments without much interruption. In doing so, according to CfMM, which has filed a complaint, talkRADIO has breached Section Five on Due Impartiality of the Ofcom regulations.
After CfMM's investigation, Cristo Foufas said "It could be that we've been duped," and "If we were, I'm really sorry". Acknowledging the North West Ambulance information and the impossibility to get in touch again with 'Tom', talkRADIO has pulled the clip from all platforms.
Greece – Kathimerini newspaper gives platform to anti-Muslim and anti-migrant opinion piece
Titled "Immigrants, Left and Political Correctness", an opinion piece on the daily Kathimerini claimed that the Greek War of Independence in 1821 has been wrongly labelled a "'liberal' revolution" by some historians, in an attempt to "conceal the role of religion".
The author, Takis Theodoropoulos, underlines the role of the "cross" against the "Muslim enemy" and encourage the readers not to forget the religions of those who fought. While the piece might initially seem to be just about "labelling" and historical facts, with a disclaimer that he has no objection about the fact that "Greeks [are] destined to live with Muslims", the author then continues with a tirade against the Left, Islam and migrants. He uses inflammatory language against Muslims and migrants, equates migration to violence (aligning it directly with rape), and says that Greece does not have to accept migration like Britain, as colonialism is not part of Greek history.
The piece ends by encouraging Greece to start a debate on Islamo-leftism, a conspiracy narrative that Takis Theodoropoulos seems to take seriously and claims there is an alliance between left-wing academia and Muslims in France.
---
Photo Credit: Billion Photos / Shutterstock