By Hannah Ajala
Allyship. It's a term I actively started using in 2020. And to be honest, prior to this time, I had never felt a strong need to. After launching We Are Black Journos in 2018, I pride myself on the fact that we are created for Black journalists. Point blank period. Our existence and awareness aren't solely made for purposes of allyship, in order for more 'popularity'. As our events grew, we gained support from several people from different backgrounds, many who were non-Black. It was great knowing that the message was clear, especially when it came to how we promoted our platform. As long as you are in support of uplifting and creating more opportunities for Black journalists, then you are most certainly welcome in our community.
It wasn't until the world had no choice but to openly talk about racism – following on from the murder of George Floyd, that the online campaigns, petitions, black boxes, and long captions began, and resurfaced on a topic that I'd never seen spoken about on such a wide scale – a global conversation.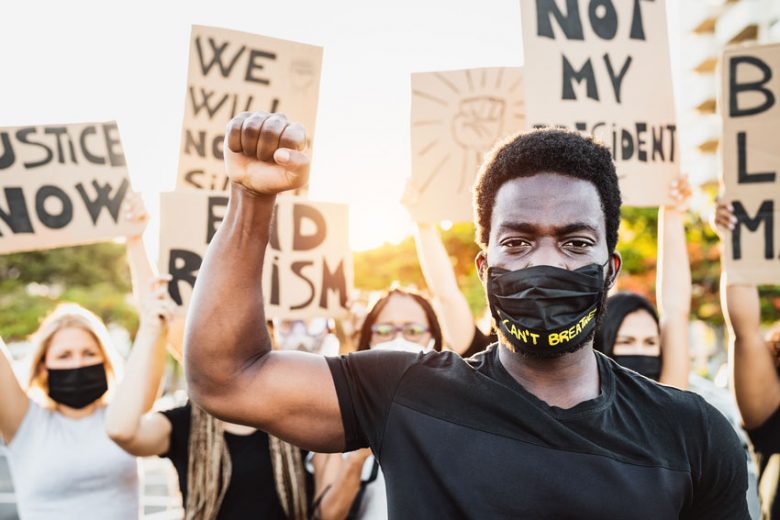 My timelines were flooded with black squares and posts about racism abs injustice, for almost 3 or 4 weeks. I'm naturally an optimist, so I saw this as a great way to solidify unity, education and awareness. It brought some hope that so many people were willing to actually learn, reach out, and help. It wasn't until We Are Black Journos had gained an influx of followers from non-Black journos and execs, and was tagged in posts promoting several initiatives supporting Black people. It was humbling to experience, and motivated me to hold people accountable. I kept note of every non-Black exec that had followed us on social media during those weeks, and proceeded to send a direct message to each of them. They actually inspired me to create our first virtual event also in light of the pandemic, and it was titled: The power of allyship and building that network. I invited every non-Black exec, and the WABJ community of course, to this event. All said yes. All attended. Over one hundred people in total were at the virtual event.
It was an informal and welcoming open space to discuss our why. Why is it important for Black journalists, who make up only 0.2% of journalism in UK, to have just as much opportunities as white journalists? Why does the root of institutional racism then make the further efforts of diversity and inclusion a more challenging task? And do people understand why we must now, more than ever, learn to be anti-racist?
Busayo Twins is a writer with a strong interest in politics and social issues, and has been very vocal about how to truly support initiatives working towards banishing racism. Busayo says, after the public murder of George Floyd which shook the world:
"…when we say Black Lives Matter, it starts from education, health, employment, housing, politics, and media. If you're wondering how we got here, it's through a persistent systematic and coordinated humanisation of our people that enables a range of (ignorant, hateful, passive) people to contribute to the termination of lives believed to be disposable. Truth is, with every attempt to stay alive and seek to thrive we've been in protest."
We've heard the stories and accounts of so many people sharing examples online of injustice. We are also aware that the background work is what contributes most effectively to fueling change for the long-term. So, in the world of media and journalism, what do we then need to start doing more of, collectively?
There are a few things:
Mentoring
Is there someone that you are already connected to, or would like to connect with who happens to be from a marginalised group, then this would be a great chance to actively exercise that you'd like to mentor and ask what they'd appreciate help in, especially when pursuing a career in an industry that wasn't originally designed for people who look like them. Whether it's a regular catch up, checking of a cv or job application, and general advice and guidance, relationship like this are what I believe are to be a true representation of allyship and genuine confidence building.
Accountability and consistency
Offering help is great, but how sure are you that you will hold yourself accountable in order to assure that being an ally is not just a 'one off'? Consistency is key, and when you actually look up the definition of allyship, it reads:
"A lifelong process of building relationships based on trust, consistency, and accountability with marginalized individuals and/or groups of people. not self-defined—work and efforts must be recognized by those you are seeking to ally with."
Notice how allyship is defined as a lifelong process? Meaning that when it comes to issues involving justice and racism, it most certainly is not an overnight process.
Less diversity scheme focus, more inclusion as a lifestyle
Diversity schemes are good, and so important it's how I first got into the BBC – via Creative Access. However, it's a shame to see the little understanding by non-Black journalists when it comes to why these schemes exist in the first place. Many Black interns have shared several of their experiences online about being singled out and being looked at like a 'special person on a scheme'. I think a lot more education to all members of staff – explaining what these schemes are trying to do really need to be implemented more often, otherwise the action and importance of inclusion won't be regarded as highly as they should be.
It was at my 'diversity' internship where I was LOUDLY asked why I was sitting at my desk writing an article and not with the cleaners who all happened to be black … https://t.co/CuDupP9fvV

— Tobí Rachel (@TobiRachel_) February 4, 2021
We can all do our bit. Continue those conversations, reach out and support, and hopefully genuinely feel passionate about being part of the change we hope to see.
---
Photo credit: AlessandroBiascioli / Shutterstock