By Anna Ambrochowicz
This article was initially published on Get The Trolls Out!
With almost 250,000 subscribers on YouTube, Livre Noir is becoming one of the most prominent far-right media outlets in France. Livre Noir has been pushing Eric Zemmour 's presidential campaign and spreading anti-Muslim hatred, while aiming to present itself as a reputable news source.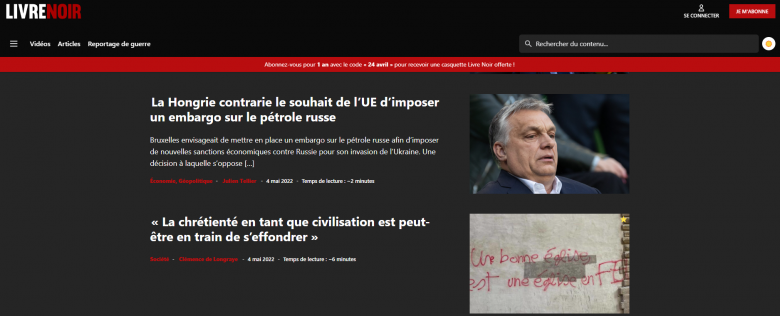 Launched in February 2021 with both a website and YouTube channel, Livre Noir was founded by Erik Tegnér and François de Voyer, both former members of the National Front, extreme right-wing party led by Marine Le Pen.
The name of the channel was inspired by the book Le Livre Noire de La Droite' by the far-right presidential candidate Eric Zemmour. The channel itself is aligned with the position of his political party.
Initially, Livre Noir's format was similar to Thinkerview, a popular French YouTube channel featuring live streamed, long and unedited interviews. The most notable interviews were with prominent figures of the French far-right, including Eric Zemmour and Marine Le Pen's niece Marion Maréchal.
Although Livre Noir claims to be a balanced media outlet, and occasionally includes interviews with figures from the political center in France, such as Emmanuel Macron's close ally Aurore Bergé , those tend to have low viewership compared to interviews by far-right figures. For example, the interview with Eric Zemmour currently has 700,000 views. Such analytics give a hint on the type of audience the channel attracts.
Following the rise in popularity, Livre Noir expanded its production scope. The far-right media outlet now produces documentaries, vox pops videos about specific topics, and even send their correspondents to report on the ongoing war in Ukraine. What is characteristic about their productions is that they tend to convey one-sided reporting, focused on an anti-immigration and anti-Muslim agenda and the promotion of the Great Replacement conspiracy narrative.
An example of their editorial agenda is Erik Tegnér's reporting from Ukraine. In a video, the journalist insists that it is not true that authorities were denying people to cross the border to Poland on the basis of their skin color, and stated that all Ukrainian citizens of Arab or African origin could enter the country. Tegnér also claims that those without Ukrainian passports are pretending to be students without any proof. He also accuses Al Jazeera of trying to put pressure on the frontiers to open a "new gate to the EU." Lastly, his last argument was that there is no need for everyone to evacuate as only cities close to military bases are targeted (a claim that aligns with the Russian disinformation campaign).
Another video that drew a lot of attention is the trailer of an episode of their documentary series on the Great Replacement narrative. This episode looks at the Brussels neighbourhood of Molenbeek, accused in the documentary of being the place where "Islamisation" and "The Great Replacement" are taking place. The series also claim that Catholic residents are forced by their ''salafi'' neighbours to cover themseves and that they are discriminated against by the Muslim community living there. Further, the journalist insinuates that interviewees are in danger of death for speaking up against their Muslim neighbours. The full episode is under a paywall.
The French elections have been part of Livre Noir's most recent focus. A video trailer features Eric Zemmour's narratives claiming that Emmanuel Macron is recklessly endangering the country with excessive migration. The video also endorses Marine Le Pen as a chance to "save France."
Media outlets such as Livre Noir present a problem for the country's democracy and social cohesion. They strive to present themselves as serious and trustworthy – thanks to the high number of content they produce, they are able to include some opposing views that allow them to claim to be balanced. But at its core, Livre Noir is spreading anti-Muslim views, promoting dangerous conspiracy narratives, and is unequivocally siding with France's far-right parties. 
---
Photo Credit: Screenshot