By Sofija Todorović
This article was initially published on Reporting Diversity Network 2.0
---
On December 24, journalists of the "Južne vesti" portal received several death threats against them and their families in user comments under an article about a recent incident in Serbia that looked into migrants. The threatening messages came after the portal published news about the incident that occured in a town in Serbia, Bor, where a 62-year-old factory guard warned a group of men, who were approaching, not to enter the factory zone. After they refused to obey, the guard shot a 22 year old man from the group and wounded him. It turned out that the men from the group were migrants.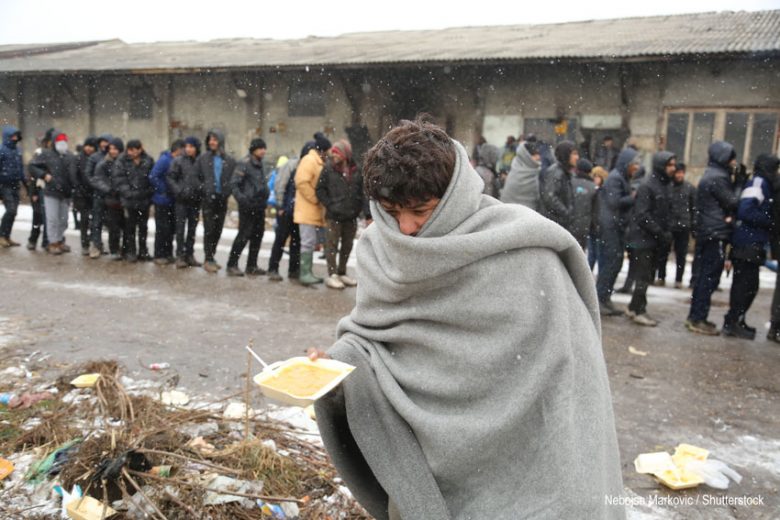 The journalists who wrote about the incident were targeted online because they avoided to emphasize the nationality, ideological affiliation, sexual orientation or any personal characteristics of the person suspected of having committed the crime or the victims of the crime since these characteristics didn't have any direct connections with the committed criminal act.
Even though Serbia received a large number of refugees after the dissolution of Yugoslavia, mainstream media in Serbia are continuously presenting migrants and refugees from the Middle East and Asia as dangerous and violent contributing to the general hostile atmosphere towards them.
Fake news, far-right and bias reporting
From manipulating facts to the fabricating events, cases or editing photographs and videos, fake news about migrants were shared online fast with the aim of scaring citizens. In addition, fake videos were used to call people to protest against migrants.
In the beginning of 2020, the Serbian right-wing opposition party, Dveri, launched an anti-immigration campaign, warning that the country risked becoming "the biggest migrant centre in this part of Europe". However, the data and the reports show the vast majority of migrants who enter Serbia pass through quickly in route to Western Europe.
One of the most common arguments against migrants, widely mentioned in many media in Serbia, is the high number of allegedly committed crimes against Serbian citizens. The tabloids are presenting migrants as savages and citizens are being fueled with islamophobia. Islamophobia has its roots in Serbian history and in the recent past, during the 1990s period, it has shown that it can led to mass atrocities, even a genocide in the case of Srebrenica, so it must be taken seriously.
Another common biased allegation is that migrants are a big threat to women in Serbia, so in more than one case in mainstream media they were presented as rapists without any proof. Rape is a very sensitive crime, and in a society that is still dealing with violent practices and islamophobia, false allegations that a migrant is a rapist can cause violence against migrants and make their living conditions in Serbia worse.
However, official data show no tracks about the alleged attacks against the Serbian citizens or crimes such as rape.
The largest number of mainstream and tabloid media headlines in 2020 has been presenting migrants as rapists, criminals and thieves. Far-right oriented media were also misusing criminal cases involving migrants that have happened four years ago to present them as new events.
Far-right groups using anti-migrant sentiment to take justice "into their own hands"
Anti-migrant rhetoric has been on the rise in 2020, far-right groups were organising anti-migrant rallies in Belgrade, Šid and Subotica, where they were spreading hatred and unfounded accusations.
Since the beginning of the COVID-19 pandemic, people are being overwhelmed with falsehoods and unverified information. People, during the pandemic, live their lives online where content moderation is a great challenge while media literacy keeps being very poor.
In Serbia, a country with historically rooted prejudices about Muslim people, recent conflict memories and populism on the rise, the content that fuels hatred and bigotry found its way to the wider audience.
One of the groups called "People's Patrole" ("Narodna patrola") has a Facebook page with more than 30.000 followers, where they are regularly sharing intimidating content based on discrimination and hatred. On October 25, the same group organised a rally in front of the Faculty of Economics in Belgrade, calling the people "to clean up the park" that is in front of the Faculty where migrants are usually gathering.
In some cases xenophobic attacks against migrants are live streamed on social media which leads to a wider reach of people. One such example is when Filip Radovanovic, breached the fence of a migrant centre in the Belgrade suburb of Obrenovac with his car, burst into the building and shouted racist remarks at migrants. This attack was streamed on Facebook but luckily no one was hurt in the incident. The comments that could be seen online, were diverse, but there was a significant number of comments that were directed against migrants claiming that they have more rights in Serbia than Serbs, how their presence is part of a religious war plan to spread the Islam in the whole Europe, accusations that they are violent and dangerous, etc.
Filip Radovanovic, was a member of a group called Levijatan that marketed itself as a movement that has a very unusual approach to the issue of animal abuse. Upon his arrest, Levijatan organised a protest in front of the centre under the slogan "Stop Illegal Immigrants".
In this hostile environment, the Serbian state is on one side allowing the organisation of anti-migrant protests in the state's capital while on the other side the president of Serbia is saying migrants have committed much less crimes than the domestic population.
The last case that was covered by all media in the country was a case where migrants forced a female worker of the Commissariat for Refugees, to kiss a prayer mat as an act of apology after she stepped on it. A video showing this scene circulated on social media causing many hateful comments and reactions within the public.
The latest research on the influence of the media on the formation of public opinion about migrants and refugees published by The Humanitarian Center for Integration and Tolerance from Novi, with the help and support of the United Nations High Commissioner for Refugees (UNHCR), shows "that negative emotions towards migrants and refugees from the Middle East and Africa are on the rise, both in places where transit reception and asylum centers are located, and among the population that has never been in direct contact with refugees / migrants." As a worrying trend a research maps the large number of threats that can be read on social networks.
Media reporting on any topic or event that includes migrants or refugees has turned out to be very partial and discriminatory towards them. The information from the report (for 2019) of the Commissioner for the Protection of Equality shows that 37% of Serbian citizens wouldn't like to live with migrants in the same state.
Media landscape in Serbia has been marked with the low level of media freedoms, lack of accurate coverage and sensationalistic reporting. However, counter narratives exist, but they are mainly being "produced"by civil society sector, some independent media, few political parties with liberal or leftists orientation and activists. The reach of these groups is still very low comparing to the reach of those who are actively creating anti-migrant atmosphere.
---
Photo Credit: Nebojsa Markovic / Shutterstock