By Hannah Ajala
Longtime musician Robert Kelly, popularly known as R Kelly, has been sentenced to 30 years in prison for 'federal racketeering and sex trafficking charges', after decades of underaged girls and women coming forward about being molested by the American singer. The Grammy award winner has been highlighted as one of the biggest sex offenders, particularly during the #MeToo movement. However, allegations against the singer go back decades.
Allegations of grooming underaged girls first emerged in 1994 when, the then 27-year-old, married 15-year-old Aaliyah in secrecy. It was later revealed by Vibe Magazine, an American music and entertainment magazine that focuses on Hip-Hop, R&B, and Black Culture that Aaliyah had listed herself as 18. R. Kelly, for years has been refusing to give any interviews or make any statements regarding to his marriage to the teenager. In 1995, Tiffany Hawkins who is the first woman to accuse R. Kelly for sexual abuse which started in 1991 when she was 15 and he was 25. More lawsuits followed: in 2001 he was sued by Tracy Sampson who was one of his interns at Epic Records; in 2002 he was sued by Patrice Jones who claimed she was forced to have an abortion, and by Montina Woods who alleged he had videotaped her having sex. In June 2002 he was charged over making child pornography. In 2003 he was arrested for different child pornography charges. In 2017 Buzzfeed News published an investigative report about R. Kelly's 'sex cult'.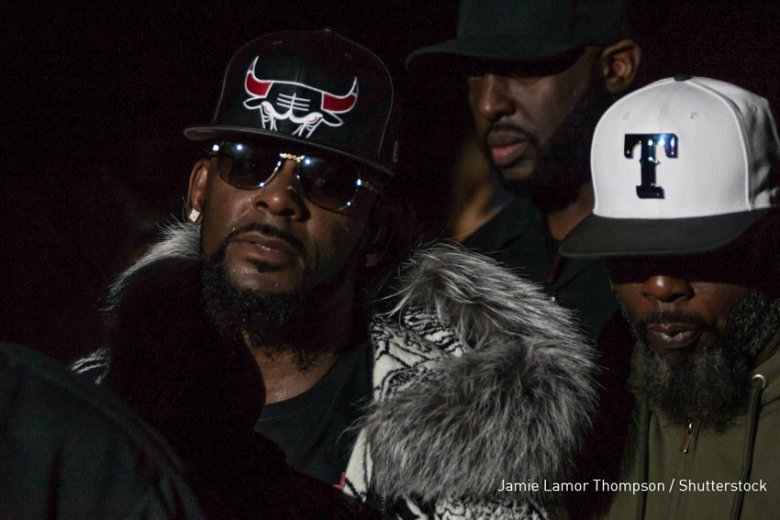 During the hype of #MeToo women took to social media to share their encounters with R Kelly, many from now women sharing details of their abuse with the star as a teenager. The New York court where his most recent trial took place which brought back more trending conversations about the musician worldwide, R Kelly still denied all sexual accusations made against him. And there were many.
During the case, R. Kelly's defence lawyers asked for no more than 10 years, whereas prosecutors urged for a sentencing of more than 25 years, due to the evidence shown and R Kelly's display of no remorse. (Source:)
Regina Mead, a US-based women's rights activist, has highlighted the way the US media represent figures such as R. Kelly and Bill Cosby, who has also been sentenced for sexual abuse and rape, to perpetrators such as Harvey Weinstein.
'When I look at the news and I see how they treated Bill Cosby and R Kelly… I mean, both of them created grievous crimes against women… however, our news is not unbiased. If it's a Black predator, then it's a super predator. It fits into the racist ideology that Black men are beasts, and that their desire is for white women.

When you look at Harvey Weinstein, his court case wasn't on full display, he wasn't matched in front of newscasters like Bill Cosby for instance. There's a disparity in the reporting of a white perpetrator, than of a Black perpetrator,' she tells Media Diversity Institute.
Mead continues by commenting on media biases that influence the way certain news are reported more especially the way news stories depict offenders and victims.
'I feel like more humanity is seen when [the offender or the victim] is a white person. The news treated people like Ghislaine Maxwell, as though she was misled throughout her offences, even though evidence clearly showed she was a perpetrator.

Reports and newscasters report based on their own biases. We all have biases,' she continues.
This in no way takes away from the bigger issue which is imprisoning those who commit abuse. This recent case also sheds light for justice of the numerous survivors who spoke up about R Kelly. It reignites the conversation of the #MeToo movement – with R. Kelly's case being the first big trial of the #MeToo era where the victims were mostly Black women.
When the highly acclaimed Netflix documentary 'Surviving R. Kelly' came out in 2019, it showed several interviews with the Black women he had sexually assaulted and molested. However, divided opinions on the singer's innocence still remained. In addition, regardless of the countless evidence made against R Kelly by his survivors the media went into a stereotyping frenzy towards him and those who survived him.
R. Kelly's case in specific underlines media biases towards the Black community and highlights the treatment of celebrity perpetrators as well as the media disparities on reporting issues of black celebrity and white celebrity abusers. When #MeToo became a trending topic on social media, its long history as a movement was initially forgotten. The efforts of Tirana Burke, a black woman and the founder of the #MetToo movement were overlooked as the movement shifted into focusing largely on white victims.
However, R. Kelly's long awaited 30 year conviction is a victory for Black women who are now finally being heard.
---
Photo Credits: Jamie Lamor Thompson / Shutterstock