By Raphael Mweninguwe
Malawi has, in the past eight years, seen a rise in attacks, threats and killings of people with albinism by criminal gangs.
In its 2018-2022 National Action Plan on Persons with Albinism the Government of Malawi indicates that between 2014 and 2018 there were close to 145 crimes committed against persons with albinism from 21 districts in the country out of the 28 districts and the numbers keep on rising.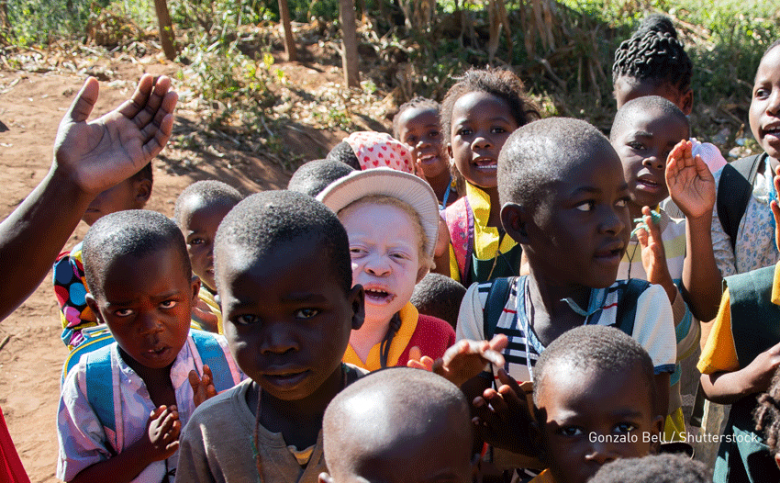 One of the strategic intervention areas of the plan is to intensify awareness on albinism issues including rights of persons with albinism with an aim of changing people's mindsets and foster behaviour change among affected communities and the general public.
A research published by sciencedirect.com on persons with albinism defines albinism as 'a genetic condition caused by a deficit in the production of the pigment called melanin, which protects the skin against ultraviolet light and provides the skin with its color production'.
According to the UN, 1 in 130 people in Malawi has albinism, and there are over 134,000 in total. And 40% of these are of primary and secondary school age and about 80% of these are in rural areas. Amnesty International reports that between 2000 and 2013, it received 200 reports of ritual attacks on people with albinism across 15 countries-all in Africa.
These attacks are a result of the beliefs that body parts of persons with albinism bring luck and make people rich. But government, international and local organisations and development partners such as the UN are on a mission to make this come to an end through the media.
Based on the campaigns to raise awareness about these cases of attacks on innocent people, there has been a lot of interest from the media to cover issues affecting persons with albinism.
That interest has resulted in an increase in media coverage. Despite such an increase in media coverage some media experts still feel a lot needs to be done. They point out that not a lot of research is done by the media to have an in-depth coverage of the issues to do with persons with albinism. Others point out that issues of human rights are left out by the media when covering persons with albinism. Furthermore, some say the media fails to use its ethics in covering issuers affecting persons with albinism.
'Although media coverage has improved both in quality and quantity, there is a need to do a lot of investigations and follow-up,' says Dr Levi Manda, a media trainer, in an interview with Media Diversity Institute.
He says when issues relating to people with albinism are in court, the media covers them fairly well without casting people with albinism as natural objects of pity.
Persons with albinism face discrimination in society because of the colour of their skin.
'Many journalists in the country have ensured that stories are told less stereotypically than before,' says Manda.
He, however, observes that residual stereotypes still linger on.
'For example, in international media, stories by Malawian journalists about Malawi still focus on the country as poor, aids-ravaged, traditional, conservative, corrupt, etc with providing evidence and comparing with other countries,' Manda says.
The Association of Persons with Albinism in Malawi (APAM), Executive Director, Meynard Zakaria says the media both local and international have 'really helped to amplify the problems that we are facing in this country.'
'It is because of the media that government has been able to take action,' he tells Media Diversity Institute.
One such action, says Zakaria, is for the police to arrest and convict those who have been involved in the disappearances of persons with albinism.
Prominent people in Malawi have been named as having a hand in the attacks, threats and killings of people with albinism. They include the clergy one of whom was recently convicted and sentenced for taking part in the killings of persons with albinism.
'We also know that the media has named politicians and business people apart from religious leaders as parties to the crimes. But for us we cannot say much about them. What we want is that justice must be seen to be done,' says Zakaria.
Joe Mlenga, a Lecturer at the Malawi University of Business and Applied Science, in his research paper, Journalism and human rights standards in Africa: reportage of violence against persons with albinism in Malawian newspapers, points out that the media coverage of issues to do with persons with albinism portrays them as victims.
He indicates that 45% of the stories published in The Nation newspaper between 2016 and 2018 portrayed persons with albinism as victims while 60% of the stories published in Daily Times during the same period portrayed them as victims.
Mlenga argues in his findings that while the National Plan of Action portrays attacks and killing of persons with albinism as human rights issue the media 'does not recognize this as such.'
He says over a third of the stories published used the word 'albino' in the headlines of their stories which he says is 'offensive to persons with albinism'.
Apart from print media, other sources of news of persons with albinism include radio, online, television and staged dramas during public awareness campaigns.
Chimwemwe Manyozo one of the authors of the report 'The role of the media in advancing the rights of persons with albinism in Malawi' accuses the media of being insensitive. He says the media shows graphic images of persons with albinism who have been hacked to death which he says is not good.
He observes that the media uses terms and languages such as 'albino' which he says is unacceptable and he says this must be stopped arguing they are demeaning to persons with albinism.
He also criticised the media for fueling the attacks and killings of persons with albinism pointing out that some journalists even put the price tag on their body parts which he says makes people to think there is a lot of money in the trade.
Possible Solutions
Zakaria says persons with albinism face a number of challenges. He says majority of them do not have access to better health care facilities, are poor, are food insecure, face discrimination and stigma among others.
'Recently I have seen there is a diversity in media coverage about our issues. The media is now able to cover something on health and education,' he says.
This, he says, is good development and shows that the media is moving in the right direction.
'At first the only issues that we read in the media were about attacks, killings and exhumation of the body by criminals in search of body parts. Today the media is reporting about our education, food security and health,' he says.
The Catholic Commission for Justice and Peace in Malawi in August last year held a training workshop for the media with an aim of teaching journalists on how they can investigate human rights violations and bring to lights issues affecting persons with albinism that have not been reported.
The Catholic Commission believes that training of journalists is key to make duty bearers accountable and ensuring that persons with albinism get justice that they need.
In a written response to a questionnaire, Mlenga says as a way forward the media should go a step further. It should investigate the stories and get a deeper understanding of the issues being covered.
He says most of the stories are event based.
'The published articles are not framed in a way that helps fight stigma and myths surrounding persons with albinism. The majority of stories published do not use persons with albinism as sources,' he says.
As a solution, he suggests human training for journalists so as to cover stories in an in-depth manner and 'not just report human rights issues superficially'.
Manda says attempts are being made to do a better media coverage 'but we still need to do more and consistently'.
'Follow-up stories are often missing. Albinism is reported as an event. For example, the Masambuka murder case was reported as such but there was no further investigation about the market where albino body parts are sold,' says Manda, adding, 'Sometime back, a murderer of an albino girl in Dowa told the court that he sold the parts of the girl he murdered to someone in in Lilongwe [Malawi's capital]. No one from the media has ever followed up on that allegation'.
He says this is where the media needs training if it is to really help the public with information that would help protect persons with albinism and it should do so without 'prejudices.'
---
Photo Credits: Gonzalo Bell / Shutterstock