By Angelo Boccato
The United Kingdom prides itself on its diversity and multiculturalism, but, even though the country is most certainly the one in Europe that acknowledges diversity the most, this does not mean that when it comes to effective inclusion there is still not long way to go. That is especially true of the media.
The number of Black journalists in British newsrooms is significantly low, according to data of the Reuters Institute for the Study of Journalism, as they represent only 0.2% of the journalistic workforce (while they constitute 3% of the British population), while the figure for Asian Britons is higher at 2.5% of the journalistic workforce on 7% of the population. White journalists, on the other hand, comprise 94% of the whole journalistic workforce.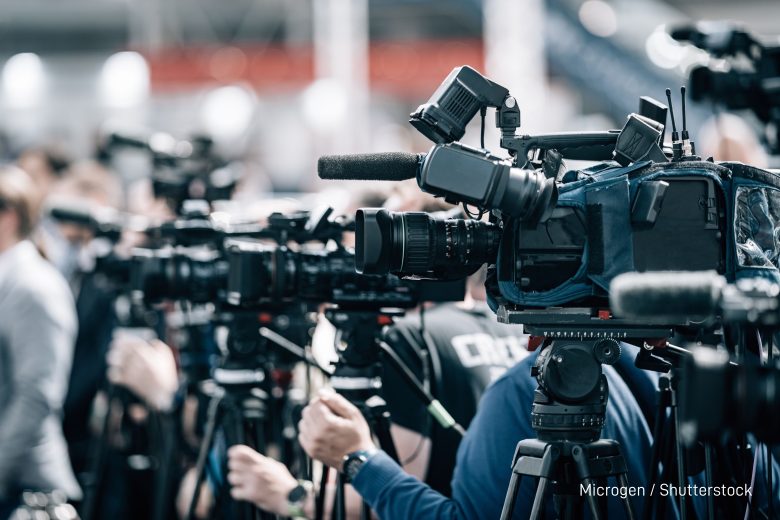 The Reuters Institute for the Study of Journalism also found in its research in five media markets (US, South Africa, Brazil, Germany, and the UK) that, when it comes to editor roles "the percentage of non-white people in the general population is much higher than it is among top editors". In 2021, in Germany, Brazil, and the UK, none of the outlets in the research had a non-white top editor.
"I think there is a wider issue of representation in the media, not just around race, but class, gender and when it comes to LGBTQ+ people, and there's a real issue with the British media and the lack of representation that is not new, that is just a fact. I have seen some improvements in terms of younger journalists coming on the scene, but I think that needs to change not just because of representation, but because it is a question of getting the right kind of journalism", British award-winning journalist and writer Ismail Einashe tells MDI.
"If we don't have people that are the reporters and commissioning editors, if people who are not (making) editorial decisions but business decisions in news organisations, whether these are broadcasters, in the print, or magazines or not-for-profit media sector in the UK then we are missing out on a nuanced understanding of the country and the issues that people face," Einashe adds.
While there are several well-known names of Black journalists and broadcasters in British media, from Gary Younge to Afua Hirsch, Charlene White, Nadine White, Emma Dabiri, and several others, the overall look of the industry in the country is white, and this can be seen by the way certain stories and topics are treated and debated.
When it comes to knife crime, for example, this is often portrayed as "Black on Black crime", which is essentially a racist trope that erases other elements around the issue; to make a comparison, when knife crime was rampant in Glasgow, involving often white working-class youths (as portrayed in Ken Loach's Sweet Sixteen) the label "White on White crime" was not used.
The same approach can be applied to several other topics, from Black Lives Matter to conversations around racism, Prince Harry and Meghan Markle, to overall conversations around race and class.
Another central issue is around the narratives on migration, an issue Einashe has covered, especially in Italy regarding migrants' crossings.
"Since the so-called migrant crisis of 2015, we have seen too much negative coverage of migrants and refugees in British media. This tends to be dehumanising, othering, and migrants and refugees tended to be framed in very simple binary ways, as victims or perpetrators, never as humans with fully formed stories. I think there is a really deep problem with how the media frames migrants and refugees that has an impact in terms of the experiences of migrants and refugees in the UK. We know that after events like the EU referendum there was an increase of racist attacks in Britain," Einashe points out.
"Black and ethnic minorities are poorly represented in the British media, as they are in Italy (because of Italian citizenship laws and a census that does not recognise diversity, it is not clear how many Black Italians there are). I believe that in terms of the spaces available, in the UK and Italy, we need to do more. In the UK, differently from Italy, there is already a conversation on inclusion and diversity, but there has been little progress on the implementation," Stefania Okereke, an Italian journalist of Nigerian descent working at the BBC, tells MDI.
"What we need to do, first of all is have a more diverse staff and that goes from people reporting on the ground telling those stories to management roles, as well as in mentoring programs. If we are mindful of the widespread need and desire of being culturally more diverse, that would help and you would see collaboration between management, commissioning editors, and reporters on the ground," Okereke adds.
Another issue for Black journalists is that, often, especially in the wake of the Black Lives Matter (BLM) protests in Europe which followed the murder of George Floyd, they would be pigeonholed in a way by mainstream media. They are only invited to talk about the issues that are seen as "theirs" – from racism to diversity, but not on other topics.
"This (pigeonholing) is not going to allow Black journalists to explore other areas and to prove that reporting on something else matters, blocking these journalists from flourishing. It can be good in a way (to include Black journalists on specific topics) but it depends on how it is done. BLM has shifted how mainstream media covers the news. It did open everyone's eyes, and progress has been made, but do we need to have a tragic episode for people to remember? For me it is quite difficult to digest," concludes Okereke.
For Einashe, BLM has been a seismic moment for conversations on race, identity, and belonging in Britain, while antiracist terminology has been hijacked and co-opted by the far right and tabloid press. When it comes to what can be done, he says:
"There have been attempts to improve the talent pool from different communities, but we probably need a shift in mindset. We should look out at all issues, race, class and more, and ensure that the media represent all of us. Most of the awards, grants, and fellowships that I have got in my career come from the European and US spaces. Where do you get money as a UK journalist, where are the grants?"
When it comes to increasing the spaces for Black and non-white journalists, the conversation and planning have to be intersectional, across race, class, identity, and gender.
---
Photo Credit: Microgen / Shutterstock