By Osama Gaweesh
On Monday, July 4, Ahmed Samir Santawy will turn 31; unfortunately, he will not be able to celebrate his birthday with family and friends because he is in jail.
Santawy is a researcher and anthropology student at the Central European University (CEU) in Vienna, Austria. His research focuses on reproductive rights and the status of abortion in Egypt between law, Sharia (Islamic law) and society.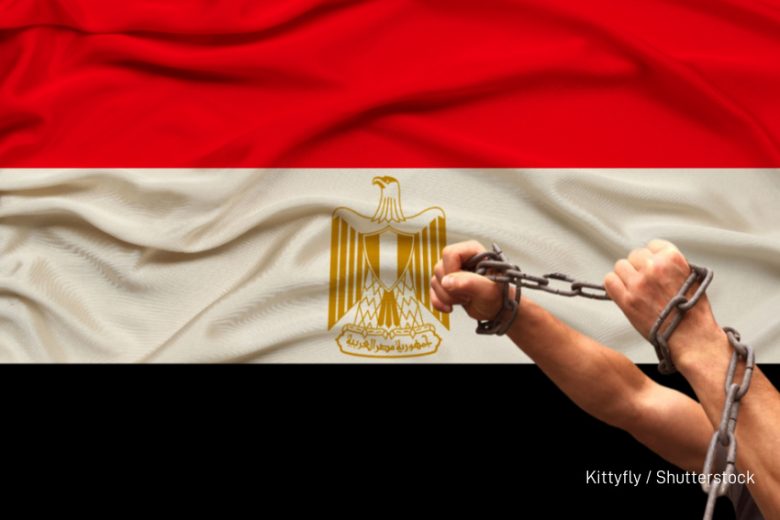 Last year, the Emergency Supreme State Security Court sentenced Santawi, to four years in prison and an EGP 500 fine, on charges of "spreading false news from outside the country about the internal situation".
The story began in mid-December 2020 when Santawi decided to take a short vacation in Egypt and enjoy the sun he missed in Vienna. Upon his arrival to Egypt, he was arrested, as security men conducted informal investigations with him about what he was studying abroad before they let him go.
Weeks later, on January 23, while Santawi was enjoying his vacation in Dahab in South Sinai, a police force raided his family's home in New Cairo, searched the house, and asked him to come to the police station quickly. "Ahmed" promptly returned from the coastal city and went to the Fifth Settlement Police Department to inquire about the reason for his summons, but he forcibly disappeared for five days.
"Samir" was referred to the State Security Prosecution in connection with Case No. 65 of 2021 limiting Supreme State Security. The usual list of accusations against journalists and researchers was brought against him: "spreading false news, using a special account on social media with the intent of that, as well as joining a terrorist group, knowing its purposes." However, Santawy's detention continued to be renewed without releasing him or referring him to trial amid local and international appeals for his release to complete his crippled studies.
On May 21, Santawy was physically assaulted by an officer in Tora Liman Prison after he and some prisoners requested to allow them to console a fellow prisoner whose father had died. Santawi's defence requested an investigation into the incident and presented his client to the forensic medicine department.
Suddenly, a day after his assault, the Supreme State Security Prosecution investigated "Samir" in a new case, No. 877 of 2021 and brought the same accusations against him in the case for which he was imprisoned.
Within one month, Santawy was referred to the trial in connection with the new case, and he was sentenced to four years in prison, in a final ruling with no appeal or cassation.
Over the past few months, several international and local human rights organizations have condemned the arrest of Santawy and appealed to the Egyptian authorities to release him. The Central European University CEU in Austria condemned Santawy's arrest, and the University's President demanded his release and the right to travel to complete his studies.
In April 2021, 74 international and local human rights organizations demanded the unconditional release of Santawy, claiming that the charges against him were trumped up as punishment for his academic work focusing on women's rights, including reproductive rights. Among the most prominent organizations that participated in the campaign: were Amnesty International, Human Rights Watch, the Association for Freedom of Thought and Expression and the Association of Scholars in Danger.
Following the verdict against Santawy, human rights organizations called on the President of the Republic to intervene by the legal powers granted to him, not to ratify the ruling, and release Santawi immediately.
"We live in an age of fear, division and demonization," says Solafa Magdy, an Egyptian journalist and a women's human rights defender told Media Diversity Institute.
Solafa is a close friend to Ahmed Samir Santawy, and a former political prisoner based in France. She believes that human rights defenders in Egypt now are facing an onslaught of harassment, intimidation, smear campaigns, unlawful detention, and even being killed – just for standing up for what is right.
"Those who dare to stand for human rights are coming under attack in more and more places, on an alarming scale," Solafa says.
Targeting journalists, researchers, defenders of women's rights, and those working in diversity related issues in Egypt has become a public policy for the authorities.
Ahmed Samir Santawy was not the first case, and it will not be the last; among them is Amal Fathy, a prominent Egyptian women's rights activist who was sentenced to a year in prison for posting a video on Facebook in which she criticized authorities' failure to protect women from sexual harassment.
Fathy was arrested in May 2018 after posting a video on Facebook where she spoke about sexual harassment and criticized the Egyptian government for its inaction on the issue and its broader crackdown on human rights. She was later sentenced to two years in prison, upheld on appeal. However, she was released on probation in December 2018.
Front Line Defenders (FLD), an international human rights organization, described the declined human rights situation in Egypt and the continued systemic targeting of women human rights defenders in Egypt as a "worrying issue", adding the additional challenges that women human rights defenders face, for challenging gender norms and their role promoting women's rights in the country.
Journalist Solafa Magdy thinks that human rights defenders in Egypt challenge the abuse of authorities' power, defend minorities, and oppose traditional barriers to women's rights in the face of injustice and discrimination, abuse, and demonization.
"The nature of the threat is insidious," says Solafa, adding by taking away our right to protest, putting us under surveillance, and either directly targeting us or failing to protect us, authorities are cutting the oxygen supply to human rights defenders in Egypt.
---
Photo Credits: Kittyfly / Shutterstock