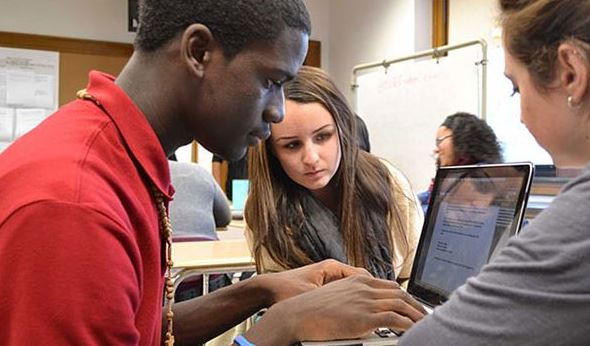 Regions: Europe & Asia-Pacific
Timeframe: 2013 - 2016
Funder: European Commission & New Zealand Education
Partners: Multiple
The Inclusive Journalism Initiative: Reporting Europe and the Asia Pacific is a mobility project between four journalism university schools in Europe and New Zealand.
The project, between the Auckland University of Technology (Auckland, New Zealand), the University of Canterbury (Christchurch, New Zealand), the Danish School of Media and Journalism (Aarhuus, Denmark) and the Swedish School of Social Science (Helsinki, Finland), involves the development of an inclusive journalism curriculum, the exchange of students and staff and joint research. According to the programme, European students will spend a semester in New Zealand, while students from New Zealand will head to Denmark or Finland for their exchange programme.
Region/country: Afghanistan and Pakistan

Timeframe/dates: 2008

Funder: British High Commission in Pakistan

Partners: Intermedia Islamabad

Project Description

This course was the first joint course for Pakistani and Afghan journalists on Conflict Reporting. Held in London in March 2008, the course was organized by Intermedia Islamabad and the Media Diversity Institute, with the support of the British High Commission in Pakistan. During the two-week course, journalists explored the practical, theoretical and management issues of working in conflict zones. The most important aim of the training was to build the capacity of journalists from Pakistan and Afghanistan in reporting on conflict and post-conflict issues through exposure to successful, high profile case studies on conflict resolution

Region/country: Azerbaijan

Timeframe/dates: 2009 – 2012

Funder: UK Foreign and Commonwealth Office

Partners: Article 19

The purpose of this project, jointly managed by Article 19 and MDI, is to strengthen freedom of expression (FoE) in Azerbaijan through advocacy for legal reform, in particular abolition of criminal defamation, and capacity building of the media. While Article 19 is responsible for activities related to legal reforms in the field of FoE, MDI's role focuses on training for journalists on legal awareness and the principles of professional reporting on defamation/FoE issues. In addition MDI is responsible for the design and production of TV debate shows and commissioning of articles on defamation/FoE issues.  The project is funded by the UK Foreign and Commonwealth Office.

Region/country: Indonesia

Timeframe/dates: 2007/2008

Funder: UK's Foreign and Commonwealth Office

Partners: N/A

Project Description

The aim of this project was to enable moderate Islamic NGOs in Indonesia to speak loudly, clearly and efficiently through the media, gaining control over the way in which they are perceived through the media. Therefore, promoting moderate, balanced Islamic views which are commonly and significantly missing from the media's agenda, this is, all too often saturated by extreme attitudes. The rationale behind the project is that it is essential to support and assist moderate Islamic non-governmental organizations in their efforts to promote the concept that Islamic values can be the basis for a non violent democratic political system, equality between sexes, and religious tolerance. The project consisted of a series of workshops organized in cooperation with local partners, On Track Media and the Alliance of Independent Journalists. They were attended by Islamic NGO participants and journalists. MDI experts trained moderate Islamic NGO representatives how to communicate with media, and journalists how to use information provided by NGOs.

Region/country: Global

Timeframe/dates: 2006/2007

Funder: The Sigrid Rausing Trust

Partners: Mediawise

Project Description

Recognizing that suitably experienced and skilled Reporting Diversity (RD) trainers are incredibly rare on the global media training market, MDI intends to train more of them on a regular, systematic basis. Development of a specialized reporting diversity trainers-training program and the resulting pool of highly trained professionals will benefit MDI but the industry as whole as well. The 'Training of trainers – development of RD trainer cadre' program will lay the foundation for a series of annual 'train-the-trainers' workshops, starting with a pilot training workshop, co-organized with MediaWise, at the beginning of November. Our aim is to create, within three years, a pool of 25-35 trainers, at which point training will be reviewed and decision will be made as to whether the pool needs to be sustained through further regular training programs. An advisory panel of four people will oversee the "Training of trainers" development process.
<<

Start

<

Prev

1

2 Next > End >>


Page 1 of 2