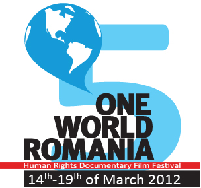 Deadline: 1 January 2012
Region: Worldwide
The fifth edition of One World Romania Documentary Film Festival on Human Rights will take place in Bucharest from March 14th to March 19th, 2012.
The deadline for sending your submission to the One World Romania 2012 is 1 January 2012.
Feature length and short documentaries focusing on human rights issues completed after 2009 are considered for the festival program.
For further information email: This e-mail address is being protected from spambots. You need JavaScript enabled to view it or click here.