Date: 9-10 May 2013
Country: UK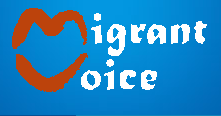 Migrant Voice celebrates its third annual conference focusing this year on media and immigration. The media, academics, migrants and the public will engage in an inclusive debate on migration, examining public attitude and media representation of migrants, and raising alternatives voices and messages.
The two-day conference, which is called "The immigration debate: the facts, the rhetoric and the voices; initiating an inclusive debate and raising alternative voices and messages", will be held on the 9th and 10th May in London.
During the first day, a 'Question Time' session will take place to discuss the current migration issues and the state of the debate as well as the media coverage of migrants. Kurt Barling, the Special Correspondent for BBC London News,  will conduct the debate asking questions from the floor to politicians, journalists and experts such as Sarah Teather, Liberal Democrat MP, Jean Lambert, Green Party MEP,  David Goodhart, journalist, author, and Director of the think tank Demos.
In the second day, journalists from the BBC and the Evening Standard will train participants on how to make a photo documentary, writing for the 'Letters Page' and conducting interview with the media -responding to negative rhetoric on migration.
Click here for more details.