Dates: 22 – 26 May 2017
Country: UK, London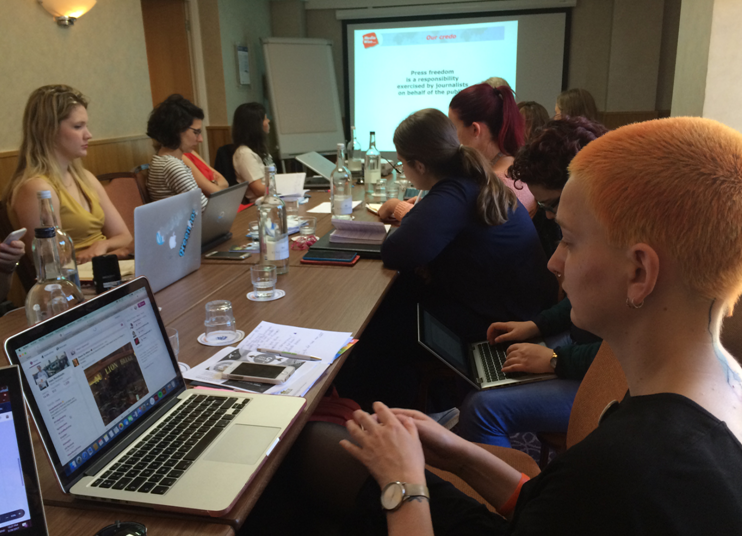 Fifteen participants gathered at the Media Diversity Institute (MDI) workshop "Media Tools against Hate Speech" in London to develop their skills and knowledge on digital tools tackling hate speech. On the last day of the 5-day workshop, they presented ideas for online campaigns such as the promotion of a monitoring report on Islamophobia in the Spanish media, an online tool for reporting hate crime in Slovakia, gifs and memes tackling homophobia, transphobia and biphobia amongst youngsters in Belgium, as well as a project for recruiting teachers, champions of media literacy in Romania. They also suggested #22ReasonsWhy, a supporting campaign for making 22 July the European Day for Victims of Hate Crime,  as well as ideas on how to promote rights and tell the stories of teen mums, Syrian refugees, Roma community, LGBT people etc. in the online space.
The civil society activists from European NGOs, gathered by MDI within the #MediaAgainstHate project, enjoyed several sessions by experts including Matt Cooke from Google News Lab presenting the newest Google tools. They also spent two days at Twitter in its London offices where Nick Pickles talked about this platform's efforts to tackle hate speech. Last year, MDI and Twitter produced Tips to Counter Hate Speech on Twitter,  which MDI's Giulia Dessi introduced to the "Media Tools against Hate" participants.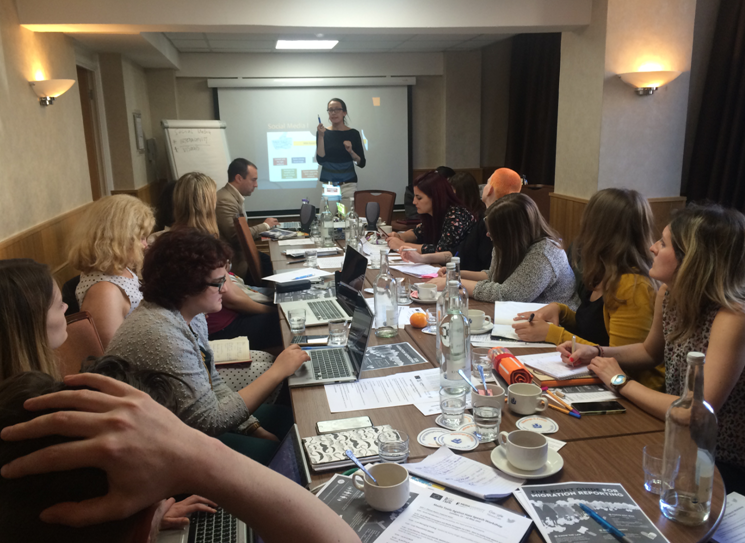 During the workshop, the CSO activists developed their knowledge and practical skills on how and whether, for instance, to reply to trolls, how to fight discriminatory language and posts, as well as how to recognize hate speech. The Ethical Journalism Network (EJN) 5-point test came very useful as well as EJN's Tom Law's explanation on how to determine [I would say 'identify' or maybe 'recognise#]  hate speech in the media. Mike Jempson of Media Wise covered the issue by giving many examples from the European and the British media and took part in providing feedback on the participants' project ideas. Carla Montemayor of Migrants Organise talked about her organisation's strategy to become more visible in the digital space.
"We did a lot of practical work. We went through many Facebook posts, tweets, YouTube videos, infographics and gifs. We debated hate speech and discrimination a lot. We debated how to fight hate speech even more. But I'd like to believe that we all agreed on the necessity to stand up and defuse hate online as much as we can," said journalist Dasha Ilic who led the workshop in London. She added that participants of "Media Tools against Hate" decided to create a Facebook page and Google Drive where they will continue discussion and stay connected after the end of the MDI workshop.
The Media Diversity Institute (MDI) is one of the partners gathered by the European Federation of Journalists (EFJ) for the project Media Against Hate. Other partners involved in the project are: Article 19, Community Media Forum Europe (CMFE), Community Media Institute (COMMIT), Croatian Journalists' Association (CJA) and Cooperazione per lo Sviluppo dei Paesi Emergenti (COSPE).
The project is financially supported by the European Commission (DG Justice and Consumers) and by the Broadcasting Board of Governors, as well as by Google.