Published: 16 October 2017
Country: Malaysia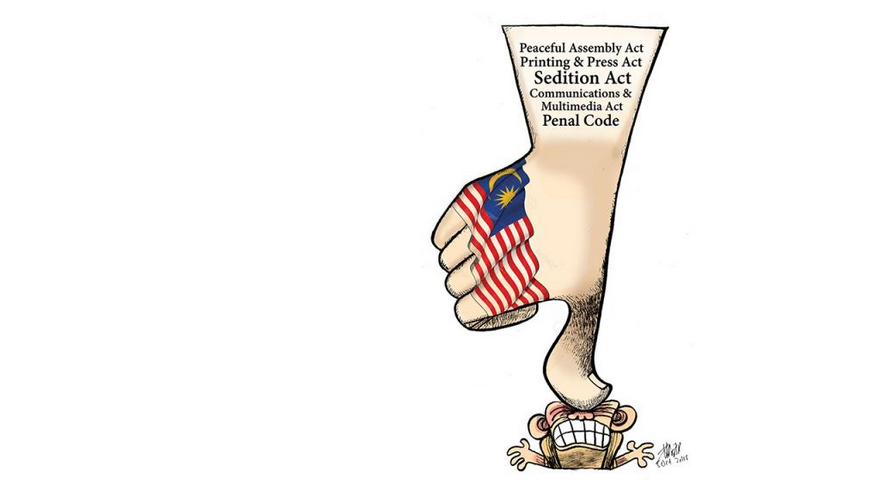 In the last year the authorities in Malaysia have been closing down news portals which were mostly critical of the Government and the Prime Minister. Since Malaysia follows the global trend of consuming news trough social media platforms and online portals, not only that critical voices are endangered but also many marginalised voices that can express themselves only in the digital space.
The news consumption among Malaysians has dramatically changed over the last 10 years. A recent report has revealed that 86% of Malaysians get informed trough social media and on online portals, while 54% and 45% use TV and print media. Media analysts explain that many Malaysians turned to online platforms because of declining credibility of the mainstream media. But by the end of 2017 the Government is planning to introduce a law that will require online news portals to register with the Malaysian Communications and Multimedia Commission (MCMC).
"Upon registration, all news portals will be subject to the laws of the Communications and Multimedia Act (CMA), and this will facilitate control and monitoring by MCMC," said Malaysian Minister Salleh giving an example of Singapore where is obligatory to register a news portal.
According to ARTICLE 19 , "Communications Act reates a number of overly broad content-related offences" and could jeopardize the country's compliance with the international human rights standards, in particular the right to freedom of expression. ARTICLE 19 says the Malaysian Communications Act is "a 'catch-all' legislation and the legislation that enables the interception of the communication, tracking and ultimately prosecution". Dobby Chew from Suaram – a Malaysia human right organisation, says that three people are charged under the Communications Act every week and that "some cases are very mundane".
Daniel Bastard from Reporters Without Borders (RSF) claimed that the Ministry was not very wise when introduced the legal practice similar to the one in Singapore. According to the World Press Freedom Index 2017 Singapore ranks 151st while Malaysia as 144th country in the world.
For instance, when Singapore introduced the mandatory registration for news portals, a portal Sintercom known as open to discussion about national issues, was closed immediately after registration. The founder of the site, Tan Chong Kee said during an interview that "the registration process is a way for the authority to hang a Sword of Damocles over the heads of non-establishment voices".