Published: 25 October 2018
Region: UK
by Safiya Ahmed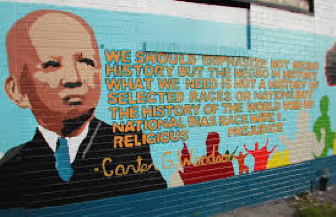 It is that time of the year that we fill our shopping baskets with colourful gourds and admire the changing foliage in our city streets. But with the changing of the seasons, comes another awareness of colour in our national consciousness: Black History Month.
Our local libraries display head shots of Zadie Smith and Chimamanda Ngozi-Adichie wearing colourful head-wraps and resurrect copies of Barack Obama's Dreams From My Father and Nelson Mandela's Long Walk to Freedom. A familiar media debate ensues: is an entire month devoted to Black history really necessary? Is it an excuse for the media to sow the seeds of racial division with op-ed pieces? What about "White History Month"—or Muslim, South Asian, or Latino history month, for that matter.
Published: 5 October

Region: Worldwide

By Mikhail Yakovlev

From censoring breast-feeding mothers to deleting the iconic photo of the 'napalm girl' posted by the Norwegian PM, Facebook's procedures for identifying and removing offensive and dangerous content are infamously flawed.

Recently Facebook have published their Community Standards, but it is not clear how efficiently these are enforced. We at the Media Diversity Institute (MDI) decided to test it for ourselves.

 

Date: 13 September 2018

Region: MENA, Jordan, Qatar, Tunisia

By Mikhail Yakovlev

Despite changes around the world, most recently in India, queer issues remain taboo in the Middle East and North Africa (MENA). "The official fiction that gay people don't exist to any great extent in Muslim countries" – explains Brian Whitaker, the author of Unspeakable Love: Gay and Lesbian Life in the Middle East. In keeping with this fiction, mainstream media in MENA either bypass queer issues altogether or present queers in a negative way.

The case of Qatar's Al Jazeera is particularly revealing in this respect. As "the first independent news channel in the Arab world dedicated to providing comprehensive news and live debate," Al Jazeera's stated aim is to be "a voice for the voiceless." The network's London-based English Service certainly gives queers a voice. A quick search of the English website reveals many sensitive well-researched articles, some of them by Arab writers. In contrast, the Arabic website has a single bizarre op-ed provocatively titled 'The Lie of Scientific Justification for Homosexuality'.

Published: 7 August 2018

Country: UK

By Eline Jeanne

Boris Johnson, the UK's former foreign secretary, wrote a piece for the Telegraph about Denmark's recent burka ban, and whether we should adopt the same laws in the UK. Upon reading the title of the piece, which claims that Demark has "got it wrong", you might be cautiously optimistic. Maybe this piece will show a different side to Boris – you start to think – a side that is willing to listen to Muslim women and recognise the burka ban as demeaning and oppressive. Sadly, this is not the case. The piece spreads degrading messages about women who choose the wear the niqab and the burka, and compares women who wear these Muslim garments as looking like letter boxes and bank robbers.

Published: 3 August 2018

Countries: UK and USA

By Angelo Boccato

Would Me Too and Black Lives Matter movements reach the same audience if they were not supported by the widespread use of hashtags on social media? Also, how important and significant is the online space provided by social media for marginalised groups?

The Pew Research Center published a report "Activism in the Social Media Age" claiming that "roughly half of black social media users say these platforms are personally important to them when it comes to expressing their political views or getting involved with issues they feel are important". The publishing of the report coincided with the fifth anniversary of the use of the #BlackLivesMatter hashtag.
<< Start < Prev 1 2

3

4 5 6 7 8 9 10 Next > End >>


Page 3 of 72