15 August 2019
Country: Brazil
by Andréa Doyle
Cultural tip:  To learn a bit more about Amazonia I strongly suggest you listen to a list called Amazonia Groove on Spotify while reading this piece.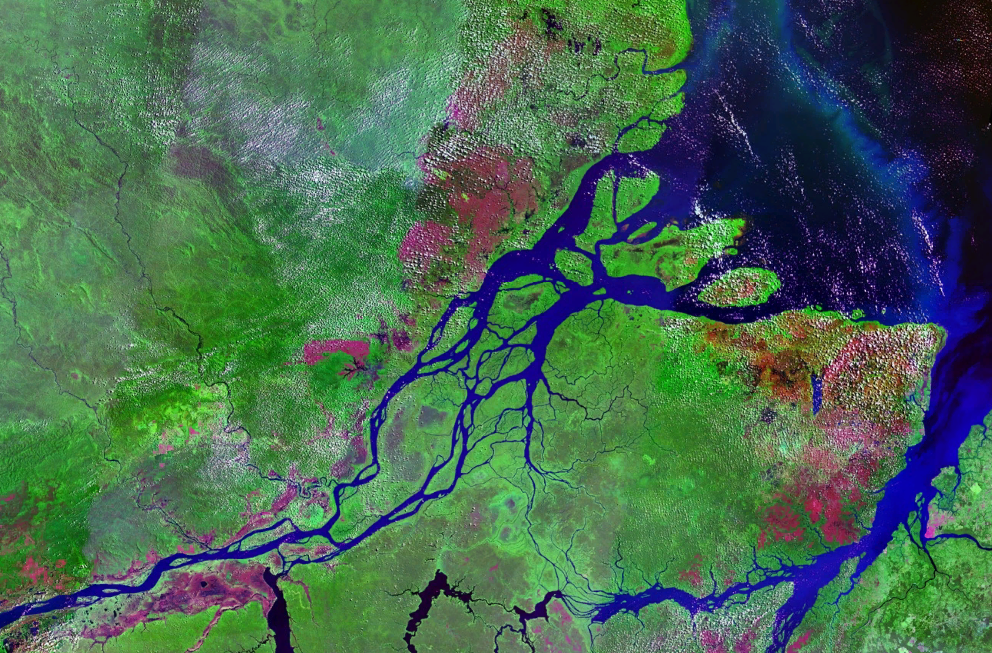 As a "Round Earth" believer, I take climate change very seriously.
One would think that hard statistics announcing an 88 percent increase in Amazon deforestation since June 2018 would make others take climate change seriously, as well. But in Brazil, it seems to be an occasion for Jair Bolsonaro's right-wing cabinet to crack down on hard science, in an exercise of pure nationalism. After the statistics were released, his government accused Ricardo Galvão, Director of the Space Research National Institute (INPE), the institution which gathered, analyzed and published the statistics, of being "unpatriotic" and spreading false information. When Galvão challenged the accusation, he was immediately fired.
These kinds of flagrant denials and misinterpretations are disasterous for diversity. Many indigenous tribe leaders native to the Amazon see Bolsonaro's policies as "genocidal," threatening the rainforest that they have called home for centuries. An increase in illegal gold mining has already lead to the death of a Waiapi indigenous leader, and occupation of the village. Bolsonaro, and the government-affiliated media outlets' disregard for indigenous lives is commonly seen as part of an ongoing crackdwon on these communities, many of whom have voiced that governmental policies have not impacted them this badly since the military dictatorship.
As the devastating impacts of destructive environmental policies become more and more difficult to deny, exercises in ignoring, contorting and completely rewriting the facts are becoming more common. Intrigued by this national exercise in creating, recreating and rewriting "the truth", I set about looking at how the conversation is unfolding on social media, who is tweeting, who is commenting, what they are commenting and who has the most influence.
"Here is the reason they fire the guy who accurately reported on deforestation."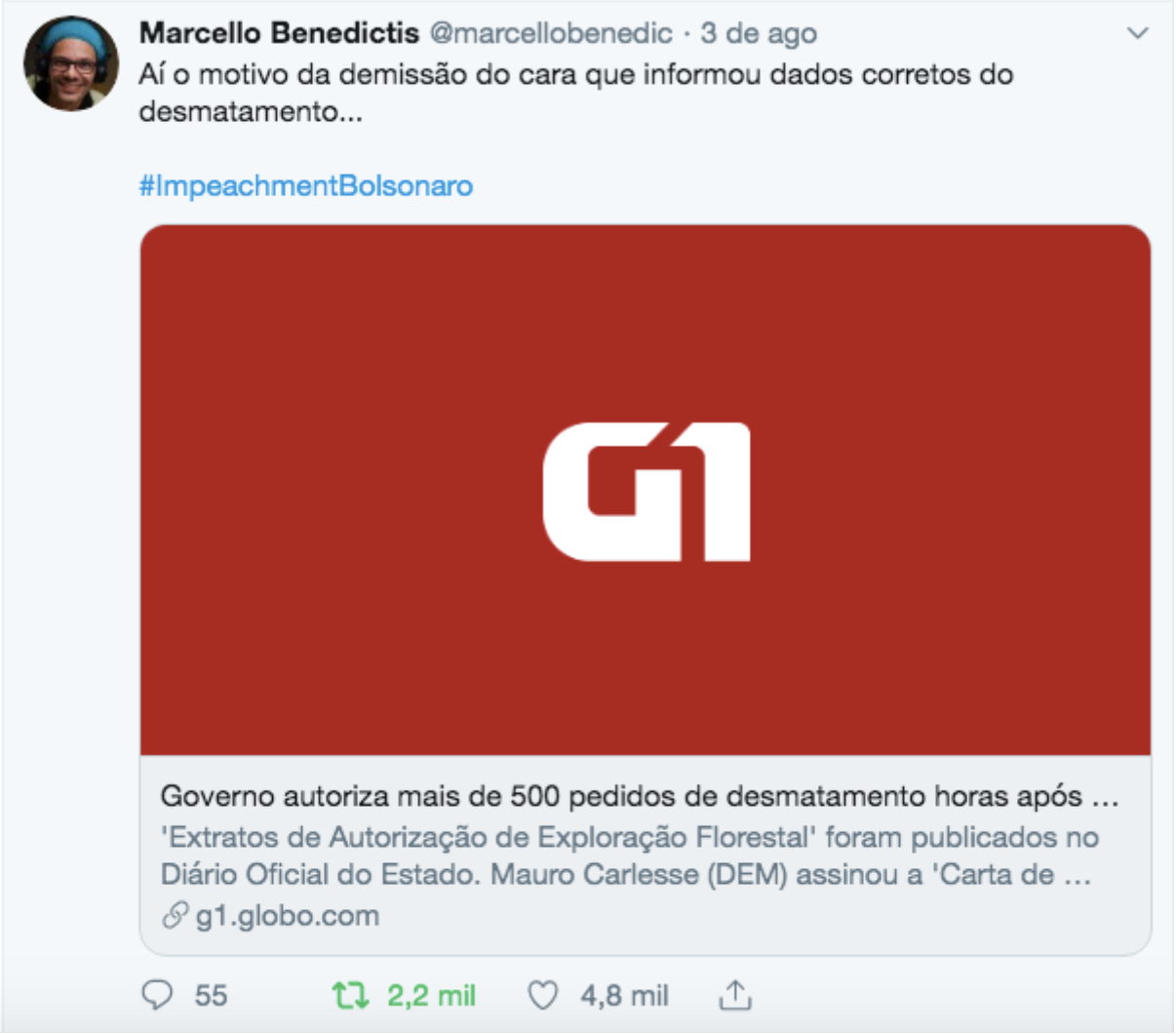 Left-wing commentator Marcello Benedictis published this post as a snarky aside, stating that the same government which fired Galvão is the same government that authorized 557 requests for deforestation just a few hours after signing a preservation act. The tweet had 4,800 likes, 2,200 RTs and 55 comments.
The article itself presented both sides. On one hand, there is the incoherence of signing a preservation act while authorizing deforestation. On the other, there is the argument that legal deforestation is legitimate, while illegal deforestation needs to be stopped. Most of the 55 commenters supported the criticism of Bolsonaro, calling for him to be impeached. Some (rightfully) argue that the news piece is not about federal but local government (Tocantins), while others (also rightfully) respond saying that it is Bolsonaro who sets the tone for politics across the country.
"Only the fans do not see that what Bolsonaro is doing with IBGE and INPE is proof that we live in a dictatorship. From now on, any agency that announces negative numbers about Brazil or the government will be slaughtered."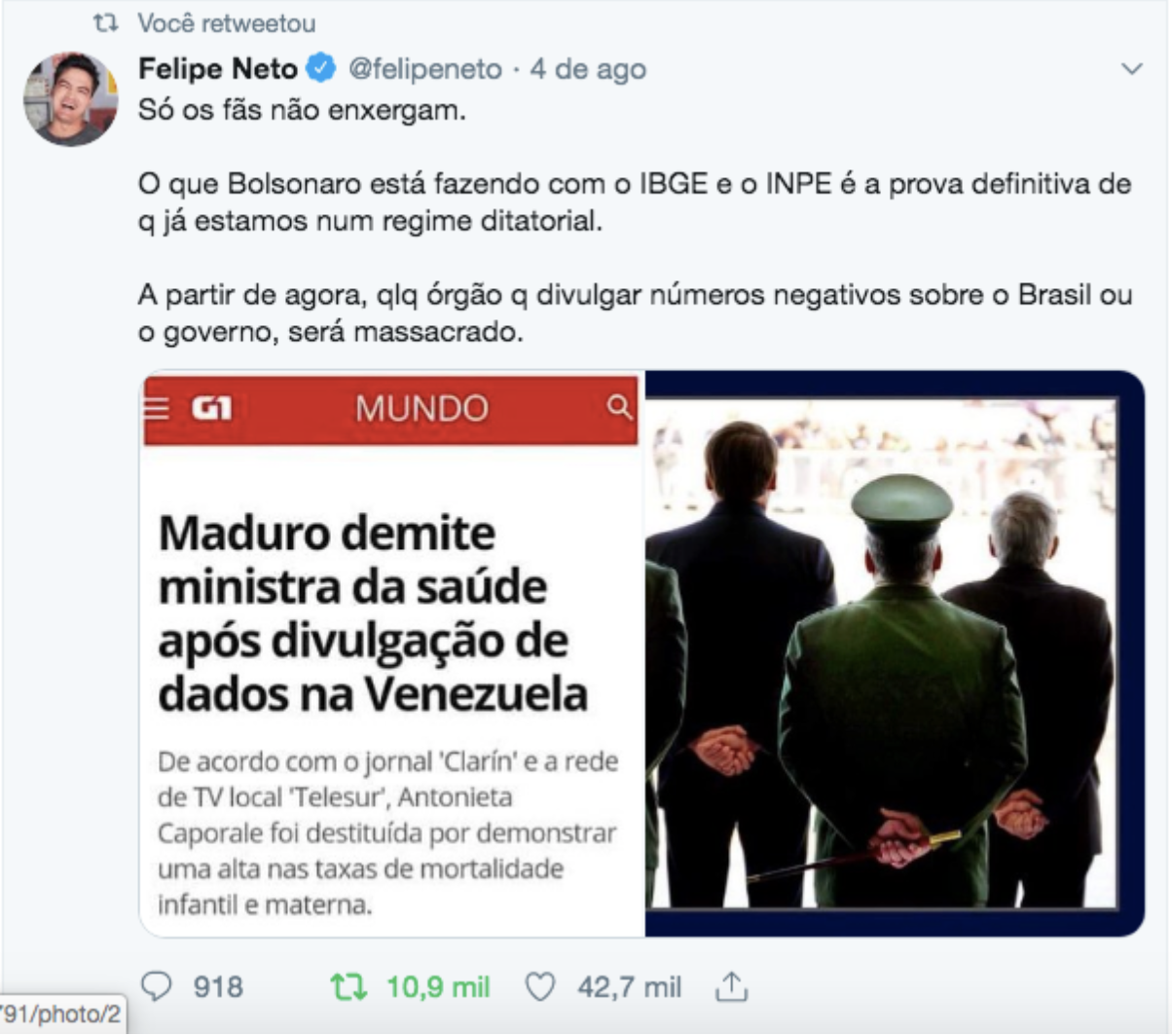 In a more controversial move, Brazilian digital media personality Felipe Neto compares an article about the Venezuelan government firing a health minister due to unflattering infant mortality data with the current climate in Brazil. As an online influencer with more than nine million followers on Twitter and 30 million followers on YouTube, Neto's post has been liked 42,700 time, retweeted 10,900 times and has 918 comments.
There is a mixture of comments that are supporting and arguing against the post. Some echoed his feelings that Bolsonaro is quickly becoming a dictator, and some others pointed out the irony of Bolsonaro doing exactly what he was elected to prevent: that Brazil would become like Venezuela due to communism. On the other side, right-wing comments argued that if Brazil was really a dictatorship, he wouldn't be able to criticize the government on social media.
A few days later, right-wing economic journalist Merval Pereira published an editorial about how deforestation data has always been a problem for governors, and that the idea that it makes Brazil look bad is old. According to the piece, Lula had challenged the data in 2008—a move that drove Environmental Minister Marina silver and activist Fernando Gabeira away from the Worker's Party.
"Our data is absolutely accurate, says ex-director of Space Research National Institute"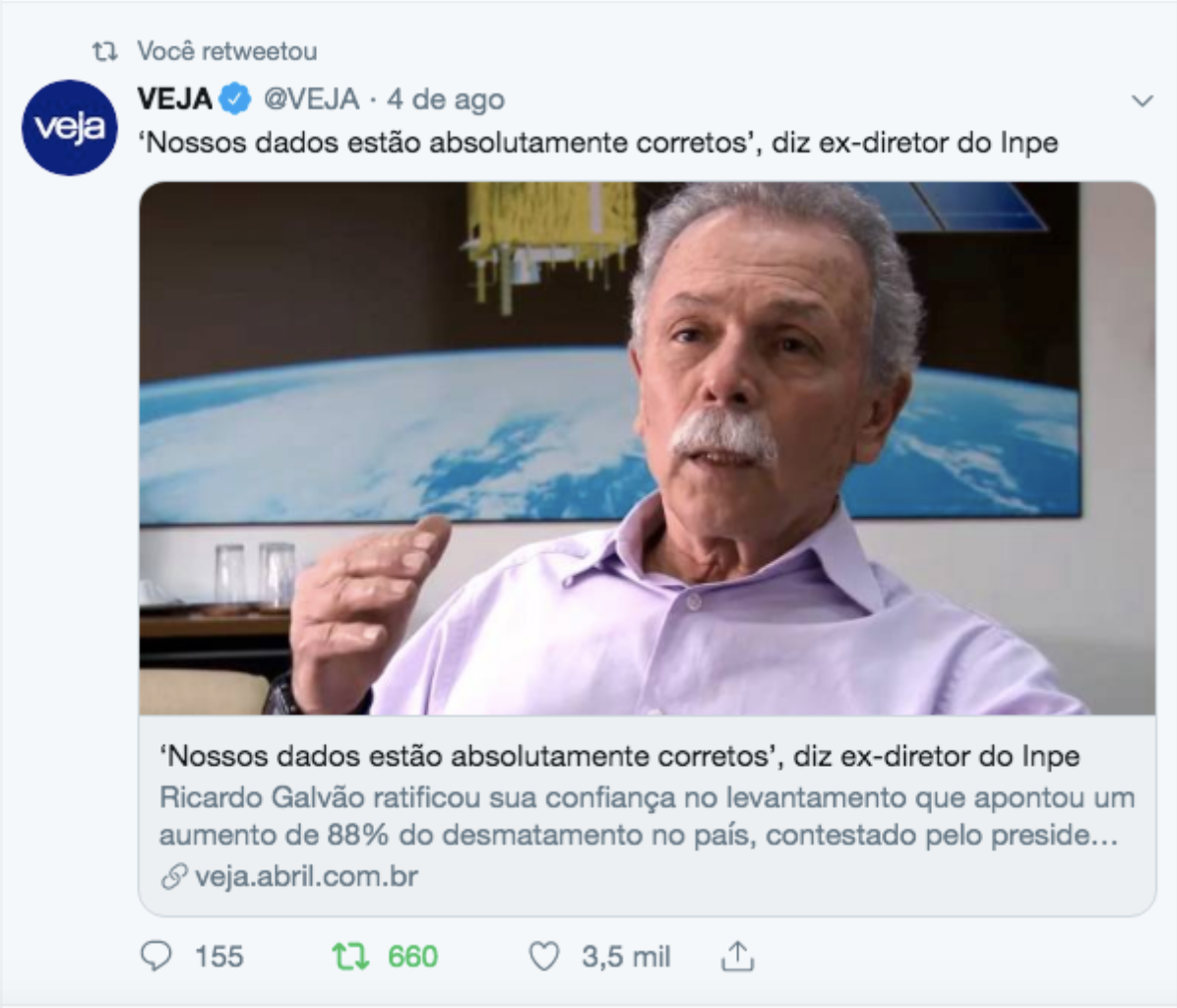 Veja is a right-wing weekly news magazine that has been attacking Bolsonaro's government since the #VazaJato corruption scandal. This particular piece is an interview with Galvão, which reaffirms his confidence in the study. It has 3,500 likes, 660 RTs and 155 comments.
Veja quotes Galvão, who tells the magazine that the area he examined had 1.864 square kilometers of deterioration, 88 percent more than during the same month in the previous year. He agreed that the month-to-month comparison can be faulty because the data doesn't say when the deforestation happened, and accepts the possibility that it could have happened before June. Nevertheless, he clearly states that the consequences of deforestation are real, and, regardless of when its happening, the effects are real and the problem is ongoing.
Many of Veja's once loyal rightwing followers are now accusing the website of treason for criticizing Bolsonaro's policies. Rightwing commenters argue that while the data can be right, the director has to respect the "chain of command" and cannot refute the President. While Galvão's supporters try to speak about his professionalism as a scientist with links to his scholarly articles.
"Bolsonaro's actions on the Amazon forest can be considered crimes against humanity, say lawyers."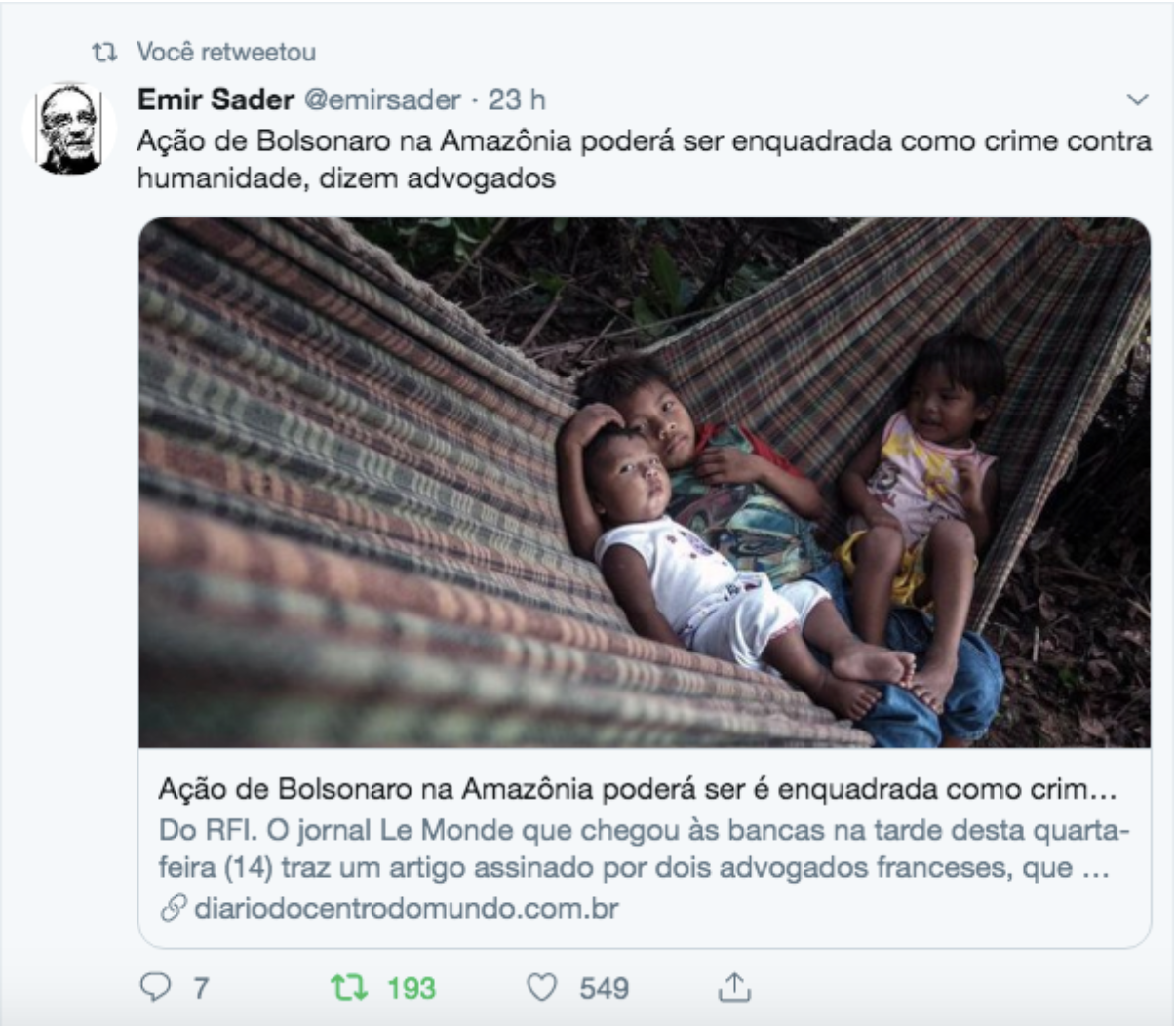 Emir Sader is a known philosopher, marxist sociologist and political scientist with 125,000 followers on Twitter. The tweet had 549 likes, 193 RTs and 7 comments. He posts a piece from Diário do Centro do Mundo, a leftist website, that filters and comments news from other sources. The piece is an exact copy of an RFI (Radio France International) piece from 14 November 2018 that, in turn, reports a LeMonde piece about how Bolsonaro's proposed program (he was not in office yet) was punishable as a crime against humanity. However, the website doesn't acknowledge the passage of time.
Most of the response is supportive, voicing opinions that accuse Bolsonaro of being a genocidal maniac who should answer to the International Court of Justice at the Hague. Only one says "cry leftism" with many pictures of Bolsonaro—followed by a retort with an image of the entire Bolsonaro cabinet dressed as zombies. No one noticed that the piece was almost one year out of date.
"INPE: Government questions make sense, says University teacher."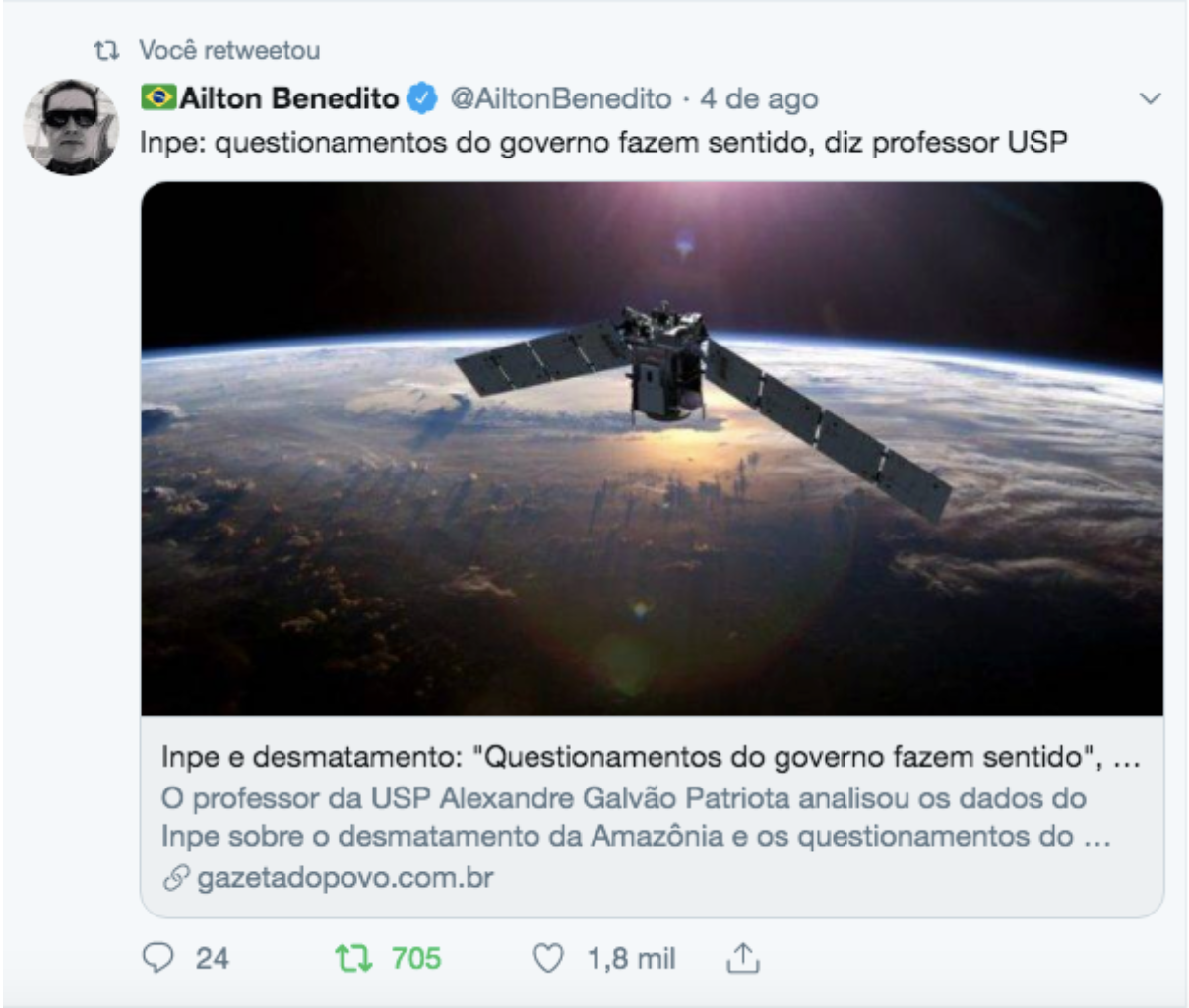 Ailton Benedito is a conservative public attorney with 50,000 followers. The Brazilian flag beside the name indicates that he is a Bolsonaro supporter. He is currently under consideration to become the head of judiciary system, with power to challenge the constitution and investigate all members of legislative and executive powers, including the President. The tweet had 1,800 likes, 705 RTs and 24 comments.
Gazeta do Povo, the publication that he retweeted, is a similarly conservative local news outlet based out of Paraná in Southern Brazil. The paper published three arguments against the deforestation numbers. The first is that the image has been distorted, augmented by other images from other measurements to make it appear worse than it is in reality. The second argument is time; there is no guarantee that the deforestation happened during the stated month, and could have happened, at least partially, beforehand. The third argument is that low vegetation is being confused with deforestation—making the deforestation claims false.
All of the comments are favorable to the post which indicates Ailton most likely erases or blocks critics. Commenters actively applaud this narrative, saying that the government is right and leftists who dare question their narrative should be cleared out from public service as fast as possible.
As for the facts, last week, INPE published July's numbers: 278 percent more deforestation in relation to the same month on 2018. To rephrase a popular Brazilian saying, "In the land of the blind, the one-eyed is completely horrified."
I am starting to hope that the flat Earth believers are right and climate change is a hoax. If not, we're all running to the edge of the world.
Andréa Doyle is a PhD Student in Information Science at Federal University of Rio de Janeiro. Round-Earth believer, progressive, feminist, ex-smoker, rocker, and a mother who suffers daily the consequences of teaching her daughter, when she first learned to speak, that 'because I said so' is not a valid answer.