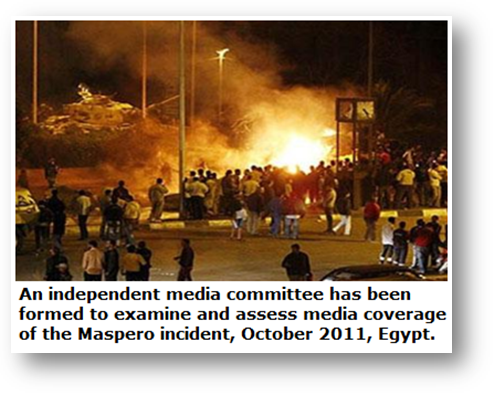 Published: 4 November 2011
Country: Egypt
The Center for Intercultural Dialogue and Translations launched a report analysing video evidence from Maspero incident in Egypt. People expect that after the Egyptian revolution in January 2011, the way Egyptian national TV presents the news will change. Unfortunately, the reports of Egyptian national TV on Maspero incidents in October 2011 show that the coverage was still characterised by confusion and mixing up news.
Egyptian TV put 28 cameras in various locations to monitor everything happened in Maspero, a location where attacks against Egyptian Christian citizens happened. However, it avoided broadcasting a number of scenes that were broadcasted by other satellite channels, such as the use of excessive violence against the demonstrators. The expressions used by the broadcasters and words written on the TV screen also participated in making the Egyptian TV a biased party against the Egyptian Christian citizens.
This report is intended as a contribution to establish a common ground in analysing what has become divided ground of controversy. It has collected 37 videos, link for each video, and minute by minute commentary explaining the scenes. Analysis will accompany each section of video with a final assessment of video evidence provided at the end.
For complete report please click here.
Courtessy of Arab West Report