By Anmol Irfan
Less than a mere decade ago, most of the hashtags we saw on posts on our timelines would be something along the lines of #selfie, #love, #peace, #bestfriend or some other generic part of our post that we tried to fit into this cool new feature that had just popped up. In the last 2 years, we have seen hashtags such as #BlackLivesMatter, #KillTheBill, #JusticeForSarahEverard, with online movements even gaining global outreach such as #EndSars in Nigeria and #IStandWithAuratMarch in Pakistan.
Of course, limiting the idea of a social media movement to just a hashtag is far too simplistic of an idea, but the prevalence of hashtags risks doing just that. When the #VogueChallenge became popular early last year, there was a surge of social media users across the world using the hashtag to create cool looking Vogue covers. Far fewer in that large group used their platform and post to attempt to look beyond the cover itself. It took me a while to catch on to what was happening because I had mainly seen South Asians participating in the challenge on my own instagram feed and very few even mentioned the reason behind the challenge itself – creating space for Black artists and Black voices in mainstream media arenas. The problem with such actions is that they have consequences far beyond being just a bit of harmless fun on social media. They make it that much harder for those fighting for change to have their voices heard.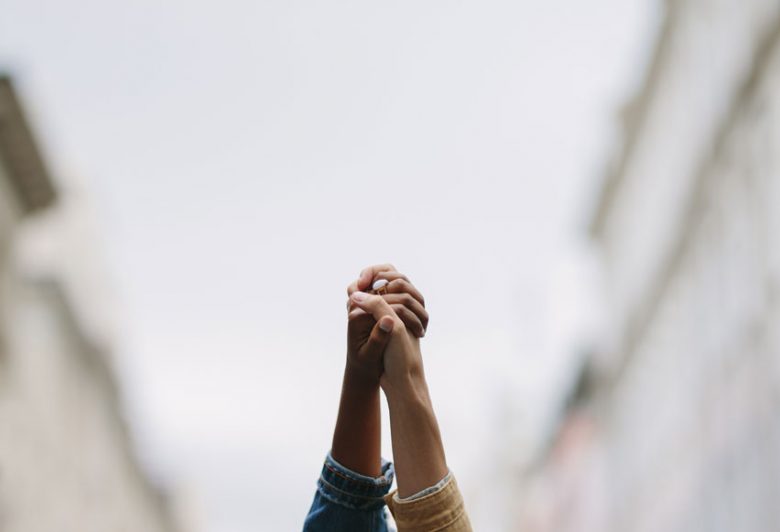 Following Meghan Markle's interview with Oprah that managed to break the internet, Elma Glasgow, a PR consultant, coach and trainer shared what it meant for her to be present within media conversations at that time. In a LinkedIn article she wrote following the interview, Glasgow says,
"Sacrificing the wellbeing – and the mental health – of people like me has never been seen as a problem before, but Meghan and Harry have lifted that veil at a time when the society is ready to respond."
Glasgow pointing out that the media industry is quick to push people of colour and those from marginalised communities under the bus for more clicks is her acknowledgment of a global problem. People of marginalised backgrounds, particularly those who already have a voice in media spaces, are constantly pressured to say more or do more with their platforms, all while the systems in place make it consistently harder for them to do that authentically because their voices are often glossed over in favour of more privileged ones or they're simply not considered worthy enough.
This often manifests in the form of both direct and indirect pressure. Evie Muir, a freelance journalist and Domestic Abuse Specialist in "BAMER" and LGBTQ+ experiences describes the being commissioned to write articles or create content in a reactive way as a direct kind of pressure.
Sabahbano Malik, a Pakistani journalist and comedian talks about how having a public account along with the work she does have often led to pressure from her followers to create the kind of content they want to see.
"There have been times where me speaking on one thing gets inundated to speak on something else, or I have been bombarded with violent, often gut wrenching photos with no trigger warning as someone urges me to take on their cause. I think being a person who volunteers her voice herself most of the time makes people think that it is my duty to take it all on," Malik says. 
The burnout and exhaustion that can come with engaging online isn't necessarily linked to campaigns failing. Salwa Abdul Hadi, an Empowerment and Leadership Coach and an advocate for gender equality faced similar feelings in her efforts to champion a voice for Muslim women.
"I recently ran a campaign online to celebrate strong women in Islam and distil the societal expectations of women within Muslim communities. It was very successful, I interviewed 13 Inspirational Muslim leaders in politics, medicine and business and rising stars. However, almost immediately I fell ill for 2 weeks as I had really pushed myself and the fear of not being accepted and standing against authority. I feel exhausted mentally and physically, yet I am determined to persevere and InshAllah take it more out into the community physically one day soon," Abdul Hadi shared her recent experience with feeling burnout due to her work online. 
The pressure of having to engage all the time can take its toll, and when social media spaces in Pakistan exploded over controversy surrounding the country's annual Aurat March , Malik says she felt the need to step away.
"This year during Aurat March time I would leave my phone and devices in other rooms to quite literally physically separate myself from it," she shares.
Muir also shares that she has had to disengage periodically for her own mental health.
"For me to engage in discussions around gender based violence as a domestic abuse survivor, or racial justice as a Black woman who has lived experience of racial trauma etc requires emotional labour that sometimes I simply don't have the capacity for," she tells MDI.
However, the ability to disengage ourselves may not always be seen as a possibility by many minority groups around the world whose voices are silenced unless they are actively working to be heard every day and sometimes not even then. Kyle Elliot, career coach, mental health advocate and Stability Leader at The Stability Network, is open about his journey as an outspoken advocate and activist on social media, which he mainly shares through his LinkedIn platform.
Despite having a relatively positive experience in engaging with advocacy and activism online, Elliot admits that even at the best of times, it can be exhausting. "While I have yet to experience burnout from engaging in social media activism, I do feel deflated at times. It is exhausting to not feel heard, particularly when it relates to aspects of your personal identity," he says. 
Malik agrees, that for certain groups, online discourse may be all they have, "such as in the case in Pakistan where women's mobility and LGBQT+ and minority visibility is oppressed, it allows for people to join the fight and also feel less alone," she says, adding that she still feels in some ways the work that can be achieved by sparking curiosity for knowledge or change through social media is still undervalued.
For Abdul Hadi, an important way to achieve the best of social media movements is through collaborations.
"More women coming together and standing together rather than separate entities. More public support and the community and religious institutions being open minded to consider alternative outlooks. More support online as well," she says of how change can be positively brought about. 
Glasgow also shares an important lesson she has learnt over the course of her career.
"Never to pour my energy into a bottomless vessel, instead, save it for opportunities where I can hopefully help make a positive change," she says. 
Abdul Hadi and Glasgow's advice is advice that is crucial to those engaging but also an equally important lesson to allies, because it is up to the latter to make sure that there are less of those bottomless voids present within social media discourse where key voices are overshadowed. 
---
Photo Credit: Jacob Lund / Shutterstock