By Mojibur Doftori
@MR_Doftori
At least seven people died, and more than 100 others were injured throughout Bangladesh following the eruption of violence which was the result of an alleged desecration of a copy of Quran on 13 October in a Hindu religious festival in Cumilla. The alleged incident was widely broadcast and shared in social media. Earlier in the year, on 17 March 2021, a Hindu man critisised a radical Islamic cleric on Facebook which led to the attack on Hindu houses by a Islamist group based in Bangladeshi religious schools. Last year, on 29 October, a mob attacked and burnt to death a practising Muslim person with mental health issues as he was allegedly 'hurting religious sentiment'. These are not isolated incidents in Bangladesh. The persecution of religious minority groups in the Muslim-majority country has increased exponentially to a degree that even secular humanists and members of Muslim sects are not spared from violence.
Since the beginning of the COVID-19 pandemic in March 2020, Bangladesh has seen an alarming rise in violence against religious minority groups by people belonging to radical Islamist groups. At the same time social media have been used to spread hatred, rumours, and incitement of violence against minority groups on flimsy grounds such as 'insulting religious sentiments', 'insulting Islam', 'insulting the Quran' or 'blasphemy'. Such rumours have led to mob attacks on religious minority groups, their places of worship, religious idols, as well as vandalization of their houses and setting properties on fire.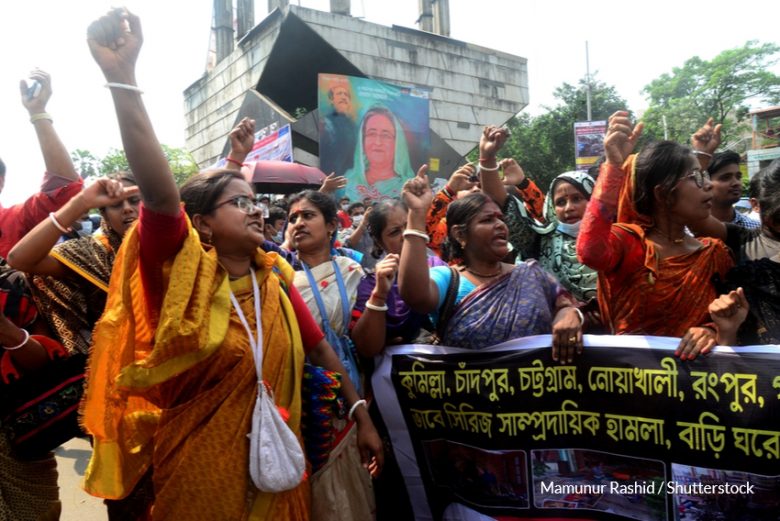 Social media particularly Facebook and YouTube have been filled with sermons of clerics on coronavirus, hate-filled speeches against people of minority religious groups, rights of girls and women and secular humanists. During this time, religious clerics produced hundreds of video sermons widely shared in social media channels with messages that 'coronavirus does not exist'; 'Jews, Christians and other infidels are conspiring against Muslim World'; 'Corona is a soldier of Allah to fight infidels', 'Corona does not infect a practising Muslims', 'Corona is a punishment meant only for non-Muslims'; 'millions of non-Muslims are converting to Islam to escape corona' etc. They also call for a complete 'separation of Muslims' from people of other faiths and advocate 'violence' against people of minority religions, atheists, minority Muslim sects, secular humanists, and sexual minority groups.
Ironically, these incidents are taking place in Bangladesh, a country that emerged as a modern democratic nation-state in 1971 after a bloody war with Pakistan leaving behind the past of a religious national identity. Around 3 million people got killed and hundreds of thousands of women raped during the War of Independence of Bangladesh. Historically, Bangladesh had faced Turco-Mongol conquests. Those foreign rules were indigenized through popular Sufi Islam at the grassroots level that created a syncretic tradition accommodating local religious beliefs and customs. Bengalis have a shared language that unite them despite religious differences.
In 1975, Bangabandhu Sheikh Mujibur Rahman, the founding father of Bangladesh and a secular icon, was assassinated with most of his family members. The military and semi-military governments of the post-1975 period allowed religion-based political parties to operate again to build their political legitimacy. Thousands of religious seminaries opened throughout the country with provision of free lodging and foods, with little or no state control over curricula or quality of education. Millions of children from subaltern classes got places in those seminaries. Graduates from those institutions can hardly get jobs in the formal job market, thus they become either clerics, teachers at religious schools, prayer leaders or assistants at mosques. Radical Islamists are using them as a tool to achieve their political ambition.
In the context of lack of consensus on the country's national identity – Bangladesh as a pluralist nation for all or as a "Muslim country"- the digital revolution has amplified the existing division. Digital access has increased conspiracy theories and a new wave of radicalism in Bangladesh challenging the traditional tolerant version of Islam and undermining the rule of law, equal citizenship, and institutions of representative democracy.
Saleem Samad, an award-winning journalist, columnist and correspondent of the Reporters Without Borders, describes what has led to the precarity of religious minorities in Bangladesh.
"The main challenge of governments of Bangladesh since its independence comes from majoritarian Sunni Muslims who are 'big brothers' of the minorities. The secular government of Bangabandhu Sheikh Mujibur Rahman did not roar at the tens of thousands of Mullahs or Islamists in 1974 when they organised countrywide agitation against poet Daud Haider and demanded to hang him for blasphemy. Mujib arrested the poet and sent him into exile in India. Presently he is living in Germany. Mujib also brought a series of amendments and new laws which favoured the Islamists. Later, the military dictator, General Ziaur Rahman, inserted 'Bismillah Hir Rahmanir Rahim' in the constitution. Another military dictator General HM Ershad inserted Islam as a 'state religion', which caused widespread anger and frustration among religious minorities, rights groups, secularists, and left parties. The present regime of Sheikh Hasina, despite the Supreme Court order to restore the 1972 constitution, did not fully comply with the order and 'circumcised' the constitution and maintained an Islamic tone. Such activities have severely dented the safety and security of the religious minorities and Adivasis (ethnic communities)," he tells Media Diversity Institute.
Samad underlines the importance of upholding the spirit of secular and pluralist founding principles of Bangladesh, punishing perpetrators, and creating legal provisions for providing reparation to the victims for damages caused by perpetrators' actions, incitement and hate speech.
"A religious minority commission should be formed with teeth to bite. Finally, to amend laws to bracket such riots and vandalism as 'crime against humanity'," he continues.
As in many other countries of the world, the digital revolution has fundamentally changed Bangladesh's media landscape. Parallel and low-quality education as well as low media literacy have enabled the pandemic of hate speech in social media. The mainstream media has responded to the challenge by means of self-censorship while the government opted for Internet shutdown or news blackout. This has undermined the perception of mainstream media to average citizens they cannot reach out to the public with instant news and analysis on socially divisive issues the way social media do. For this reason mainstream media in Bangladesh have failed to fulfil the expectations of citizens .
"People consume more information than ever before, thanks to the internet! But burning down homes and temples of minority communities over Facebook rumours indicate most of us don't have critical analysis and logical thinking ability, we are judgmental and emotional. Bangladesh needs more media literacy," Afia Sultana Pina, programme coordinator of South Asian Centre for Media in Development and a research consultant of the World Bank, tells Media Diversity Institute.
"The state realized that the Internet is going to be a big threat for the government because most citizens are media illiterate. Instead of educating them, the state opted for imposing the Digital security Act 2018 on Internet users. The practice of self-censorship made journalists to become 'press release' journalists, so people lost their trust over conventional media and diverted to social media, which are the big mines of fake news. Getting a digital device before learning how to use it is also a challenge and having a corporate entity of all big news media outlet owners is another significant challenge," she concludes.
---
Photo Credits: Mamunur Rashid / Shutterstock