Tripodos is an academic journal of international scope published by the Blanquerna School of Communication and International Relations, Ramon Llull University. Since 1996, the pages of this biannual publication have offered a forum for debate and critical discussion with regard to any discipline related to the world of communication: journalism, cinema, television, radio, advertising, public relations, the Internet.
The journal is published bi-annually and its next issue (December 2022) will focus on media narratives around migrants, refugees and people on the move. The issue is edited by Aleksandra Djurić Milovanović, Institute for Balkan Studies, Serbian Academy of Sciences and Arts and Amjad Mohamed Saleem, Centre for Humanitarian Diplomacy of Sarajevo.
Deadline for submissions: 30 September 2022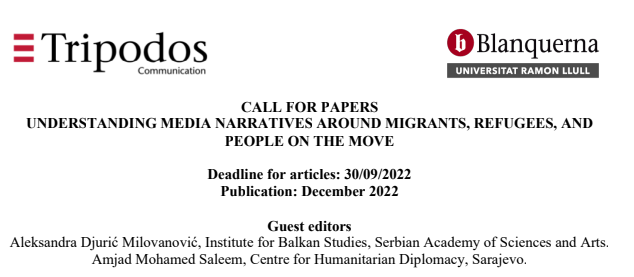 You can read the latest issue here.