By Angelo Boccato
@Ang_Bok
Adam McKay's latest movie, "Don't look up" is a Netflix hit, not only because it features a firmament of stars, from Leonardo Di Caprio to Jennifer Lawrence, Meryl Streep and Cate Blanchett, but especially because of the conversation that it has sparked on climate change.
The topics of the movie, from demagogy and toxic political propaganda to contempt for scientists and experts' advice, as well as the mainstream media's role in distorting reality, are far from being allegorical, and provide a documentary atmosphere to the feature film.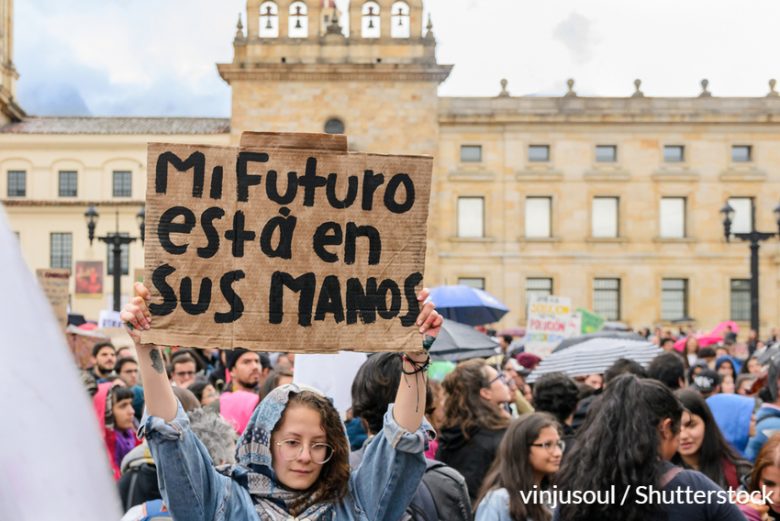 "I do believe that Don't look up achieved that goal [showing how to polarise climate change when other concurrent events are seen as more urgent] and it was very wise to cast Leonardo DiCaprio as he is such an important activist on climate change and helped the power of the movie's narrative," María Mónica Monsalve, Colombian environmental reporter at the newspaper El Espectador tells the Media Diversity Institute.
According to US climate scientist Peter Kalmus  in the Guardian "The scientists are essentially alone with this knowledge, ignored and gaslighted by society."
Scientists are not, however, the only ones who are left alone and ignored. Climate activists and environmental journalists are also not listened to, especially those from the Global South, those who face risks and are witnessing first-hand the impact of climate change.
"Activism is not something that is very safe here [in Uganda] and not a field that is very open for people. When I started activism in 2017 I got a lot of criticism, especially from communities that we visited to talk about climate change and environmental degradation," explains Hilda Flavia Nakabuye, climate activist and founder of Fridays4Future Uganda tells the Media Diversity Institute.
"There was always the question ' Why is a girl included in this?' as girls are seen attached to marriage or school…..that criticism was always there as it does not happen often in my country that people, especially girls turn out and speak out".
"Members of the AFIEGO organisation were arrested when they went to meet the local communities [as they were campaigning against the construction of the East African crude oil pipeline, EACOP]. "As they were not allowed to do so, unlike others, they went to the police to get permission and were instantly arrested and detained and some of them were beaten and tortured," Nakabuye further adds.
Climate activists and environmental journalists face danger also in Latin America, and Colombia specifically, as Monsalve points out, making reference to the Global Witness' 2021 "Last Line of Defence" report; in 2020, 65 of the 227 land and environmental activists that were murdered all over the world, while defending their land and the planet were Colombian.
In addition, there are also specific challenges for environmental journalists, as Monsalve further explains, 
"One of the biggest challenges is the availability of information, which is different compared to other countries, for two main reasons. One is that, in general, Latin American governments do not make this information available, as they have it, but cannot be found on websites, so it is not easy to write about climate change".
"The second issue is that we do not have that much scientific information about what is happening. Most of the stories are covered in other countries and involve scientists in the Global North. The fact that we do not have that much access to scientific information is one of the biggest challenges of reporting on climate change and the environment in  Colombia," she continues.
When it comes to a perspective on the global response to climate change, both Nakabuye and Monsalve share a similar disappointment towards the outcome of COP26 – the 2021 UN Climate Change Conference in Glasgow.
"When it comes to COP26 a lot of goals were set. For the UK, where COP took place, one of the goals set was to achieve carbon neutrality by 2030, but that also means that there should not be new gas and oil fields. However, the UK is constructing a new one [the Cambo oil field]. This shows that they are not committed to their word" points out Nakabuye.
Don't Look Up certainly caught the attention of journalists and commentators. In a recent episode of Intercepted , a podcast created by The Intercept, Jon Scwhartz and Naomi Klein discussed the impact of the movie, climate change,  how it also highlights the failures of capitalism,  as profit interferes with the development of effective strategies against climate change.
"For me, COP26 was a little disappointing in two aspects. The first one is that it's a huge issue that Latin American and other Global South countries did not get a significant fund for Loss and Damage. The second reason I do believe it was kind of disappointing was how the media portrayed India as the "villain" of COP26," says Monsalve.
While voices from the Global South have found some space, there is still a lot of work to be done, in order to diversify those taking part in the conversation.
"Ideally, I do believe that the people from the Global South need to be able to make decisions worldwide. I also believe that these voices need to be protected worldwide, to have systems in place to protect the lives of climate activists and environmental journalists," explains Monsalve.
"When it comes to voices from the Global South, this is not the first time that we are speaking out about climate change and other injustices. Many people have been there before us and have been talking about the same issues while facing the same problems for generations" adds Nakabuye.
"The difference between this and other generations is that many people are seeing what is really happening and are starting to act. Activists from the Global South need support in raising their voices and spreading awareness. There is a challenge here, as many people do not get a chance to know about climate change if they live in villages, as it is not something that they are taught in schools," she continues.
"We need people in the Global North to understand what we are going through in the Global South and the urgency of climate action" concludes Nakabuye.
---
Photo Credits: vinjusoul / Shutterstock