By Abdullahi Jimoh
Gender stereotypes have been rampant in journalism – especially in the past. The traditional approach was that certain 'difficult' topics such as war, business, sports, politics and health among others, whereas women journalists are better fit to write about celebrity, lifestyle, sexual health and gender based violence. The 2016 book 'Gendering War and Peace Reporting' examines how the conventional pattern of war reporting is gendered. The book's contributors found war reporting has traditionally been a male activity and while politicians, high ranking military officers and state officials are collectively still men, it will take more than the presence of an increased number of female journalists to change this male hegemony.
A study done by the Press Gazette in December 2022 which analysed the front pages of the UK's biggest commercial media found that 'women now make more than four in ten bylines on the website homepages'. However, according to the study: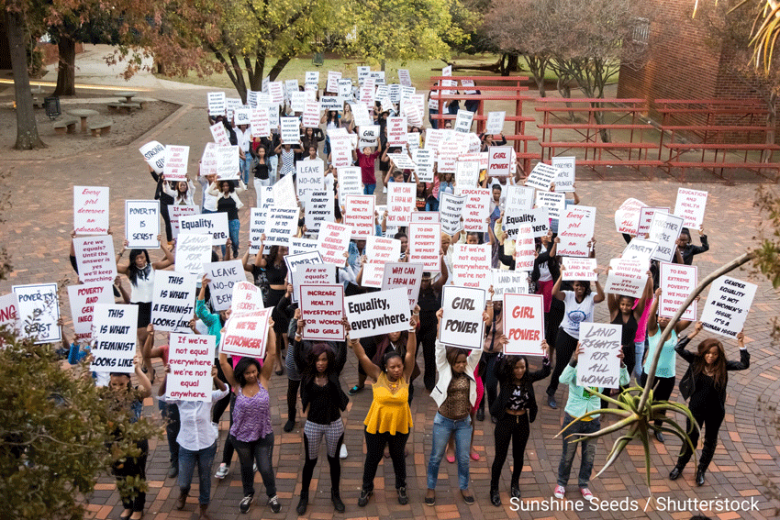 "Despite some high-profile female editors in the UK news industry, the analysis found women remain 'far off gender parity', making up around 40% of editors-in-chief, 20% of political editors (lagging behind representation in Parliament), and less than a third of economics editors or foreign affairs editors."
This media pattern seems to be similar globally, including in newsrooms throughout Africa where gender inequality in the media ecosystem is exceptionally glaring. Sexism is often linked to the colonial and post-colonial era despite women's active participation in the liberation struggle. These colonial and post-colonial remnants seem to be prominent in different sectors including the newsroom.
Every five years Who Makes the News publishes the Global Media Monitoring Project which "is the largest and longest longitudinal study on the gender in the world's media." Its latest version was "implemented in 116 countries and covered 30,172 stories published in newspapers, broadcast on radio and television, and disseminated in news websites via news media tweets." The project found that "Africa falls below the global averages across all media types monitored" when it comes to gender equality and it is the only continent that has "stagnated as the rest of the regions have improved by three to 12 points across the quarter century." 
Feminism in the African Media
The rise of feminism as a socio-political movement could not leave the global media landscape unaffected. For example, a 2020 report by the Reuters Institute found that "the percentage of online news users in each market that say they get news from one or more major outlets with a woman as the top editor ranges from a high of 77% in South Africa," a percentage that is higher than it is in other regions. Feminism's main goal – equality – has attracted initiatives to develop globally in recent times which have helped in raising women's voices in the media, and also triggered many opportunities which are restricted to women only. According to a nominal research paper that was published in 2011 "increased gender activism and advocacy has led to more media coverage" and this is largely due to new being reported by a feminist lens. However, this does not mean that patriarchal views have disappeared.
Somali journalist Maryan Seylac in Somalia in an attempt to challenge the norm in the war-torn country founded Somalia Media Women Association in 2006 for female inclusion in the profession. According to Seylac, she used to be the only female journalist in her city and in a recent interview with Reuter's Institute she said:
"Members of the community thought journalism was not a career for a young woman like me, so they were not welcoming. But this is what I wanted to do, and it was something I enjoyed doing, so I persisted. They first outcasted me, but over time they accepted me." 
📖 Today's read: Discover the inspiring stories of women #journalists in #Somalia in this insightful piece by @risj_oxford. Explore how they are fighting back against abuse and sexism to do their job.

➡️ Read more here: https://t.co/5ml0CdtD79#MediaDev

— Global Forum for Media Development #MediaDev (@MediaGFMD) May 8, 2023
Similar platforms exist throughout the continent.
"Feminist ideology makes visible the interactive nature of the media sphere. It emphasizes collaborative dialogue, characterized by inclusive, supportive working relationships between media players, stakeholders, and consumers," Joke Kujenya, Media trainer and Executive Coordinator at Reporting Malaria Project told MDI.
By fostering collaborative media, feminism allows individuals, particularly underrepresented and marginalized communities, to be a part of media innovations and explained how feminism empowers the narrative.
"Feminist ideology advocates for the media to produce content that empowers, informs and engages audiences by focusing on creating narratives that feature strong and determined female characters, promoting their ability to take charge of or gain control over their lives," she said.
However, in Africa's largest economy, Nigeria where gender inequality is glaring, feminist movements have tried to revolutionize this disequilibrium in the media industry of the country to some extent. To have a clearer picture on how the feminist ideology works in Nigeria's newsrooms.
"Feminism is gradually gaining strength now in Nigeria unlike before when women were relegated to the back stage with feelings that they are weak vessels. Interestingly, with the ongoing campaigns by organisations like the Wole Soyinka Centre for Investigative Journalism (WSCIJ) , media organisations are beginning to give leadership space to women to explore their potential and contribute to the country's development. Undoubtedly, women are strong , brilliant and greatly gifted and if given opportunities, they will set the pace that would be on equal footing with men," Ann Godwin, The Guardian Newspaper (Nigeria) and Executive Director of Step-up Women tells MDI.
"As we speak, some women are now heading serious news desks like investigation, energy, politics, bureaus etc and are no longer relegated to beats like fashion, style, metro. They are occupying different leadership positions, playing significant roles in the newsrooms and in media space, shaping the nation's political and social cultural space and that is a good signal that if sustained, it will further boost the feminist Ideology , make women believe in themselves, believe there's strength in them and push to become more visible," she continues.
---
Photo Credits: Sunshine Seeds / Shutterstock