On Monday, 7 September 2020, Media Diversity Institute kicked off a series of events at the second annual Fazana Media Festival in Fazana, Croatia.
First was the Reporting Diversity Network workshop (a part of our Reporting Diversity Network 2.0 project, supported by the European Commisssion), where University of Zagreb Professor Gordana Vilovic lead a workshop on reporting diversity in the Balkan countries, stressing the importance of both the personal and human angle in reporting diversity.
"I try to tell my students that it is not embarrassing to have prejudice or stereotypes, but the problem comes from doing nothing to change it," she says, elaborating on how she tries to personalize the discussions when teaching diversity to her students, and makes sure that they are 'never bored.'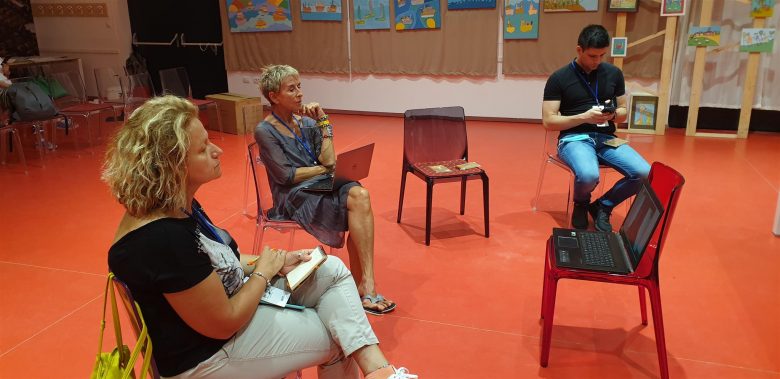 "When you teach diversity, it is more than just theory on a syllabus," she says, elaborating on facilitating discussions on everything from gender identity to religious freedom. "It is something much more."
Next, Professor Nenad Peijic lead a workshop on fake news, and innovative tactics to combat disinformation. Have we learned something from all these years countering fake news and disinformation?
"The only way to fight fake news is to understand our industry," he said. "We have to recognize what kind of fake news will come out on a certain event, and recognize what kind of audience we need to target the same way fake news selects their target audiences."
Over the next few days, we will continue the discussions started in these workshops, and screen a few of the films from our New Neighbours project. We will also broadcast a panel discussion titled "COVID-19 and Diversity: A 'Tsunami' of Hate Speech," featuring interventions from the ICFJ's Julie Posetti, PEN Moscow's Nadezda Azhgikhina, Albanian Media Institute's Remzi Lani, and Amadeu Antonio Foundations' Simone Rafael discussing the challenges that the COVID-19 pandemic has brought to journalists around the world. The panel discussion will be moderated by MDI Executive Director Milica Pesic, and broadcast over ZOOM on 8 September 2020 and 18:00 CET.
Register here.
MDI's participation in the Fazana Media Fest is made possible by the European Commission's support of the Reporting Diversity Network 2.0 project.