Date: 8 September 2020
Place: Fazana, Croatia
On Tuesday, 8 September 2020, Media Diversity Institute and the International Center For Journalists (ICFJ) hosted a panel titled "COVID-19 and Diversity: A "Tsunami" of Hate Speech" at the Fazana Media Festival in Fazana, Croatia.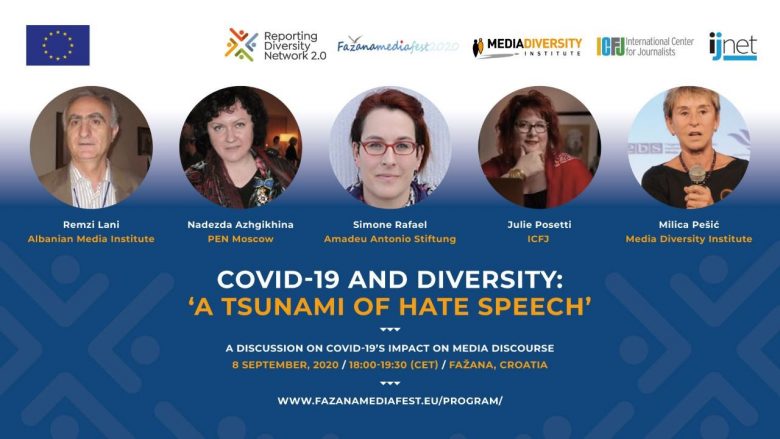 "At the beginning of the pandemic, there was a cliché going around, that said that we are all in this pandemic together," said MDI Executive Director Milica Pesic, introducing the panel, which was a hybrid half in-person, half online discussion featuring interventions from Dr. Julie Posetti of the ICFJ, Nadezda Azhgikhina of PEN Moscow, Simone Rafael of the Antonio Amadeus Stiftung and Remzi Lani of the Albanian Media Institute.
"But soon it became very clear that we were not," she continued. "It became very clear that your experience of the pandemic was very different if you lived in a council flat, versus if you were a celebrity."
Over the next two hours, the panelists proceeded to discuss these different experiences of the pandemic, and the challenges journalists face reporting these hard truths—from the "fake news laws" that claimed to curb the spread of misinformation, but were actually weaponized against journalists in Russia and the disinformation narratives that spread through the Balkan countries regarding the pandemic to the sheer amount of misogynistic, racist and otherwise discriminatory online hate speech that seemed to bourgeon over lockdown, and continues to spread across the Internet as troubling conspiracy theories—such as QAnon—to this day.
"Journalists are increasingly in peril and at risk because of the COVID-19 crisis," said Dr. Julie Posetti, of the International Center for Journalists.
"Sometimes it is being exposed to the pandemic. Sometimes it is online attacks," she continued, pointing out that this often takes a misogynist, racist, or otherwise discriminatory nature. "This is particularly evident with the intersections of COVID-19 and #BlackLivesMatter coverage."
Meanwhile in the Balkans, many of these hateful narratives are reopening old wounds. According to the Albanian Media Institute Director Remzi Lani:
"Online, we see that the Balkan wars have stopped on the ground but continue on the Internet," he said, pointing out that there is both a problem of "hate speech" and "fake speech"—which, he describes as misinformation, disinformation and anything otherwise defamatory for political gain.
"What used to be in the margins, what used to be extreme is now the mainstream in all Balkan countries."
PEN Moscow's Nadezda Azhgikhina echoed this sentiment, mentioning that in Russia this hate speech manifests as self-arranged groups of nationalists who gang up on journalists, harassing and threatening them.
"A great degree of hate and criticism jumped up during this pandemic," says, mentioning that this has impacted women journalists in particular.
"It's difficult to identify and to count, but according to our independent surveys, independent NGOs, we can admit that at least three times more attacks on women, feminists and independent voices in the Internet took place during COVID times and still go on, including real threats and death threats."
Simone Rafael sees this hate drive conspiracy theories forward, and focuses on this in her role as the Editor-in-Chief of BellTower News, where she focuses on the far right conspiracies that are becoming more and more mainstream.
"I would say that our biggest problem in the COVID-19 crisis is these telegram channels, conspiracy ideologists where they do not only spread a lot of misinformation against Jews, but also against people of Asian origin at the start of the pandemic," she said.
"We also have a lot of physicians who decided that now is the time to have a YouTube channel and tell everyone that COVID-19 is just a flu and this is all just misinformation."
If you missed the panel discussion, you can listen to the full recording here and read more about MDI's activities at the Fazana Media Festival here. MDI's participation in the Fazana Media Festival is made possible by the European Commission's support of the Reporting Diversity Network 2.0 project.