Media Diversity Institute as part of Get The Trolls Out! (GTTO) and in collaboration GTTO partners Amadeu Antonio Stiftung, Center for Independent Journalism, European Network on Religion and Belief, European Union of Jewish Students, Karpos, LICRA and 'NEVER AGAIN' Association produced a new report which looks into conspiracy ideologies and anti-Jewish hatred on Facebook and Twitter.
Vaccine hesitancy is not a new phenomenon. According to the World Health Organization, vaccine hesitancy is a complex and context-specific issue that varies across time, place, and type of vaccine. At the same time, it is influenced by different factors such as community trauma, scientific scepticism and political beliefs. What might differ this time compared to the past is the way information spreads and the role of social media companies in the spread of information and misinformation. In 2020 the Center for Countering Digital Hate looked closely at the way tech companies power and profit from vaccine misinformation and found that anti-vax social media accounts have 58 million followers.
Our research identified six key points that are explored in detail through this report: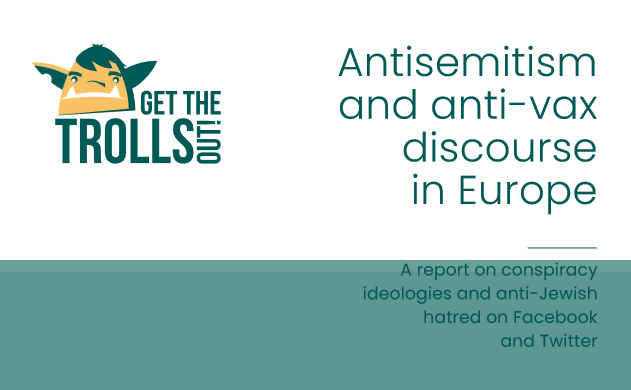 It is rather common for anti-vaxxers to use Holocaust comparisons and consider themselves as the 'new Jews'.
Variation of established antisemitic conspiracy ideologies, such as 'The Great Reset' and the 'New World Order', play a significant role and are seen in several countries.
Antisemitic dog whistle, or coded language, such as using the word 'globalists' instead of 'Jews', is present throughout Europe.
Feeling or causing fear is one of the main methods of uniting conspiracists.
Victim mentality is common among anti-vaxxers.
Connections to the far right are present in several countries
Watch the launch event: