By Angelo Boccato
In the Italian context, the world of sports is one of the few arenas where non-white Italians can find space, but like in any other arena, they face tokenisation, discrimination, and outright racism. Football is the most celebrated and followed Italian sport in the Bel paese. However, when during the EURO 2020 tournament several teams decided to take the knee before the beginning of matches, the Italian national football team responded with a typical "cerchiobottista" attitude – which means not taking a position between two different options.
The history of racist abuse suffered by striker Mario Balotelli exemplifies the level of racism in Italian sport; racism that can also be seen in the antisemitic chants and slogans widespread among certain sections of football supporters.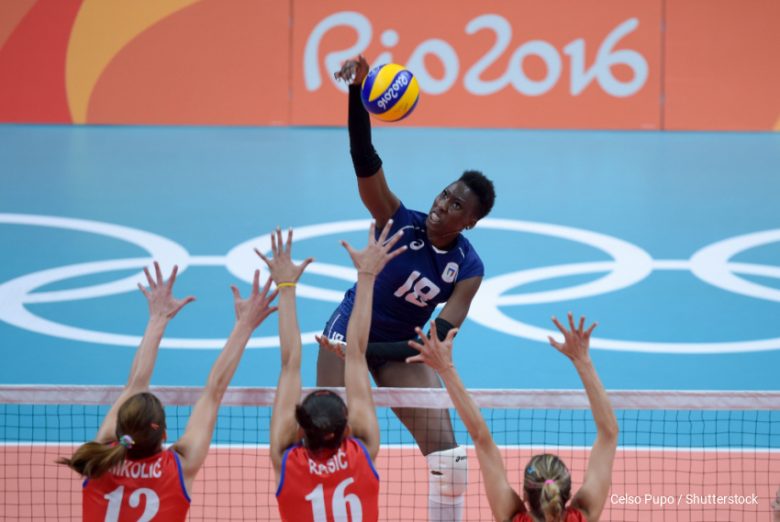 Unlike the Italian men's national football team, the Italian women's volleyball team is more diverse, featuring star players like Myriam Fatime Sylla and Paola Ogechi Egonu. On October 13 this year, following the victory of the Italian team against the United States, a supporter captured on his mobile a moment between Egonu and her agent Marco Reguzzoni in which she confided and cried saying: 'You can't understand, you can't understand. They asked me if I was Italian. This is my last match with the National team'.
The video, which was an invasion of Egonu's privacy as she was not making a statement, quickly circulated online and the player was then asked by ex-volleyball player Francesca Piccinini on Sky Sport about her plans regarding her future in the national team.
Egonu responded that she wants to wear the Italian colours, something that she sees as an honour, even though she felt that she needed a break. Egonu clarified that the break was due to the insults and messages that she received and she told national broadcaster RAI 'We athletes give everything in every game and it hurts to hear that I don't deserve to wear this jersey'. The player received her Italian citizenship when she was 14.
Following the racist abuse, Egonu received some yet limited support by Italian political figures. Former Prime Minister Mario Draghi reached out directly to Paola Egonu by calling her and expressing his support, while the leader of the Democratic Party Enrico Letta and the leader of Five Stars Movement Giuseppe Conte.
'I was very touched by Paola Egonu's vent as a human being, a Black person and Black woman who was born and lives in this country. Even though I am a woman of another generation, I saw myself in those same words, of how our mental health and our balance are undermined by racism, daily. Everything that happens, from discrimination in the workplace to insults is something that becomes engraved in our flesh and makes us feel sick,' Italian writer of Somali descent Igiaba Scego tells Media Diversity Institute.
'All of this can make our bodies sick or generate mental health issues from depression to food disorders, fear, and panic attacks. This side of our life is not very much considered in Western societies,' Scebo continues.
'Western societies are in their majority white, and I often notice, that even people with good will have difficulties in understanding how difficult it is to carry racism on your shoulders, they tend to isolate this element within a moment, but then think that these episodes do not have consequences beyond that, while these episodes have real consequences, as the body is tortured, and the knee on George Floyd's neck proves clearly. All of this engraves very strong scars in the soul. I have found many media and people inadequate in understanding the pain of this young, 24 year-old woman who has to face insults and defend herself from haters on social every time she plays, and indiscreet questions from Italian and foreign journalists. She is not targeted in the same way as her white teammates, but because she is the strongest and more talented and because she is a Black woman,' Scego notes'
Scego notes that the media do not respect the pain that Black people feel constantly.
'A lack of understanding for this point means not having yet the tools for building a truly plural society, there is still so much work to do. We still have to tackle racism, but there is the need of building a bridge towards the other," Scego adds.
The way Black Italian athletes are treated is reminiscent of the past. Scego refers to sociologist Mauro Veleri and his work on Black Italian boxer Leone Jacovacci. In his work Valeri described Jacovacci as a symbol of pride for Italians when he was winning; when he was losing however, he was labelled with the 'n-word'.
Sports journalism in Italy is too often looking for catchy headlines and cheap sensationalism, and when it comes to portraying Black athletes it falls too often into references to the animal kingdom, references that embody the issues with a colonial history that the country has never faced. This is also seen when it comes to the ranking of Black football players. Italy, however, does not have the monopoly of such displays of hate speech towards non-white players, something that was prominent during the final match of EURO 2020.
Despite all the racist  hate in Italian media there are exceptions such as Emanuele Atturo, article on L' Ultimo Uomo titled 'Paola Egonu shows what we do not want to see' which includes a Twitter thread made by Scego.
"è stancante" ha detto #PaolaEgonu riferendosi agli odiosi commenti razzisti. A quel continuo negare identità. Io mi sono rispecchiata tantissimo in quella frase, ogni black/brown arrivato, nato o cresciuto in Italia si rispecchia. Il razzismo spesso ti sfinisce. Toglie energia

— Igiaba 📚 (@casamacombo) October 15, 2022
In this thread Scego points out how important it would be to listen to Egonu's words and how 'sport offers a privileged theatre of observation for social conflict'. Atturo mentions the 'undeniable relationship' between the discrimination against Paola Egonu and Manchester City and England striker Raheem Sterling, as well as the discrimination experienced by migrants and second generations daily.
This is not unfortunately the general outlook in sports journalism, and it would take a long time in the sector and in Italian media as a whole to change the narrative. Listening to those who face discrimination is the first step to diversifying the conversation and its players.
---
Photo Credits: Celso Pupo / Shutterstock