By Angelo Boccato
Euro 2020 is approaching its conclusion, as the final match will kick off at 8 pm on Sunday 11 July at Wembley Stadium, in London. Italy will play against England as the Three Lions reach a final for the first time since 1966.
The tournament will be remembered in years to come, not just for its final winner, but as the first European football tournament to take place in several countries in the continent, from Rome, Munich, London and Copenhagen to Budapest, Saint Petersburg and Baku. It will also be remembered as one of the most politically "charged" international football tournaments of the last two decades.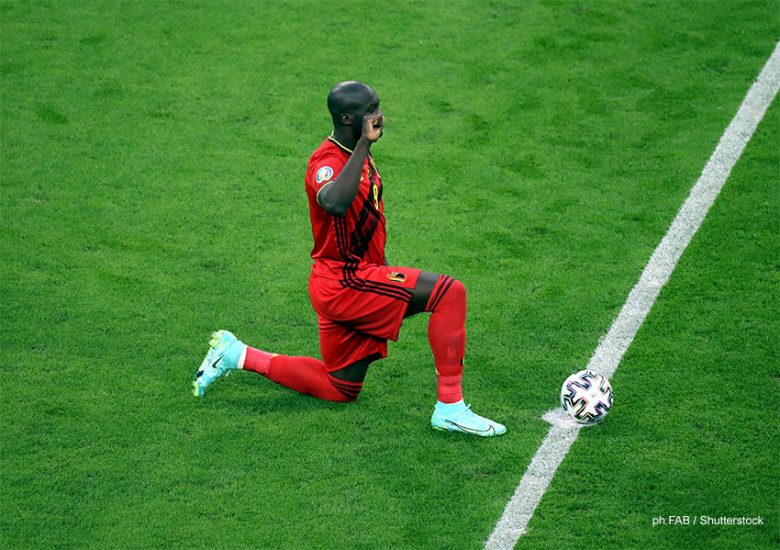 "This has been a highly politically charged European tournament and this was expected, as UEFA decided to divide the matches between different countries and the main reason is that hosting great events in countries is an important political favour, which comes with sponsors, funds and tourists and which, in return, provides you with political favour in the country where the event takes place. UEFA had the idea of applying this scheme to twelve different countries. Of course, there are differences between hosting a great event in England or Germany and in doing so in Hungary, Russia and Azerbaijan" Valerio Moggia, Italian football journalist, author of the website on the intersection between football and politics Pallonate in Faccia, whose articles have been published in Vice Italia, Rivista Undici and Minuti Magazine tells the Media Diversity Institute.
On this front, Moggia mentions the case of the Pride lighting at Allianz Arena in Munich. Munich's authorities were planning to light the stadium with rainbow colours but Uefa, Euro's governing body, denied their request due to the political connotations that such an action made in light of Hungary's anti-LGBT stance and recent law.
Despite Uefa's stance, Germany and Bayern Munich goalkeeper Manuel Neuer wore a rainbow armband and EURO2020's sponsors advertised their brands specifically adjusted for Pride month, during the match.
However, when matches took place in Baku rainbow adverts were banned and the same happened in Saint Petersburg, something that in the former case, as Moggia observes, is a testament to Azerbaijan's power and influence, a country with great influence in the sports and energy arena.
Taking the knee in Italy
LGBT solidarity during Euro 2020 was certainly targeted but not as much as 'taking the knee' was. Colin Kaepernick, a former American football quarterback and activist, was the first one to take the knee in the field as an act of defiance. Yet the gesture dates back to the Aftrican-American civil rights movements and, specifically, to the struggle for the right to vote. Several European teams, including England, took the knee before games; their stance was attacked and criticised.
The Italian national football team, when confronted with this stand, opted for not really taking a position, in a show of what in the Italian language can only be defined as "cerchiobottismo", which can be translated in English as "fence-sitting", maintaining a neutral position between alternatives.
This was seen in the erratic attitude of the team, especially when five players, Federico Bernardeschi, Andrea Belotti, Emerson Palmieri, Matteo Pessina and Rafael Toloi knelt alongside the Welsh national team before the beginning of the match, while their six teammates did not.
On the bench, Italy's coach Roberto Mancini said that the most important thing for him is liberty, while Juventus stars Leonardo Bonucci and Giorgio Chiellini (who is also the National team's captain) mentioned discussions on the topic, while the latter said that the team would fight "Nazism" (instead of racism) in other ways.
Bonucci, back in 2019 said that "the blame was 50/50" when his Juventus teammate Moise Kean was targeted by a group of racist Cagliari fans, only to backtrack on this front after mounting criticism led by Manchester City and England national star Raheem Sterling.
The centre of the issue does not revolve around Bonucci, but it is a cultural one, or rather is rooted around a lack of an anti-racist culture in the football arena, and generally in the country. 
"The Italian National football team comes from a context, the Italian one, where, frankly, debates on racism never really take place. I do not think that we should put too much of this on the players, if they are not sensitive to racism coming from this context. In general,  it is always very difficult to talk about racism in Italy, racial and ethnic issues and the citizenship laws, and obviously this is also reflected in the football arena, " says Moggia.
"The FIGC, the Italian football federation, has many issues in taking a stand on the matter as there are fears that taking a stand in a country where it is already complicated to talk about racism would mean risking to antagonise football supporters. The idea is that if the national team takes the knee, those who are against it (and there are many of them, as the current electoral polls highlight) could create problems, also from a marketing perspective" he continues.
According to Moggia, there cannot be a neutral stance to racism and the Italian football federation have not been able to explain why there are no grey zones in the issue. FIGC's stance highlights UEFA's problematic stance on racism.
"One thing is showing anti racist slogans, but things are different when it comes to deciding what to do when racism appears in the football arena," Moggia tells Media Diversity Institute. 
"There is then a complicated problem, which is first and foremost a social one. While there can be technical considerations around the fact that Moise Kean was not selected for the official national team, he would have been the only player son of migrants in the team. This is already a curious thing, as only Jorginho is a son of migrants in the team, but has anyhow Italian origins and is white," Moggia explains.
Jorginho's background highlights the problematic nature of Italy's citizenship law that is based on blood rights which is increasingly discriminatory in a country that is more and more diverse. The issue around the Italian discriminatory citizenship laws stands at the centre here, while other elements like access to football schools are also part of the picture, while in fact, in other sports, ranging from athletics to basketball and football it is possible to see more diversity. Another element around this, as Moggia points out, has to do with the stereotypes around players of African descent in football.
The lack of diversity of the Italian national team reflects the lack of diversity within the country, at all levels, despite the success of children of migrants in various fields.
Taking the Knee in England
When it comes to England, taking the knee has been targeted by conservative voices and called out as part of the "anti-woke" right-wing rhetoric.
Newly launched channel GB News, which could be labelled as the British Fox News in a way, has dedicated considerable amounts of its airtime in attacking the Take the Knee stance of England national team. GB News presenter Inaya Folarin Iman went so far as saying that the England football team were waging "culture wars" against the fans by taking the knee.
Among these voices it is possible to find actor turned political leader Laurence Fox, Tory MP Lee Anderson, but also Home Secretary Priti Patel that labelled taking the knee as "gesture politics" , expressing vehemently her opposition to it and Prime Minister Boris Johnson, who failed to call out those who are booing England players when they take the knee.
The British anti-racist campaigns groups, Stand up to Racism has put together a statement opposing booing of players and the government's failure to act, a statement which has been signed by several personalities, like Labour MPs Diane Abbott, Bell-Ribeiro Addy, Zarah Sultana, John McDonnell and Claudia Webbe and Patrick Vernon OBE, social commentator and Windrush campaigner.
In his open letter to England, Gareth Southgate, coach of the country's national team highlighted the rights of his players to express themselves on political and social topics as he wrote
"Our players are role models. And, beyond the confines of the pitch, we must recognise the impact they can have on society. We must give them the confidence to stand up for their teammates and the things that matter to them as people" Southgate wrote.
Given the fact that some stars of England are direct targets of racist abuse, like Marcus Rashford and Raheem Sterling , the words of Southgate carry particular weight and they already make England the moral and values winners of Euro 2020. Whoever wins on Sunday, it is certain that a European conversation on racism is out in the open, and it is something that will find more and more space as the World Cup in 2022 will be hosted in Qatar, in what is already called a World Cup of Shame by Amnesty International, given the treatment, and the deaths of migrant workers, not to mention the fact that the country is ranked second in the LGBTQ+ Danger Index.
---
Photo Credit: ph.FAB / Shutterstock